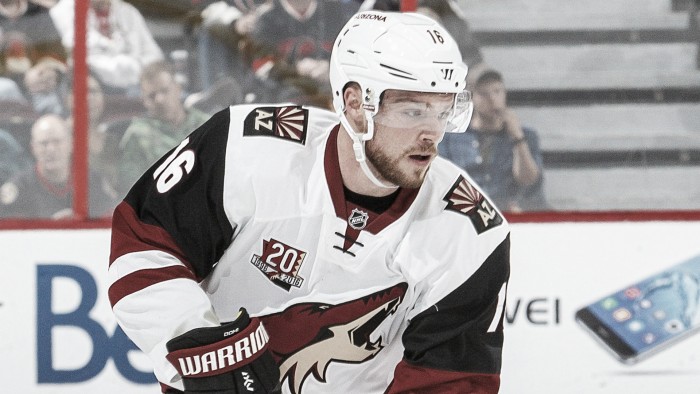 Max Domi has been a huge disappointment this season, and like his buddy Anthony Duclair, his welcome in Arizona may be wearing out.
With just three goals, 19 assists in 52 games, Domi is in a rut. The coaching staff even has tried moving him to the center position to help get his scoring prowess revived.
It hasn't helped. Head coach Rick Tocchet has mentioned that Domi's defensive game has improved since he switched from the wing.
Domi seemed to be a permanent roster player
That was until he missed 23 games last season when he broke his hand in a fight.
Since that time, his play has deteriorated swiftly.
With a new coaching staff, and new linemates Domi has just never blossomed as a scorer as the team expected when they drafted him 12th overall in the 2013 NHL Entry Draft.
While he did have an excellent first season when he tallied 18 goals, 34 assists in 81 games, his next injury-shortened season he digressed to just nine goals, 29 assists in 59 games.
While he is a very popular player, the way the Arizona Coyotes have been playing this season, it would seem most every player would be available if the right deal came Chayka's way.
That doesn't mean he WILL be traded... it just means he is a possible candidate if a deal comes Chayka's way that he can't resist.
Just a rumor?
The story was run by thescore.com by Craig Hagerman and azcentral.com's Richard Morin who tweeted that Chayka stated reports that he is shopping Domi are inaccurate.
Still, it would not surprise many if Chayka can see what Domi would be worth on the trade market. It's not certain that Tocchet is pleased with Domi's lack of production this season.
Just like Tocchet grew weary of Duclair's lack of effort he may have seen enough of Domi's inability to get out of the scoring drought he currently is struggling to escape.
And like Duclair who signed a one-year contract very close to the start of the pre-season, Domi is a restricted free agent since his three-year entry level contract expires at season's end. There has been no discussion of a new contract for him.
Even the team's All-Star defenseman Oliver Ekman-Larsson has been rumored to be traded, so this news is not really anything new.
The Coyotes need scoring
Domi's lack of scoring has not helped the team's terrible performance this season. So, would Chayka be willing to acquire a scoring forward and lose the opportunity to see if Domi will ever blossom?
Maybe.
The same issue of being patient with young players was the case with Dylan Strome. His progression to the NHL level has been nothing short of disappointing. He is currently doing well in the AHL for the Coyotes' affiliate Tucson Roadrunners with 17 goals, 24 assists in 32 games.
The Coyotes passed up on Mitch Marner with their third overall pick to select Strome. Was it a mistake? So far it seems so. Marner has averaged 0.73 points over last season and this current season with the Toronto Maple Leafs, while Strome has just one goal and one assist in 18 NHL games.
It may not be far fetched to see if the Coyotes could trade for Marner. Perhaps a Domi and Jason Demers trade would help both teams. Domi would LOVE to play in Toronto where his dad played.
Stranger things have happened... you never know.
It's the NHL.
What is your opinion of the possibility of Max Domi being traded? Let us know in the comments section below.