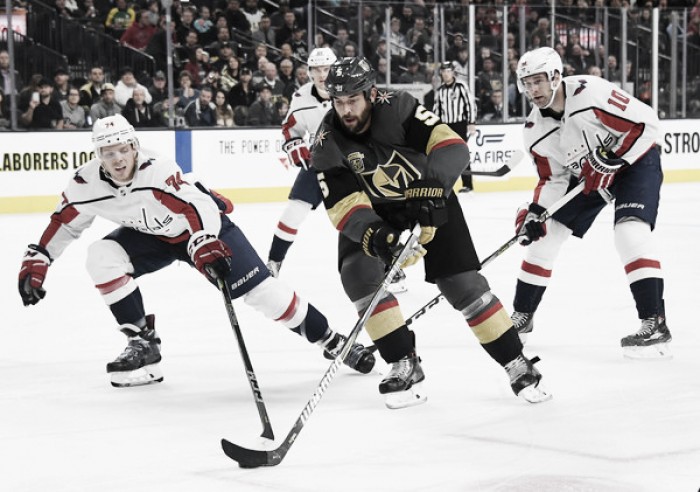 For the first time ever, Marc-Andre Fleury will face off against the team that made him the first-overall pick in 2003 in the city that he called home for over a decade. It will certainly be the biggest storyline of the day, as Fleury was a key piece in three Stanley Cup-winning teams during his time in Pittsburgh.
It will also be a return for another player on Vegas' roster, Deryk Engelland. This isn't the first time that Engelland has returned to Pittsburgh to play against the team he broke into the league with, but he isn't the same player he once was during his time with the Penguins.
The now 35-year-old Engelland has thrived in his new home in Vegas, earning top-pairing minutes along with rookie Shea Theodore... a long way from the kind of player he was with the Penguins.
Minor league journey
Engelland was originally drafted by the New Jersey Devils, in the sixth round, all the way back in the 2000 draft. He would never play for the Devils, and after five years overall with Moose Jaw of the Western Hockey League (WHL), Engelland would start a long journey throughout the minors, biding his time for a shot at the NHL.
His first stop was with the Las Vegas Wranglers of the East Coast Hockey League (ECHL), spending the majority of the next two seasons there with them. His second season saw him record 21 points, a career-high at any professional level, as well as 138 penalty minutes (PIM). Engelland would spend parts of the next four seasons working his way through the ECHL, the last two splitting between there and the AHL. Overall Engelland would participate in 148 contests overall at the ECHL level.
Finally graduating to full-time AHL duty, Engelland would sign with the Wilkes-Barre Penguins, where he would play in 231 of his 338 career games at that level. All three years Engelland would top 100 penalty minutes, as well amass 37 total fighting majors.
Time with the Penguins
After 243 games in the WHL, 148 in the ECHL, and 338 at the AHL level, Engelland finally got the call to play in the NHL. He made his presence known quickly, getting into three fights in his nine-game stint to end the season.
Heading into 2010/2011 season, Engelland earned a spot on the opening night roster and responded with 13 fighting majors in 63 games played, including this doozy against Colton Orr, at the time one of the most feared enforcers in the game.
In his 244 games with the Pittsburgh Penguins, Engelland registered 36 total fighting majors and playing with such physical force that others took notice around the league. He even spent some time as a forward when he couldn't get into the lineup as a defenseman.
After five seasons with the Penguins, Engelland became an unrestricted free agent, signing a three-year contract with the Calgary Flames worth $8.75 million (an Average Annual Value of $2.9 million).
Transformation
In the rough Western Conference, Engelland seemed like a perfect fit for the Flames. He was a tough, physical, veteran presence on the blue line, while Calgary was going through a rebuild and deployed a young, inexperienced forward group.
He only registered 18 fights in his three years, actually slowly turning himself into a reliable presence on the blue, one that Calgary didn't have to limit his minutes.
Engelland continued his physical play, seeing the advantages of throwing his body around as opposed to his fist. Engelland nearly doubled up the closest defenseman on the Flames' blueline (Mark Giordano) in hits during his time in Calgary.
He also became a relied upon penalty killer, registering the third most short-handed minutes among all defensemen while with Calgary. Only T.J. Brodie and Giordano had more.
For more reasons than just the fact that he makes his offseason home in Las Vegas, Engelland made perfect sense to come over as a part of the expansion draft.
Flames' general manager Brad Treliving knew what the Flames had, and what the Golden Knights were getting in Engelland.
"He took a lot of heat when we got him but he turned into an excellent penalty killer, a first-class teammate, and individual and an elite character."
The article itself praised Engelland's transformation during his time in Calgary.
"Despite early criticism for the three-year $8.75 million the Flames spent on bringing the longtime minor leaguer to Calgary, he wound up being universally lauded for so much more than being one of the toughest hombres left in the league."
A new, offensive dimension with Vegas
Never much of a scorer, with his toughness, physical play, and defensive play being what established himself as an NHLer, this year with Vegas, Engelland has found a never before seen offensive explosion.
Helping his case is an opportunity unlike he has seen in years before... top-pairing minutes. Engelland ranks 61st in time-on-ice at 5v5 play among all defenseman who have 500 minutes. Not blowing the roof off, and he certainly isn't Drew Doughty, but if there are 31 teams, that means there are 62 top-pairing defensemen, making Engelland one of them.
Of those defensemen, Engelland ranks 19th in total points-per-60 minutes (P/60), as well as fifth in primary assists per 60 minutes played (A1/60).
For a player whose career high in points, and assists is 17 and 13, respectively, that is an impressive improvement.
The new-found offensive surge hasn't hurt his play in his own end either, as Engelland rates-out as a top-pair defender in suppressing high-danger shots, on-ice save percentage, and goals-against-per 60 minutes.
Maybe the most impressive part of those feats is that he is playing with the offensive-minded rookie Shea Theodore for the majority of the season and that the two have the two highest defensive zone faceoffs per 60 minutes among Golden Knights' defensemen.
This won't be the first time that Engelland has returned to Pittsburgh. He has faced his former team seven times overall, three in Pittsburgh. He has a goal and an assist and is a plus-1 in those games.
Enforcers come and go, and with the style of play required to stay in the NHL, it has been the latter more than the former as of late.
Engelland fought at the lower levels to make it to the NHL, and when the game deemed it necessary, did a complete overhaul of his game to become a reliable defenseman, as well as a leader in the locker room. The latter so much that some believe that he should be given the honor of being named the first captain in Golden Knights' history.
When Vegas takes the ice, and the game gets going, all eyes will be on Fleury and understandably so. What Engelland has done is remarkable and should be recognized as such. Generally when a player is 35-years-old and "isn't the same player he once was" is a bad thing.
Luckily for Vegas, this isn't one of those cases.
*advanced stats taken from NaturalStatTrick.com, as of Monday morning 2/4.
Tell us your thoughts on Deryk Engelland's journey to this point of his NHL career. Please use the comments section below.