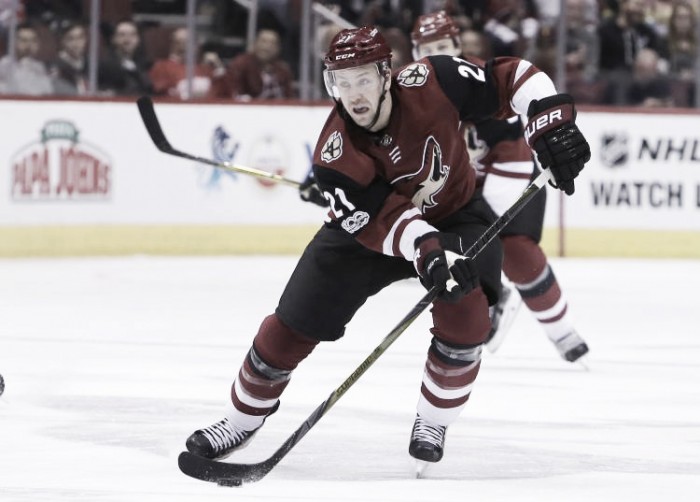 The Arizona Coyotes were very active last summer in the trade market in an attempt to improve their roster.
Now that the season has just 29 games remaining, let's evaluate the additions/subtractions they made to see what results were accomplished.
Big trade with New York Rangers
On June 23, 2017, the New York Rangers traded center Derek Stepan and goalie Antti Raanta to the Coyotes. The Rangers received young defenseman Anthony DeAngelo and the Coyotes' seventh overall pick in the draft.
With that seventh-overall choice, the Rangers selected Swedish center, Lias Andersson.
New York Rangers trade evaluation
This trade was obviously won by the Coyotes in that they received a first-line center in Stepan and a starting goalie in Raanta. The Rangers may have been glad to unload Stepan's huge six-year $39 million contract, but did they give up too much?
In defenseman DeAngelo, he has only appeared in 15 games in a Rangers' uniform collecting no goals, and three assists. He has played mostly in the AHL where he has two goals, 11 assists in 29 games.
His big deficiency is his defensive liabilities. While more of an offensive blueliner, he had a +/- rating of -6 in his NHL games and is a -12 in the AHL.
The potential of Andersson contributing is still in question, as he is still only 19-years-old. Yet, he is doing well on the AHL Hartford Wolfpack roster with one goal, four assists in six games.
Stepan has done reasonably well with the Coyotes. He has 10 goals, 22 assists, but is struggling (like the whole team) with his defense. He has a +/- of -20, with a meager 6.9% shooting percentage.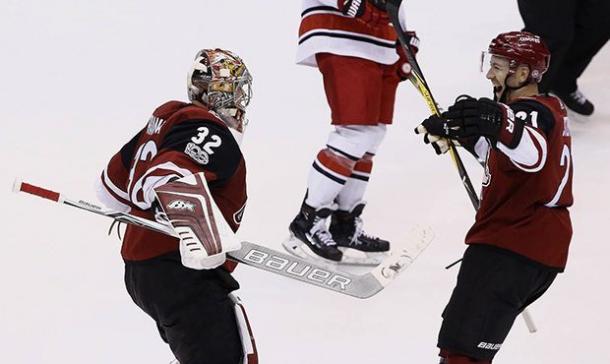 Raanta has had a stressful season in that he has been injured for a good portion of the season, missing 24 games either to injury or the backup playing. He was pegged as the starting goalie after being a backup his entire career.
To add salt to the wound, he even was involved in a car accident on his way to the Dallas Stars game on February 1, 2018. He joked that his time in Arizona has been a struggle, and the next thing that may happen to him is he will be bitten by a rattlesnake.
Raanta has an 8-14-5 record, a .916 save percentage, and a respectable 2.62 goals against average. But when your team is not scoring holding the other team down helps marginally.
The Coyotes are 30th in the NHL in scoring with a poor 2.28 goals per game average. That places them just above the worst team (Buffalo Sabres) who has a 2.26 average.
Chicago Blackhawks trades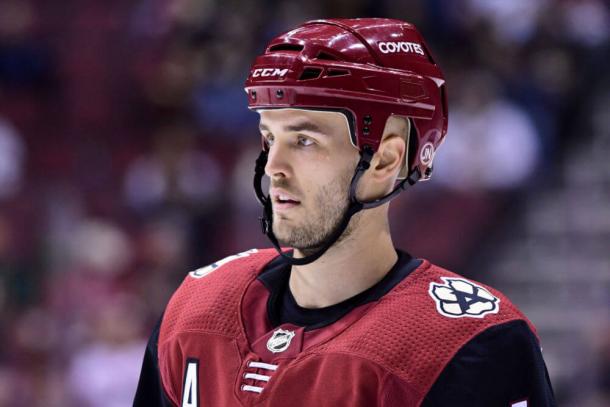 On that same busy trade day for Coyotes' GM John Chayka, he swung a deal with the Blackhawks who sent defenseman Niklas Hjalmarsson to the desert in return for defenseman Connor Murphy and forward Laurent Dauphin.
Hjalmarsson, like Raanta, has been infected with the injury bug and has missed 26 games this season, about half of all games played. While he was the key to this deal, his worth has been missed.
He is a reliable stay-at-home blueliner who has no goals, and four assists thus far this season. He is a -7 in the +/- stat, but has 66 blocks to go along with 10 hits.
Murphy has appeared in 47 games in Chicago compiling one goal, eight assists, with a whopping 84 hits. To show that when he went to a team with more defensive emphasis his +/- jumped from a -13 with the Coyotes, to a respectable +7 with the Hawks.
This trade seems to favor Chicago at this point. It's not fair to evaluate what Hjalmarsson could have done for the Coyotes with him being out almost half the season.
The Blackhawks gained youth, which they needed, and the Coyotes gained experience since Hjalmarsson was a member of three Stanley Cup-winning teams.
The other Chicago trade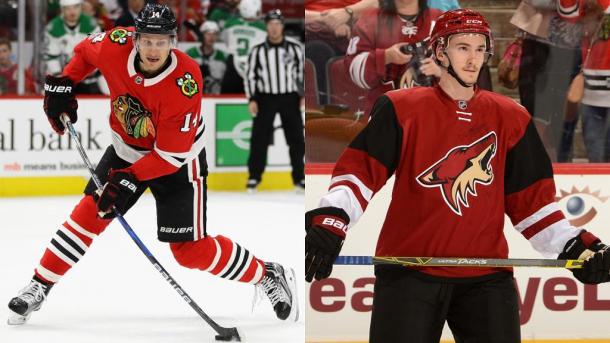 On January 10, 2018, the Coyotes had enough of Anthony Duclair and traded him to the Blackhawks, along with D-man Adam Clendening. In return, the Desert Dogs received veteran winger Richard Panik and Dauphin, who returned to Arizona for a second stint.
Duclair's time in Arizona was bitter/sweet. In his inaugural 2014/15 season his 20 goals, 24 assists had made it seem the trading Keith Yandle for him was well worth it.
Then, he clicked with his buddy Max Domi and the duo was dubbed the "Killer D's" with good reason. Between the two they accumulated 38 goals, 58 assists and all seemed well and good.
Duclair, like Domi, faltered significantly dropping to five goals, 10 assists in 58 games, and was demoted to the AHL to "find his game."
Duclair had nine goals, six assists in 33 games with the Coyotes. In Chicago, his stats are similar with two goals, three assists in 10 games.
Panik has appeared in 10 games in Arizona with no goals, four assists. His +3 stat shows he is a more defensive minded forward than Duclair.
Dauphin was sent to the AHL Tucson Roadrunners where is contributing to the first place team with three goals, five assists in just 11 games. He could be called up to the Coyotes if his play continues to improve. He is an excellent penalty killing forward.
This trade could be evaluated as even at this point. With Duclair's attitude issue and lack of effort, he may not improve much. Panik is a good veteran player who gets involved in the play and is a two-way forward... something Arizona lacks drastically.
Penguins trade
The Coyotes added a young forward, Josh Archibald to the lineup when they acquired him along with goalie Sean Maguire from the Pittsburgh Penguins in return for aging (36) goalie Michael Leighton and Arizona's fourth-round pick in the 2019 draft.
Archibald is a swift skater who gets involved in the play with vigor and has three goals, two assists in 14 games.
The Penguins trading Archibald is a mystery. Leighton has appeared in just one AHL game for the Pens, and Archibald has been in the Arizona lineup contributing. It is a good opportunity for Archibald to show what he can do, and head coach Rick Tocchet is giving him that chance.
This trade is a definite Arizona advantage as Archibald looks to be a good NHL player with speed and grit for his 5'10", 176lb frame.
Florida Panthers trade
In another move to fortify the blueline right before the season began, Chayka pulled off a deal to acquire defenseman Jason Demers for forward Jamie McGinn.
Demers is a veteran defenseman and has contributed to the Coyotes with three goals, 13 assists in 50 games. He is steady, and a right-handed shot. He has blocked 60 shots with 46 hits to add to his resume this year.
McGinn has played 46 games in Florida with seven goals and eight assists. His production is better than the meager nine goals, eight assists in 72 games with Arizona.
This trade has got to be in Arizona's favor. McGinn just wasn't putting the puck in the net, which was why he was signed as a free agent by the Yotes.
Final evaluation
GM Chayka certainly expected better results than what he is seeing when he made these trades. His team is in a tailspin, which may be worse than the horrible 2014-15 season when only 54 points were earned.
They have 33 points so far this season and look for some trade deadline deals to be made.
Who's on the list to perhaps be moved?
They have five unrestricted free agents including:
Antti Raanta
They have four restricted free agents including:
Who stays, who goes?
This writer's take is Richardson, Schenn, Connauton, Rieder, Rinaldo and perhaps Wedgewood are all vulnerable to be traded.
There have been rumors of Domi being traded, but that seems unlikely unless a deal Chayka can't resist is presented to him.
Raanta will be re-signed, and since Hamilton has yet to play it's a tough call to make about his future.
The point here is this team needs an IMMEDIATE UPGRADE. They still have a great pool of young players like Christian Dvorak, Brendan Perlini, Jakob Chychrun, Christian Fischer, and Clayton Keller to stabilize their future success.
They also have an excellent AHL roster including Dylan Strome, Nick Merkley, Kyle Capobianco, Adin Hill, Hunter Miska, Kyle Wood and Laurent Dauphin to rely on for support and possible promotion to the NHL.
The ideal situation is to assemble a good blend of veterans and young players to form a team who can make the playoffs sooner rather than later.
No playoffs since 2011/12 is not a successful pattern.
If Chayka can accomplish some trades, free agent signings to help his team he will be around... if not his days in the desert could be numbered.
He has over $16 million in projected cap space, and if owner Andrew Barroway wants a winner he needs to open his checkbook and get it done.
Time will tell, and the trade deadline is approaching...
What is your outlook on the trades made by the Coyotes? Have they improved the team, or are still in a rut? Let us know in the comments section below.