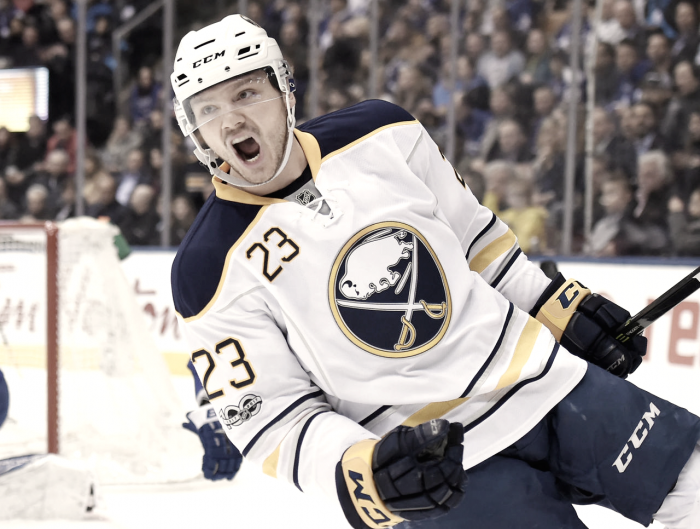 The Buffalo Sabres have been absolutely terrible this season managing to win only 15 games through 54 games played for 40 points which is good for second to last in the NHL, just ahead of the Arizona Coyotes.
The season wasn't supposed to go like this for Buffalo, but since the tanking and rebuild were so obviously bungled under the tenure of former GM Tim Murray, Buffalo is having an abysmal season.
With that said, GM Jason Botterill is now at the helm and controls the roster, and in less than a month will be fielding calls from all 31 teams for the NHL trade deadline. With all of the talk surrounding Evander Kane, one player that is starting to get some trade attention is Sam Reinhart.
According to TSN, Reinhart is 25th out of 30 on the "trade bait board." Reinhart is a restricted free agent after this season, and Botterill won't commit to giving him a new contract when asked.
Reinhart has never lived up to his "second-overall pick" status, but he has only played three full seasons in the NHL. So Buffalo could make the case that he just needs a change of scenery.
Buffalo could say that the window for that argument is closing fast especially with Reinhart having only 26 points through 54 games this season. His first season he was a 20-goal scorer, but his second he turned into a passer having 30 assists compared to the year before with 19.
For Botterill and the Sabres, the time is now to sell, sell, sell. Everyone except Jack Eichel, Rasmus Ristolainen, and Casey Mittelstadt should be available. It's time to put good players around Eichel, and truly build this team to become a powerhouse in the NHL.
What went wrong with Sam Reinhart?
After two straight 40-plus point seasons, Reinhart seems to be taking a step back in his development. When he was drafted in 2014, he was projected to be a top-six center but he ended up carving his role on the roster as Eichel's right winger. He seemed to have all of the tools to become great, or at least an above average top-six forward.
This year though has been a different story.
If you just watch him play, he looks slow, beatable, and not able to play well defensively. Almost every single one of his goals this year was scored while he stood in front of the net and tipped in the puck.
For example, the video above, he stood in front of the goalie and got lucky and hit in the rebound. I don't know if it's coaching or what. It seems that the longer this year drags on, Reinhart turns more into a Jordan Nolan type player and less of the flashy, quick hands type player that made him be selected second overall.
If you look at the players that were drafted in 2014 along with Reinhart, it was a pretty loaded draft. It produced some fairly dominant NHL players in Leon Draisaitl, Nikolaj Ehlers, and Dylan Larkin. If you look at Ehlers, he had 64 points in just his second year. He currently has 39 through 54 games which puts him on a pace for around 59 points this season.
Reinhart is not the same. I don't think he will ever be the player that Buffalo needs which is why now is the time that he should be traded.
If you look back through Buffalo lore, Tim Connolly is a name that comes to mind as a Sabre comparison. After being drafted by the New York Islanders in 1999, he was traded to Buffalo for Michael Peca who just wanted out of Buffalo at the time.
Connolly had back-to-back 40-point seasons for the Sabres and the Islanders before completely imploding in his second season with the Sabres where he only managed 25 points in 80 games.
During the 2003-04 season, he was set to prove that he wasn't a bust but he went down with a concussion. When Connolly returned in 2005 after the lockout he broke out for 55 points in 63 games and was lights-out in the playoffs before going out with post-concussion syndrome in Game 2 of the second round against the Ottawa Senators.
Connolly and Reinhart are two different players; Reinhart is smarter and able to really think about the game in a different way than most players, while Connolly had the slickest hands and would show many a time why he was drafted fifth overall.
If Connolly wasn't plagued by constant injuries, he would not have been considered a bust by many and would probably be considered a really great player.
It took Connolly almost five seasons to truly become a breakout player, and maybe it's the same for Reinhart. But, Buffalo can't be patient.
We have all been patient for four years.
An ideal trade scenario
The problem with Reinhart is that teams don't know what his ceiling is. They know he can play in the NHL, and that he is a good player at times but how good can he truly be is the question?
Botterill has been fielding calls on Reinhart, but there is no way the deals are acceptable.
Buffalo needs youth, a better defense, players who can keep up with Eichel, and the goalies. Reinhart may be able to garner one of those things, but knowing what Botterill's asking price for Kane is, he is going to want more than he can actually get. Botterill is pick hungry just like Murray was, and he wants Reinhart to get him a decent draft pick.
The ideal scenario would be for Reinhart to garner mid to high-level prospects while also getting a second or first in return, but that probably isn't going to happen. Teams aren't willing to give up the farm for an unknown which means that teams are more likely to give Buffalo low to mid-level prospects and a second or worse pick for Reinhart.
But, that shouldn't deter Botterill from making a deal on trade deadline day. I hope that when February 26th rolls around that Botterill is one of the most active GM's in the league. Buffalo needs retooling at almost every position, and they definitely need to find players that can play in Housley's system while helping Eichel become the superstar that he is right on the verge of being.
Buffalo lacks obvious speed and in today's game being slow is not an option. Reinhart should be able to gather a decent enough return to pull the trigger on a deal.
Where could Reinhart go?
Well if you look around the league, there are a few teams like the Anaheim Ducks or the St. Louis Blues who have lost key players and are just one or two pieces away from a playoff run. There are also teams like the San Jose Sharks who need to start preparing for the future by getting younger.
I think Reinhart would be a great fit with the Calgary Flames because they are a young, up and coming team that could use a right-handed shot on a team that is dominated by lefties.
Teams like the Arizona Coyotes or the Montreal Canadiens could use a player with Reinhart's skill set, possible high ceiling, and young age. The Vancouver Canucks are in full rebuild and could use a prospect.
Reinhart could really fit almost anywhere, and I know that there are a few teams that might be chomping at the bit after the first round of big names are gone on trade deadline day.
Final thoughts
Buffalo needs to mix up this roster and get rid of players who aren't helping. Reinhart has never been a stable player during his career, and with players like Mittelstadt and Nylander coming up it may be time to move on.
Buffalo doesn't and shouldn't have the patience to wait for Reinhart to mature and break out. They gave him a full season to develop in the WHL before calling him up, so his time is now to shine. Reinhart may have a resurgence at some point, but it also could be that a coaching and scenery change may be the best thing for his young career.
Being traded is always tough, but it is a business and trades are apart of it. I expect Botterill to take every good deal that helps Buffalo, and if that includes getting rid of Reinhart, so be it.
I'm not saying that Reinhart is a bad player, he is decent, but it just seems like it's time for Buffalo to move on. Buffalo needs to fill so many gaps left behind by Murray that trading a player like Reinhart may help them towards the path of a better roster.
Do you think Buffalo should trade Sam Reinhart? What do you think he would get in return? Tell me in the comments below!