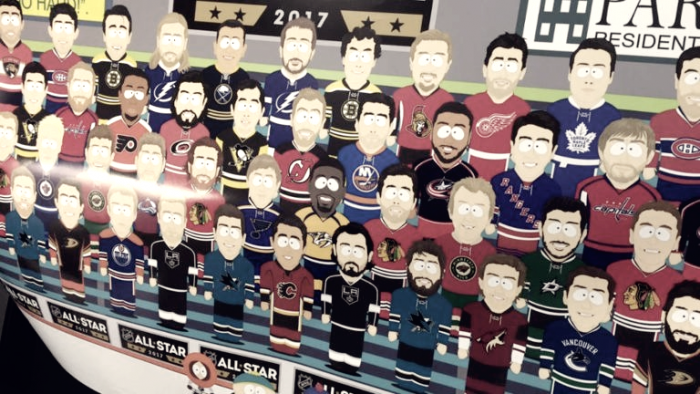 Here's NHL comic captions – Week 18 of the 2017/18 season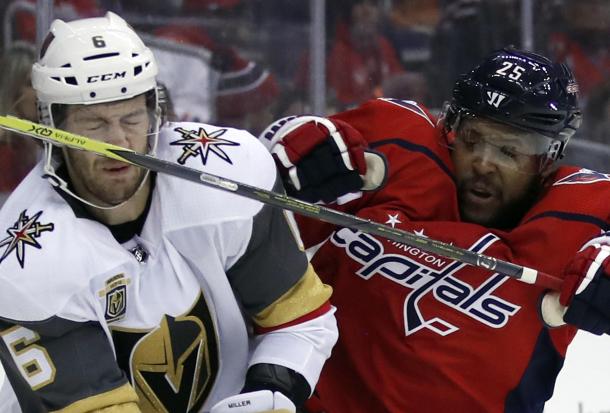 "Geez, Devante! Watch your stick dude, that one caught me right in the sniffer." Colin Miller, defenseman - Vegas Golden Knights
Whenever the top two teams of the Pacific and Metro Divisions get together, you know it's going to be some excellent hockey.
The amazing Vegas Golden Knights who not only lead their division but are second in points in the entire NHL, went into Washington with a mission.
To stop league-leading scorer Alex Ovechkin from taking over the game. Not only did they accomplish that, they held him to only one shot on goal, with nothing to show on the scoresheet.
Not many teams can do that, but this Vegas team is a very tough defensive team, and with Andre-Mark Fleury healthy again all things are possible.
The Golden Knights rank eighth in the league for goals against with an excellent 2.70 average.
Keeping the high-scoring Washington Capitals (who average 3.07 goals a game) to even three goals in this game is an accomplishment.
The two teams traded goals in the first two periods, only to see the home team Caps take a 3-2 lead at the 00:52 mark of the third period.
But, keeping the even more high scoring Golden Knights down for long is a chore. They average 3.41 goals a game and are second only to the Tampa Bay Lightning in that category.
Reilly Smith and Alex Tuch scored 5:27 apart to wrap this game up. The Golden Knights took all the chips in this 4-3 win to show everyone they are for real... in case there are still some doubters.
---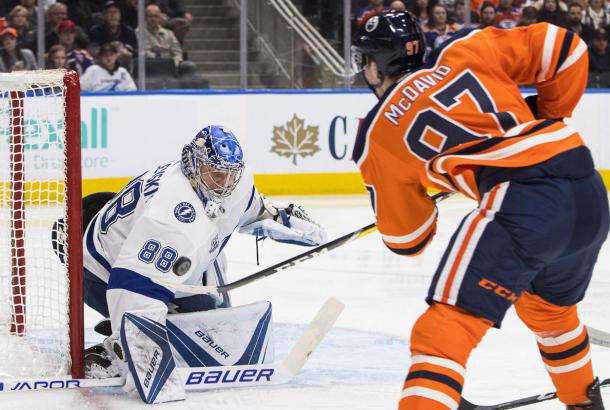 "Hey Andrei... I've got three more of these just in case you're wondering." Connor McDavid, center - Edmonton Oilers
What many are saying is with the performance of Connor McDavid this season, are his talents being wasted with the Edmonton Oilers poor standing this season?
As of this writing, the Oilers are 16 points out of a playoff wild card spot, with not too much hope of improving.
Perhaps... but it sure is magical to watch this amazingly talented player show off his skills.
Completing his five-point night was enough to bury one of the best teams in the NHL on this February 4, 2018, contest.
And, he did it against the top team in the Eastern Conference, and against one of the best goalies this season.
He actually took nine shots in this game, scoring on four of them to come away with a 44.4% shooting percentage. Not bad.
He was involved in five of his team's six goals and carried the Oilers to a 6-3 victory over the Tampa Bay Lightning.
He was on the ice for 20:15 so that means he scored about every five minutes in the game. How many players can say that?
McDavid's point per game is at 1.19, only slightly down from last season when he had 1.22 points per game.
So, why are the Oilers floundering? Good question.
---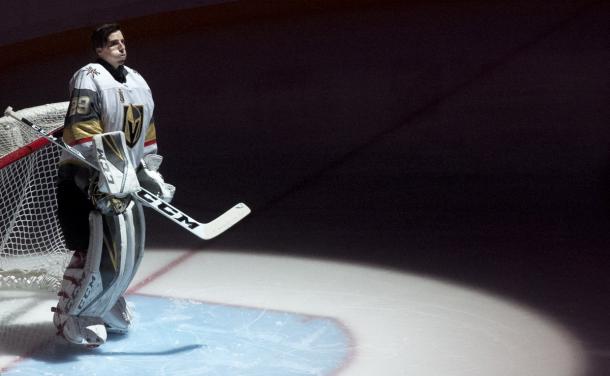 "Playing this game without an emotional drain would be like stopping Sidney Crosby on every shot." Marc-Andre Fleury - Vegas Golden Knights."
The stage was set like a Vegas headliner show, and Marc-Andre Fleury was the star. The buildup to this game must have been over the top for him, but it's still a game, and it's still his job to stop the puck.
Unfortunately, his former teammates had something else in mind. After Fleury's team took a two-goal lead on goals by William Karlsson and James Neal, the Pittsburgh Penguins came storming back.
And, if anyone knew of the Pens' ability to do just that... it would the "Flower."
Pittsburgh proceeded to score five unanswered goals to bury any celebration of Fleury's reunion to his former hunting grounds.
The last two Pittsburgh goals came from Evgeni Malkin who netted his 30th of the year, and Phil Kessel who got his 24th.
Just 18 seconds after Kessel's goal the Golden Knights attempted a comeback when Ryan Carpenter scored. They got closer when young Jonathan Marchessault got his 19th goal at the 12:01 mark of the third period.
It was too little too late for Fleury to come away with a win, but it is certain the gratitude shown by the Penguins' fans and former teammates will be appreciated for years to come for him.