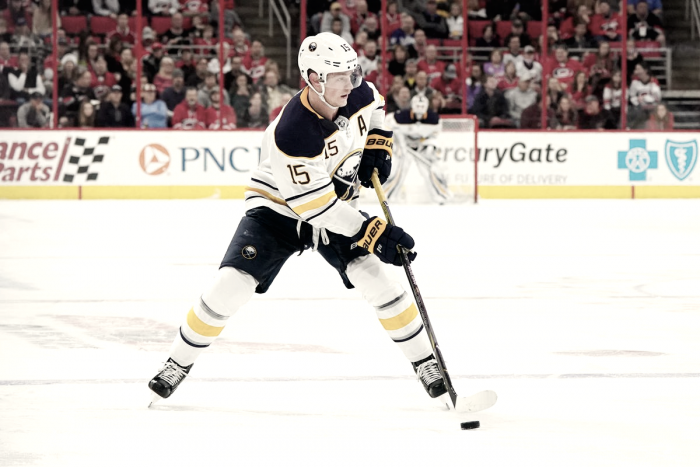 The Buffalo Sabres are going to be a down a player as superstar Jack Eichel is out indefinitely with a high-ankle sprain. Eichel went down in last night's game against the Boston Bruins after he fell awkwardly to the ice following a check from behind the net.
Eichel is a huge part of Buffalo's offense and losing him basically ends Buffalo's season. Last season, he had a high-ankle sprain in his right leg; it was very severe and he ended up being out for about 7 weeks. This time though it's in his left leg and it's rumored to be not as severe which is a positive sign for Buffalo fans.
Housley said Eichel injury is a hard one to gauge. He said it could be 4-to-6 weeks, but it could also be sooner. Reinhart said Jack is already doing things he couldn't do last year with the injury.

— Paul Hamilton (@pham1717) February 11, 2018
Head coach Phil Housley said that Eichel is expected to be out for about 4-6 weeks and may return this season depending on how his recovery progresses. But, if I were the Sabres, I would keep Eichel out for the rest of the season as a precaution.
Eichel is the franchise centerpiece and there really isn't a point for him to come back in what is a lost season. The sad thing for Buffalo fans is that Eichel was a big reason to watch these games, he made them enjoyable and at times fun to watch. Without him though, other players will have to step up into roles on this team because Eichel did so much for the Sabres.
Where does this leave Buffalo?
The Eichel injury puts them in a possibly even worse spot. They are only six points away from the Arizona Coyotes and last place. With Eichel injured, this will most likely cause Buffalo to be more active at this season's upcoming trade deadline and look to really blow up this roster.
The Sabres have made it official and have called up Nick Baptiste.

— Paul Hamilton (@pham1717) February 11, 2018
Buffalo did call up Nicolas Baptiste​ as the extra forward in Eichel's place. Sam Reinhart ​will most likely see more time at center, and Ryan O'Reilly ​will take over first-line duties.
Buffalo did play a game the same day they found out about Eichel's timetable against the ​Colorado Avalanche.​ They ended up losing 5-4, but some of their players like O'Reilly did show up when needed, and defenseman Casey Nelson​, who has been solid since called up, scored his first ever NHL goal. Buffalo just couldn't do enough, or get good enough play from ​Robin Lehner​, to complete the comeback.
Final thoughts
With Eichel's injury, GM Jason Botterill ​should look to become a heavy seller at the trade deadline. The majority of players on this roster need a complete overhaul, and it's time for Buffalo to start seriously building to become a contender and stop wasting away Eichel's talent.
Eichel being injured sucks for Sabres' fans because he made the games enjoyable with his skill and amazing abilities on the ice. Buffalo will probably have the worst eight weeks that they have ever had to end a season in the past few years and it would not be surprising that they end up in the 31st spot.
As Buffalo fans look towards next year and the draft with hope, they can only continue to watch this season go by in disgust as this team was supposed to be better.
Everyone wishes Eichel a quick and speedy recovery because now more than ever Buffalo Sabres' fans need a beacon of hope on this team.
​Do you think Eichel should come back if healthy? What is Buffalo missing? Tell me in the comments below.