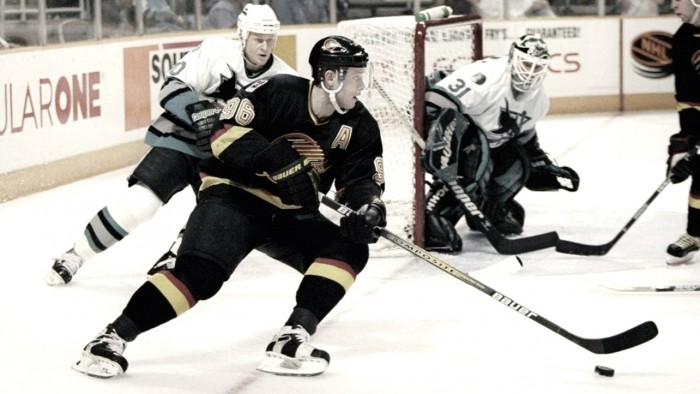 The NHL has changed a lot over the years, and even more so over the last decade. The game has revolutionized to where speed and skill are essential for players to succeed in today's NHL.
In retrospect, if we look back at the 90s there were a handful of players whose playing style could have been more suited for today's game. Some may even argue that these players might have played in the wrong era.
On that account, let's look at five former NHL players whose playing style would have been perfect for today's NHL.
Paul Kariya
Paul Kariya was probably one of the most electrifying players to watch from the mid-90's to the early 2000's. Despite being undersized at 5'10" and 180lbs, he excelled in an era where size and strength were prominent.
Kariya utilized his speed, skills and hockey IQ to become a seven-time All-Star and averaged a perfect point-per-game (989 points in 989 games) throughout his entire NHL career.
Unfortunately, he played in an era where the league didn't really crack down on head-shots. As a result, his career was cut short due to multiple concussions.
In essence, Kariya's game might have been more suited for today's NHL. One could imagine how many points Karyia could have scored without the two-line pass, clutching and grabbing, and strict headshot rules enforced.
Kariya would have reached the 1,000 point plateau and quite possibly finish with over 500 goals and close to 1,200 points in the NHL.
Theoren Fleury
Theoren Fleury is arguably the best-undersized player to play in his generation. At only 5'6", he managed to dominate games and be a difference-maker for much of his career.
He had a wonderful NHL career, scoring close to 500 goals and over 1,000 points. But like Kariya, Fleury played in an era where the rules favored bigger players with size and strength.
Needless to say Fleury could have probably excelled in any era, but he might have ended up scoring even better numbers in today's game. Especially since we are seeing more smaller players like Johnny Gaudreau and Brad Marchand dominate the league today.
If Fleury was 25 years younger, he could have very likely been competing with the rest of the best-undersized players for the scoring title today.
Pavel Bure
Aside from Connor McDavid, Pavel Bure might be the only player with the same type of breakaway speed the league has ever seen.
The "Russian Rocket" took the league by storm, especially during the early 90's, when he scored back-to-back 60 goals and 100-plus point seasons from 1992-1994.
Unfortunately, Bure was a bit undersized at 5'10" and 192lbs and dealt with major injuries that forced him to retire at 31. Nonetheless, it was still impressive to see Bure score 60 goals in the "dead puck" era.
Bure was also able to battle through injuries and hit the second prime later in his career, scoring 58 and 59 goals for the Florida Panthers from 1999-2001.
With his rare ability to burn opponents with his speed, Bure would have likely been a top-five scorer in today's NHL. In fact, it not unreasonable to say that he could be putting up similar numbers to Connor McDavid today.
Mike Modano
Mike Modano is often referred as the best U.S. born hockey player of all-time. It's hard to argue against that, as he is currently the highest scoring American with 1,374 points in 1,499 games.
Modano possessed the rare combination of size, skill, and speed during a very slow era. He managed to take over games and was almost impossible to stop when he was on his game.
During his early years, he was a pure offensive threat but after moving to Dallas in the mid-90's, Modano gradually transformed into one of the best two-way players in the game.
He also played in an era where many teams employed the trap, which lowered the offensive numbers of numerous players around the league.
If Modano played his entire career with the modern rules, he possibly could have scored more than 1,400 points and won more than one Stanley Cup.
Peter Bondra
Peter Bondra is another former NHL player who would be a perfect fit for today's NHL. Like many on this list, his game was built around speed and skill, and he was one of the most prolific scorers in the NHL during his prime.
His best years were all with the Washington Capitals, where he hit the 30-goal plateau nine times including two 52-goal seasons. Despite scoring over 500 goals and 760 points, Bondra is probably the most underrated on this list.
But you can definitely argue that he might be as talented as anybody on this list if you put him in today's NHL. At one time, he was also the undisputed fastest player in the NHL.
It would be fun to see how he matched up against speedy players like Connor McDavid and Dylan Larkin in today's' NHL.
Do you think these players played in the wrong era? Would they be as dominant in today's NHL? Let us know in the comment section below.