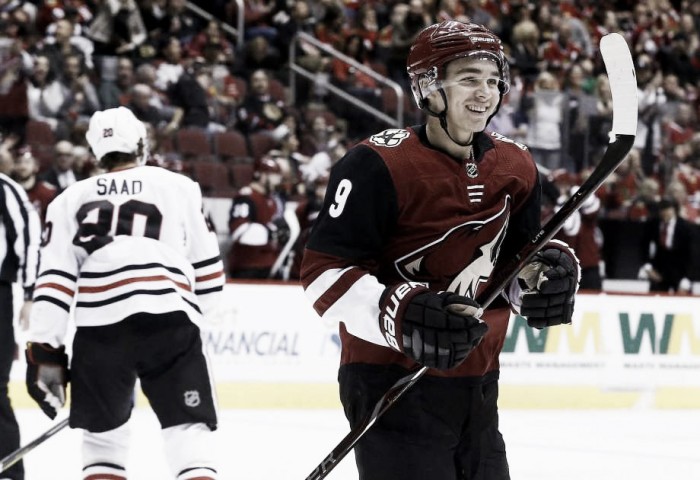 The Arizona Coyotes made the Chicago Blackhawks' recent downfall worse by dominating them in a laugher of a game.
It was the most goals scored by the desert team this season, and they scored two goals in each period and spread the scoring around the team.
Max Domi, Tobias Rieder scoring drought over
Scoring only his fourth goal of the campaign, Max Domi all of a sudden has two goals in his last six games. He also added an assist to give him 25 helpers for the season.
Domi deflected a shot from the left point by Jakob Chychrun for the first tally by the Coyotes. Tobias Rieder sent a nice bankshot pass off the boards to get the puck to Chychrun.
Tobias Rieder also ended his scoring woes by scoring for the first time 16 games. He was a healthy scratch in a game recently, so he got the message.
On this play he was in the right place at the right time to swat a rebound of a Domi shot past Jeff Glass who thought he had the puck stopped, only to discover that Rieder pounced on the loose disc.
The scoring was spread around
Whenever a team has a good night like this the cause can usually be attributed to a team effort on the score card.
Goals from Clayton Keller, Alex Goligoski, Christian Dvorak and Nick Cousins rounded out the rout by the Coyotes.
The play of Goligoski and Cousins has been especially noticable lately. Goligoski has six points in his last five games, including two goals.
"Cardiac" Cousins has been THE clutch player recently. He scored with 19 seconds remaining the Minnesota Wild game to tie it, after scoring an earlier goal. Then, he added two goals against the New York Islanders on January 22, 2018, including the game-winner in overtime.
Thus, the nickname.
Another hero
Antti Raanta was fantastic in this game. He faced 38 shots, with a sparkling .974 save percentage. He stopped all but one shot by Alex DeBrincat who netted his 20th goal this year. The shot was screened well and Raanta couldn't react quickly enough.
Raanta helped erase a losing streak against the Windy City club dating back to the 2014/15 season.
Sweet victory, and one Coyotes' fans can savor, since they have had little to celebrate this season.
Chicago Blackhawks are in a tailspin
Losing their sixth straight game and facing the tough, surprising Vegas Golden Knights tonight, the Blackhawks' playoff hopes are diminishing swiftly.
With just 26 games remaining and trailing for a wild-card spot, the Blackhawks may experience the depressing thought that they will miss the playoffs for the first time since the 2007/08 season.
To not see them in the playoffs would be weird, but they did make some significant changes to their roster this past off season.
To add to their plight, they are struggling with salary cap issues and lost a key play in Marian Hossa this entire season due to a rare skin disorder.
This game marked many players playing against their old team
Because these two teams have been trading partners lately players were facing their former teammates, which can be bittersweet.
On the Coyotes, former Blackhawk players Niklas Hjalmarsson, Richard Panik and Raanta were facing their previous teams. On the Blackhawks' side Connor Murphy, and Anthony Duclair were going up against the team they formerly skated with before being traded.
It creates some real rivalries when former players want to show the team that traded them that they made a mistake.
Two teams headed in opposite directions
The Blackhawks have now lost 10 of 12 games, and have really missed their star goalie, Corey Crawford. He is practicing with the team, but his return may be too little too late.
They now are 10 points away from a wild-card spot, and things don't look good for them.
The Arizona Coyotes have 15 points in their last 15 games to start this new year, and may be starting to see the light at the end of the tunnel.
Their play has been improved over this period of time, and they can only hope that the dark days of losing are behind them.
Ending this season on an upswing will certainly help them next season. They now only trail the Buffalo Sabres by four points to get out of last place in the NHL.
It may be a small accomplishment for this group, but they seem to be headed in the right direction... finally.