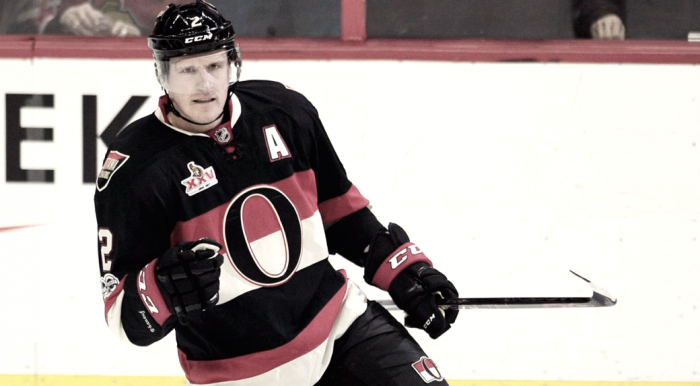 After logging just 10:50 of ice time, Dion Phaneuf headed to the locker room midway through the second period. What was thought to be injury related after he took a puck to the forearm early in the first period turned into a trade rumor after reports of a trade began to surface.
The Ottawa Senators traded Phaneuf and Nate Thompson to the Los Angeles Kings for Marian Gaborik and Nick Shore.
The Senators will be retaining 25% of Phaneuf's salary that has three more seasons left from a seven-year, $49 million contract. This transaction does help the Senators get some relief from their strapped cap numbers.
Phaneuf is due to be paid $7.675M more than Gaborik in actual dollars over the next three years, but that's offset by #sens retaining 25%

— Chris Johnston (@reporterchris) February 14, 2018
Phaneuf's and Thompson's time with Ottawa
Phaneuf's move to L.A. comes just two years and four days after he was acquired by Ottawa from the Toronto Maple Leafs in a blockbuster trade that saw nine players moved between the two teams. Phaneuf played 154 games with Ottawa totaling 54 points (13 G, 41 A,) 157 penalty minutes, and a -17 rating.
Thompson heads back to California after having spent the previous three seasons with the Anaheim Ducks before signing with Ottawa in free agency. He was in the first year of a two-year deal that pays him $3.3 million. He totaled 11 points in 43 games and was scratched during the time of the trade.
Gaborik's and Shore's time with L.A.
The Slovakian native is joining his fifth NHL team and has 14 points (7 G, 7 A) through 30 games this season. The 36-year-old is bouncing back from an offseason knee injury that required surgery. Gaborik has three seasons left on his deal with a $4.875 million cap hit.
Shore was drafted by L.A. back in 2011 and has spent his entire career with the Kings... until now. He totaled 49 points (14 G, 35 A) in 221 games with L.A. and has 15 points (4 G, 11 A) through 49 games this season. His contract is up after this season and he will be a restricted free agent.
Ottawa and L.A. team reactions
After the trade was official, L.A. Kings GM Rob Blake had this to say:
"Dion brings to our club a great deal of experience and leadership. He also plays with a physical edge which complements our line-up well. Nate has a good reputation of being a high-energy player on the ice. Both guys are also high character guys. We also wish Marian and Nick well. Marian has enjoyed a tremendous career to date and has played an integral role with our team over the years including a Stanley Cup Championship. Nick is a hard-worker who came up through our system and has developed into a solid NHL player."
Phaneuf had this to say about being traded:
Dion Phaneuf addresses the media following the announcement of the trade to the Los Angeles Kings. pic.twitter.com/s5VUKUD5Ox

— Ottawa Senators (@Senators) February 14, 2018
"I want to thank the Ottawa Senators organization for my time with them. That's first and foremost. I've got nothing but nice things to say about the city of Ottawa, about the organization and about my time here. It's disappointing when you do get moved but in saying that I'm very excited about where I'm going, the team that I'm going to and to be a Los Angeles King. They've got a really good group of guys here. What we went through last year, as far as we went, I'll never forget that as a player. I've got fond memories of playing in Ottawa. Right now it's a lot [to take in]. There's a lot of different emotions but for me I'm really excited about where I'm going. For me, personally, it's a good situation but the business is the business. It's a business decision that the Ottawa Senators wanted to move me and I respect that. It's a different situation. I'm not flying anywhere right now to meet them so my gear's staying here and I am too."
Phaneuf is being traded for the third time in his career. Ottawa was playing the Pittsburgh Penguins at the time and the L.A. Kings face them on Thursday so Phaneuf and Thompson will be staying put in Pennsylvania.
Give us your thoughts on this trade. Which team improves? Let us know in the comments section below.