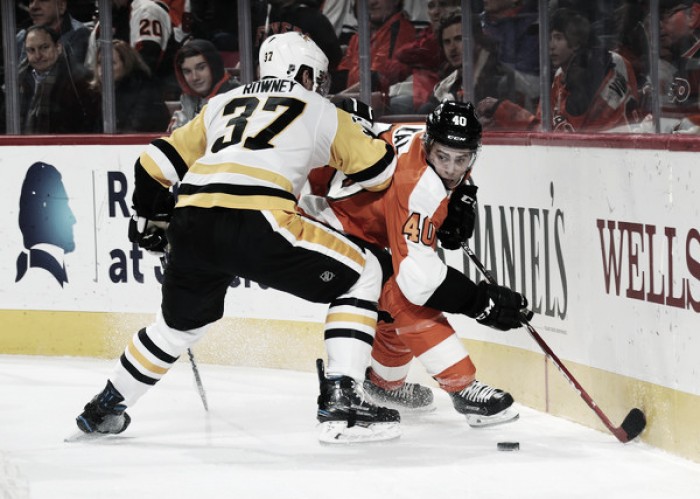 With the trade deadline approaching rapidly, things will start to heat up when it comes to the speculation of the Pittsburgh Penguins acquiring another center as they attempt to load up in their attempt to become the first three-peat champions in the NHL since the New York Islanders.
Adding another center, one who can eat up third-line minutes could do wonders for the team. It would take some pressure off of Riley Sheahan, who has played better as of late but would probably provide the best value as a fourth-line center.
To be honest, at this point, a trade for another center would do wonders based on the fact it would push Carter Rowney out of the lineup.
A brief history
We've regularly seen Sidney Crosby and Evgeni Malkin taking shifts in Carter Rowney's spot on the fourth line. Rowney has played 2:35 over five shifts, 1:04 of it shorthanded. Why dress Rowney in the first place? I don't get it.

— Jason Mackey (@JMackeyPG) February 16, 2018A brief history
Rowney is one of those feel-good stories that sports can provide. Undrafted, Rowney worked his way through the minors all the way from the East Coast Hockey League (ECHL), to the American Hockey League (AHL) and now to the Penguins.
The Penguins recognized the hard work Rowney had been putting in and signed him to a three-year contract, placing him one call away from NHL duty.
He got that call last year, playing in 27 games during the regular season due to injuries. He got into 20 more during the playoffs, emerging as a role/energy player with his play on the penalty kill his calling card.
Entering this season, with both Nick Bonino and Matt Cullen signing elsewhere during free agency, that all but guaranteed a spot as the team's fourth-line center for Rowney.
Penalty killing specialist
This season, Rowney has posted the fourth most minutes among Penguins' forwards while shorthanded and has done so playing in far fewer games than most on the roster.
Rowney is actually 13th in the NHL among all forwards who have at least 50 minutes of shorthanded time on ice in total TOI/G.
Few do it as good as Rowney does, as the 28-year old ranks in the top-20 in goals-against per 60 minutes played (GA/60), scoring chances against per 60 (SCA/60) and high-danger-chances against per 60 (HDCA/60), all while shorthanded.
He also ranks in the top-30 (23rd, and 27th, respectively, in both shots-against per 60 (SA/60) and on-ice save percentage (SV%).
Over the last five games played, the Penguins were not scored on while Rowney was on the ice while shorthanded.
Solely based on his play on the penalty kill, that should be enough to keep him in the lineup on a daily basis.
Is that enough, though?
While the Penguins are obviously stronger while having Rowney on the ice during the penalty kill, the same can't be said about his play at even strength.
Looking at numbers for defensive-minded forwards like Rowney usually don't do them the kind of justice that they sometimes deserve, but even his are concerning.
Through 2 periods Carter Rowney has more time played at SH (2:30) than even strength (1:39)

Why the Pens feel the need to play a replacement level player at all who isn't 100% healthy? Couldn't tell ya

— PensBurgh (@Pensburgh) February 16, 2018
Rowney is here, for one thing, his defensive play, and that is reflected in his time on ice. Over the past five games, Rowney has only averaged 5:09 of ice time while at 5v5, and his defensive zone faceoffs per 60 are the highest among not only Penguins' forwards, but throughout the NHL over the last five games.
Even with his defensive prowess on the penalty kill, Rowney has struggled at 5v5 in his own end, even taking into account just how much he plays in his own end.
With Rowney on the ice, the Penguins are allowing 6.98 GA/60, which is almost two goals higher than the player right behind him, Ryan Reaves. The lack of ice-time may impact these numbers but even his 'relative GA/60' numbers are eye-popping. The Penguins allow 5.32 GA/60 more when Rowney is on the ice as opposed to when he isn't.
Fact is, regardless if he starts in the defensive zone more than others, he is still getting scored on too much while he is out there. Pittsburgh has just an 86.96 SV% when Rowney is playing 5v5, and they haven't registered a goal either (all stats via Naturalstattrick.com, over the Penguins' past five games).
In their most recent game against the Los Angeles Kings, Rowney only managed 3:57 seconds of even strength play. Him playing so little is forcing the Penguins to play Sidney Crosby even more, something that isn't ideal over the course of a long season. Crosby has played 20 or more minutes in four of the last five games, including over 25 against the Vegas Golden Knights.
Is there a solution out there?
Most of the talk has come from the Penguins looking to add with a trade, but what if the Penguins' answer is already within the organization?
Better yet, what if he was in the press box during the Penguins 3-1 win over the Kings?
Teddy Blueger is an unproven commodity at the NHL level, mainly because he has yet to get into a game this season. He was called up and was expected to play against the Dallas Stars last Friday after Carter Rowney was hurt blocking a shot against the Golden Knights.
Rowney returned and Blueger has yet to get into a game.
In 45 games for the Wilkes-Barre Scranton Penguins, Blueger has registered 26 points (12 G, 14 A), in what is his second full professional season.
Blueger potentially taking over a center position in Pittsburgh isn't something that would be a shocker, as some has called for it to happen at least on a trial run since training camp. The skillset is there, and he plays on both the power-play and penalty kill in Wilkes-Barre.
He may not be the same penalty killer Rowney is, but he certainly profiles better in the offensive zone.
Blueger may not be the answer for the Penguins as the fourth-line center. It would be hard to see a team vying for a third straight championship to entrust a spot to a player with no prior experience at this level.
At the same time, wouldn't it make sense before trading away an asset, to find out exactly what you got in a player like Blueger, who was drafted the same year as Olli Maatta and Matt Murray?
Two years ago, the Penguins received an injection of youth during the middle-to-late part of the season. It helped revitalize the team and push them to the Stanley Cup Final, beating the San Jose Sharks. The following year they got Jake Guentzel from Wilkes-Barre.
Zach Aston-Reese has already joined the roster and is making a case to stay, could Blueger be next in line to earn a spot in Pittsburgh?
Until he gets into a game we may never know.
Should the Penguins play Blueger in a few games before committing to a trade? Or should they stand still with the current roster they have? Let us know what you think in the comments below!