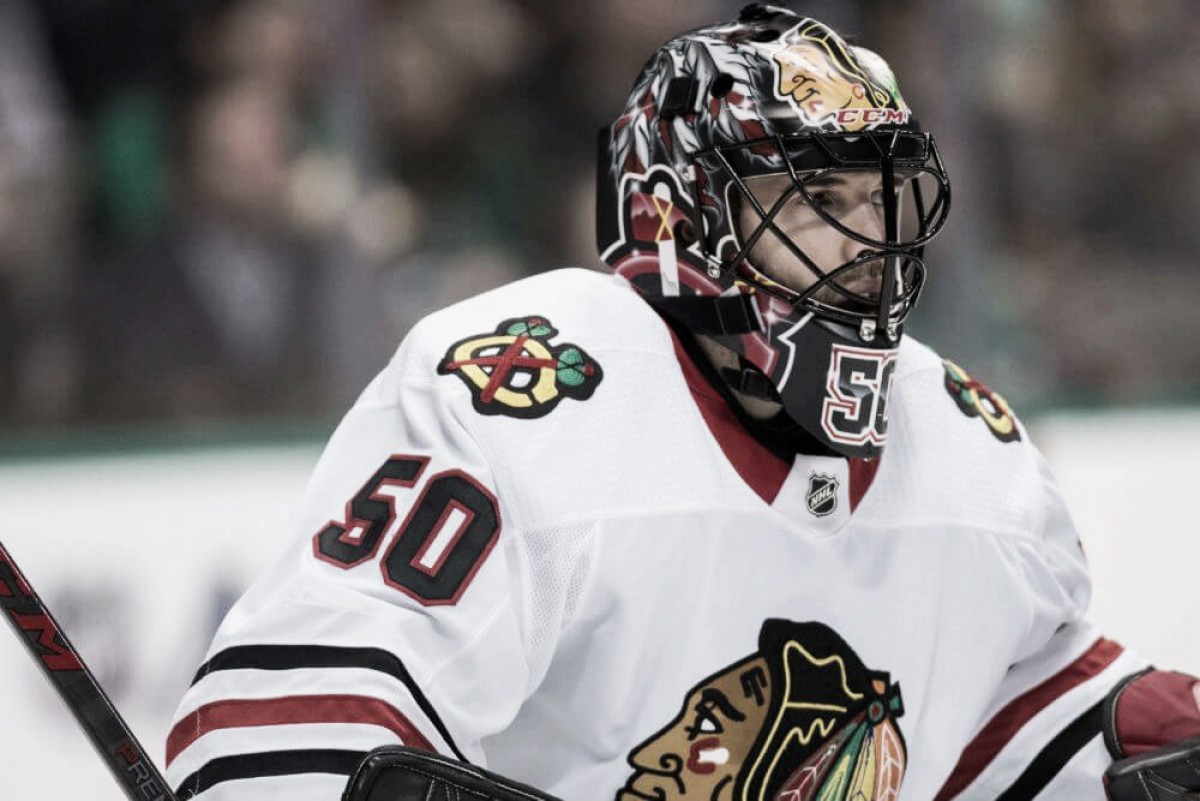 When a team loses their star goalie and he misses 23 games and counting, your chances of playing for the chance of another Cup lessens each game.
Corey Crawford is difficult to replace, and the Chicago Blackhawks have tried to do that with Anton Forsberg and Jeff Glass.
Unfortunately, it hasn't worked, with the team's dismal record without Crawford falling to 7-13-3. Crawford was a sparkling 16-9-2 with a .929 save percentage and a 2.27 goals against average.
When you compare that to what the other netminders have done, the differences are like night and day... or making the playoffs, or not making the postseason.
Anton Forsberg is a meager 5-11-3 with a .907 save percentage and 3.06 goals against average.
Jeff Glass, who was recently sent down to the AHL, had a 3-6-3 record with a .898 save percentage and a 3.31 goals against average.
Is Crawford nearly ready to return?
Per Craig Morgan of nhl.com, Blackhawks' head coach Joel Quenneville said it is too early to set a timetable for Crawford's return to the lineup, but he added that there has been no discussion of shutting Crawford down for the rest of the season if the Blackhawks fall too far off the playoff pace.
It is hoped that Crawford will return soon since the Windy City club is in the midst of an eight-game losing streak.
The team has 12 more home games remaining and 10 on the road. The problem is they only play non-playoff bound teams three or four times.
Playoffs without the Blackhawks?
To even imagine the playoffs without the Blackhawks seems odd beyond belief. That hasn't happened since the 2007/08 season, or 10 years ago.
They have won three Stanley Cups over that period of time and have four Western Conference Finals appearances to add to their resume.
They certainly did not look like a three-time Cup winner when they got thrashed by the lowly Arizona Coyotes after not losing to them for four seasons.
If they don't make the playoffs (and it seems their chances are limited) what changes should they make to get back to the postseason next year?
They seemed to make some trades which hurt them this season, (Saad for Panarin comes to mind) and moving towards that direction may not be their first choice going forward.
They are trying to get younger with the advancement of young players like Alex DeBrincat who has really blossomed this season. His 21 goals, 17 assists may keep a smile on the Blackhawks' fans faces in the coming seasons.
Another young player with promise is Nick Schmaltz who has come through with 15 goals, 24 assists to his credit.
What caused the Hawks downfall this season?
It's not Patrick Kane who is still scoring like the Kane of the past. Jonathan Toews has dropped off from this past performance with only 15 goals, 22 assists.
Schmaltz has outscored him.
Brent Seabrook's production has really deflated this season to just three goals, 14 assists. That has hurt the team's production.
But, overall the injury to Corey Crawford has been the catalyst to the Blackhawks' demise this season. It just goes to show you that when a team loses a key player all kinds of bad things can happen.
Replacing Crawford's career statistics of 230-124-45, with a .919 save percentage and a 2.37 goals against average is not easy to do.
And the Blackhawks are slowly learning that. Even if Crawford does return to play in maybe 15-20 of the remaining 22 games, the Blackhawks are DONE this season.
They'll be back, they won't fade away into oblivion.
Do you think that the Chicago Blackhawks' playoff hopes are gone? Let us know in the comments section below.