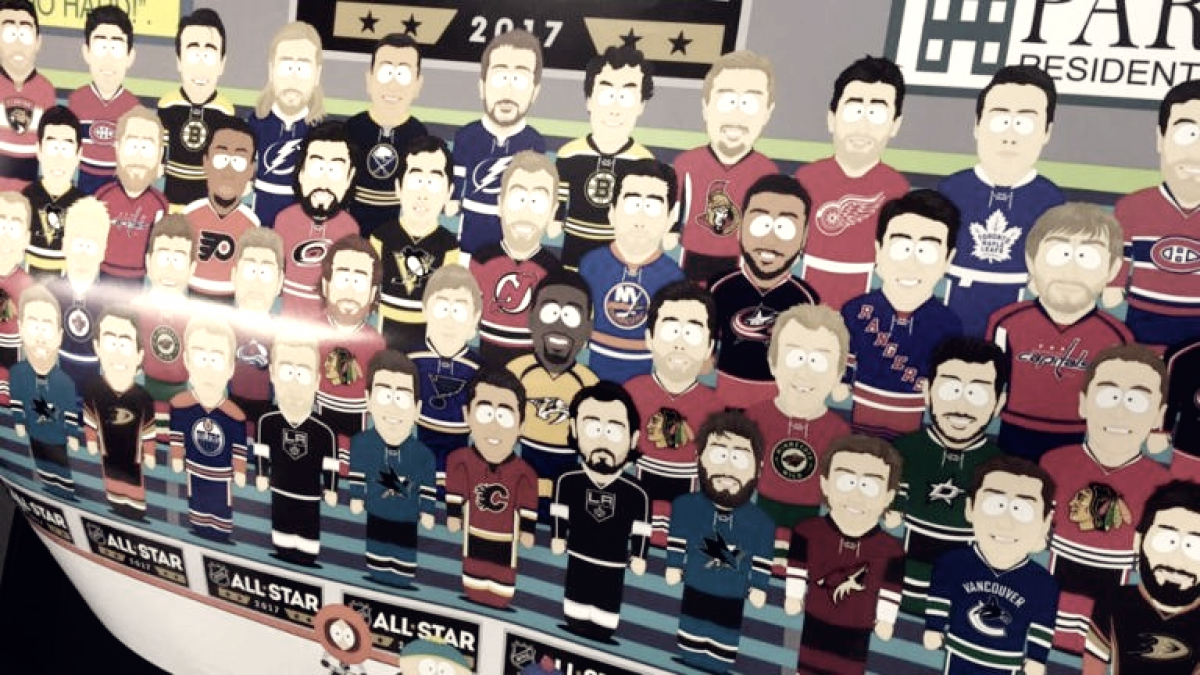 Here's NHL comic captions – Week 19 of the 2017/18 season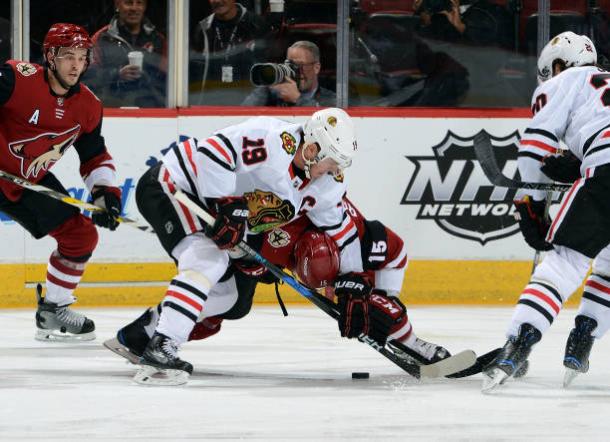 "Hey Jonathan I know you guys are struggling... but I don't think head-locking me is the answer." Brad Richardson, center - Arizona Coyotes
The Chicago Blackhawks who hadn't lost a game to the Arizona Coyotes in four seasons came into Gila River Arena in Glendale, AZ hoping to continue that trend, and end their seven-game losing streak.
That didn't happen.
The streaking Coyotes took it to the Windy City boys and came away with a surprising effort in thumping them 6-1.
Clayton Keller showed that he is the star of the Desert Dogs by tallying a two-point night to help crush the Blackhawks. He went on to display his offensive prowess by collecting a four-point game against the Montreal Canadiens on February 15, 2018.
It also helped two other struggling Coyotes' players get out of their scoring droughts. Both Max Domi and Tobias Rieder scored for the first time in a long time.
Rieder hadn't scored a goal since December 27, 2017, and Domi was able to celebrate a goal for the first time since December 16, 2017.
The game was a demonstration of two teams headed in completely opposite directions. The Coyotes as of this writing have now gained 21 points in their last 18 games to show they are turning things around... finally.
On the other hand, the Blackhawks, who are struggling without their star goalie Corey Crawford are not playing like a playoff-bound team scoring just 16 points in their last 21 games.
Not seeing the Blackhawks in the playoffs will seem very strange, but their chances are decreasing daily, and there is still no indication as to when Crawford will be able to return.
---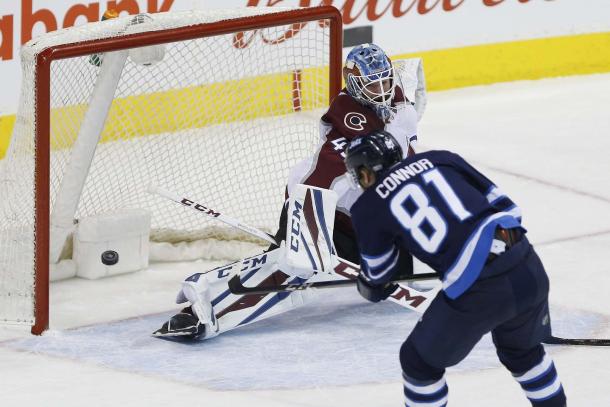 "You guys have no mercy...scoring six unanswered goals against us is really something. I know I'm not enjoying it, especially the four I let in." Jonathan Bernier, goalie - Colorado Avalanche
It may seem impossible to land the high-flying Winnipeg Jets as they continue their offensive fire-power. This time the Colorado Avalanche were their victim.
Mark Scheifele enjoyed a three-point night in his fourth game since returning from an injury. He now has seven points in his last four games and just helps fuel the Jets' attack.
The Av's goalie Jonathan Bernier was chased from his crease after giving up four goals. Replacement Semyon Varlamov didn't fare much better and gave up two more goals before the Av's woke up.
The Av's expect their star center Nate McKinnon to back in the lineup today, and they can really use his services. With McKinnon out the Av's have gone just 4-4, and need him to help push their fight for a playoff spot.
They stand just three points out of a wild-card spot and have one game in hand on the Minnesota Wild who possesses the last playoff position.
---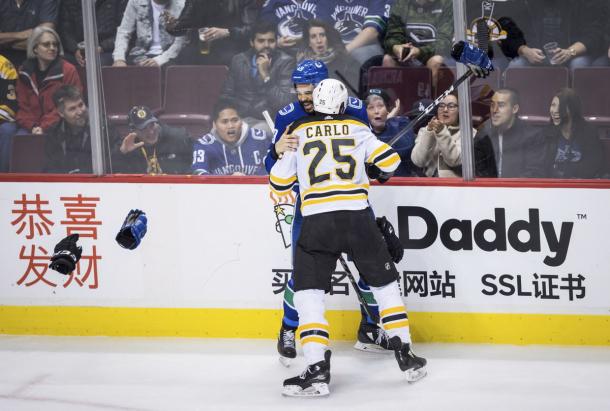 "Brandon, are you trying to tickle me or what? I thought we were going to fight, dude." Darren Archibald, right-wing - Vancouver Canucks.
The Boston Bruins had no answer for the way they were beaten by a much poorer team than themselves.
The Canucks made a statement by scoring four goals in the first period, to thwart any idea that the Bruins were the superior team... at least in this game.
The Bruins have 78 points and headed to the playoffs, while the lowly Vancouver Canucks are struggling with just 52 points in the Pacific Division.
Loui Eriksson pitched in his ninth and 10th goals, and Daniel Sedin had a goal and an assist.
Boston, winners of seven of their last eight games got a reality check in this game, and have four more away games on this road trip. Following the road trip, they have a nice long six-game homestand to recuperate.