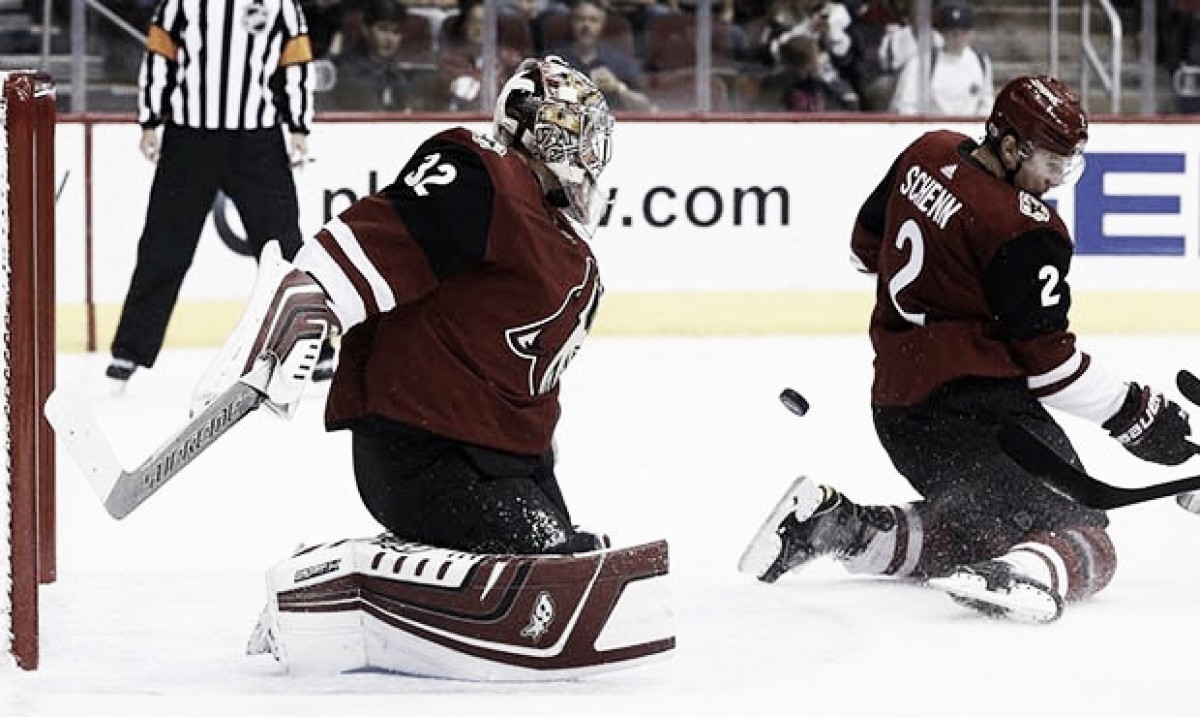 When goalie Antti Raanta was acquired last summer from the New York Rangers along with all the other new roster additions to the Coyotes, he was thought to be the next starter even though he had been a backup goalie his entire career.
Injuries have slowed him down
Raanta has had his share of injuries from early on in the season forcing him to miss 24 games, along with games where he had his backup Scott Wedgewood start in back-to-back game situations.
He seems to have beaten the injury bug which gives GM John Chayka a more realistic view of his worth. When he's healthy, his game is beyond excellent, and Chayka knows it.
His recent play has been stellar. In his last five games, he is 4-0-1 with a .946 save percentage and a 1.80 goals against average. It has kept the Coyotes in their current four-game winning streak, including a shutout of the Edmonton Oilers and Connor McDavid.
What kind of contract does Raanta deserve?
Right now Raanta ranks 55th in salary among NHL goalies actively playing. His play, if it continues certainly deserves more.
The terms of a new contract have been discussed by Coyotes' management, but it seems like they are still evaluating Raanta's worth if they were to offer him a new contract.
When Chayka was interviewed by arizonasports.com Craig Morgan he was asked what his approach was to discussions with Raanta regarding a possible extension.
"We've had discussions at a high level and I don't think much has changed throughout the year. We've always had a high opinion of Antti and thought he was a good goalie when, obviously, we went out and got him. It was one of those things where he's going to come in and finally show what he can do as a starter. As a team, we were going to evaluate him and allow it to play out. That's the same situation we're in now."
Could he also be traded before the deadline?
Of course, Chayka has made it known the only untouchable players are Oliver Ekman-Larsson (contrary to numerous reports to the contrary) and rookie sensation Clayton Keller.
Right now, Raanta's trade value has been augmented due to his recent elevated play like this highlight reel-save.
Still, do the Coyotes really want to lose him? As Chayka stated they have a high opinion of his goalie skills or they wouldn't have obtained him.
His stamina may be in question since he was formerly a backup goalie, and even if he plays in all of the remaining 23 games he will have still appeared in 58 total games throughout the entire season, not far from the average NHL starting goalie.
GM armchair
If you were Chayka, knowing what you know about his value as a goalie who can not only keep his team in games but take them across the finish line... what would you offer him in an extension contract?
Knowing how the team's history with the horrible contract they offered former starter Mike Smith after his excellent showing in the 2011/12 season, would you jump out of that airplane without a chute again?
Probably not.
Chayka is a shrewd negotiator and more than likely he won't fall into that pit-hole as then-GM Don Maloney did.
Still, Raanta has played well enough to deserve at least a three-year deal in the $8-9 million range.
He's going to be just 29-years-old in May and can easily be in the Coyote net to help his team get back into the playoffs.
At this point trading him would seem to be a huge mistake. If he can address the injury issues (besides getting rear-ended on the freeway on his way to the game) him being healthy is imperative.
Backup goalie
The Coyotes are fortunate to have two qualified potential backups on their AHL affiliate Tucson Roadrunner roster.
Both Adin Hill and Hunter Miska are playing well and getting valuable playing time to hone their skills for the NHL someday.
Hill has appeared in 23 games with a 2.59 GAA, and a .906 SV%. Miska has played in 25 games with a 2.77 GAA, and a .900 SV%.
If the Coyotes don't keep Scott Wedgewood as Raanta's backup then these two young netminders will give them depth in goal.
That's always a good thing.
Raanta should be fine
As long as he stays away from scorpions (he had them invade his house) and doesn't get rear-ended again on the freeway, he should be the starting goalie for the Arizona Coyotes for the next several years to come.
Oh yeah Antti, watch out for those rattlesnakes too!
Do you feel that Antti Raanta deserves a contract extension? If so, how much and for how long? Let us know in the comments section below.