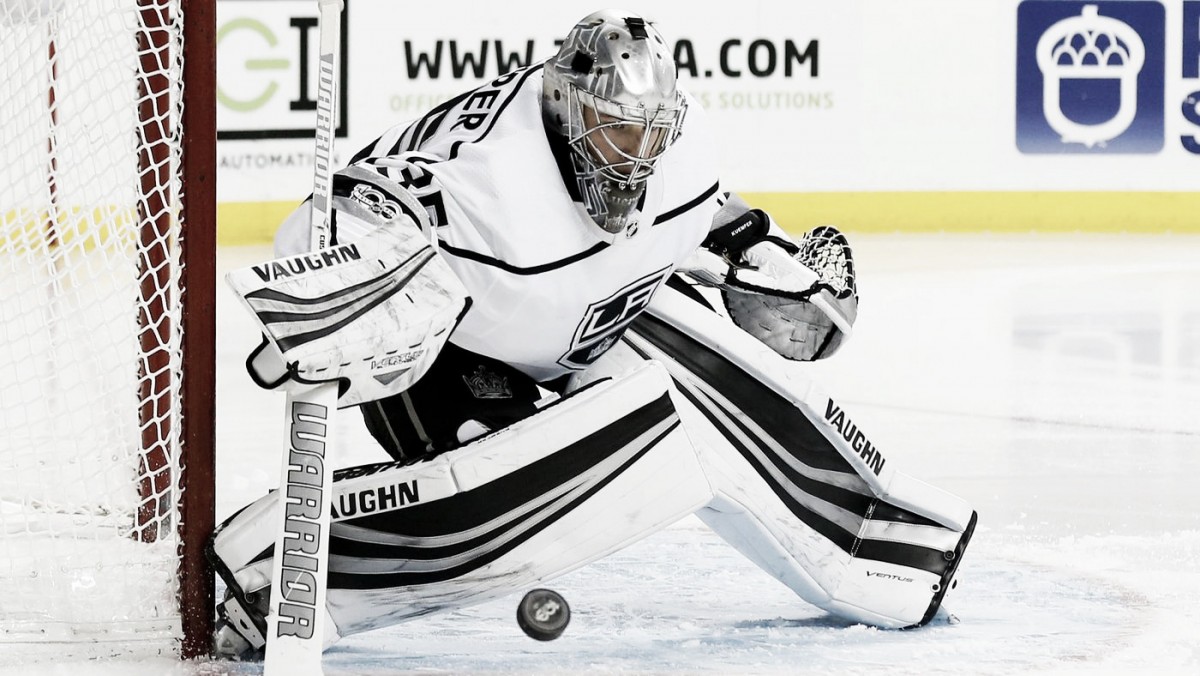 The Arizona Coyotes may have solved their annoying problem of finding a reliable, skilled backup goalie for Antti Raanta.
They worked a deal with their Pacific Division rival Los Angeles Kings to acquire Darcy Kuemper while giving up speedy forward Tobias Rieder and former backup goalie Scott Wedgewood.
Rieder just didn't fit in with head coach Rick Tocchet's system
When the Coyotes were coached by Dave Tippett, Rieder was his ideal player for his system of low-scoring defensive-minded games.
Not so much under Rick Tocchet's system of more wide-open play and increased offense.
While Rieder's penalty killing abilities will be missed, his lack of offense (8-G, 11-A, 58 games) just didn't fit into the type of play Tocchet expected of the German-born forward.
Tocchet made it known that Rieder needed to "play more in between the dots" by benching him recently. Even with his five points in his last five games, Tocc had enough.
The Kings want to get younger and faster, and this accomplished that goal. Rieder, 25, also is great at going after the puck, evident by his career 118 takeaways versus his 43 giveaways... on a team who struggled to keep possession of the puck.
Rieder was due to be a restricted free agent at season's end. This gives him a fresh start on a new team who plays more the style he plays... or a win-win situation for Rieder's future NHL career.
Darcy Kuemper will upgrade goalie position
Kuemper's play this season with the Kings had to be a huge consideration for GM John Chayka to go forward with this deal.
Darcy Kuemper has a sparkling 10-1-3 record with a 2.10 goals against average and a .932 save percentage. Compare that to Wedgewood's numbers of 5-9-4, 3.45 GAA, and .893 SV% and it becomes obvious why Chayka gave up two players to add a goalie who can help keep the puck out of the Arizona net.
Let's face it if you have a starting goalie like Jonathan Quick as long as he stays healthy the backup goalie will not see much playing time.
Kuemper may need to be sharp to keep those statistics on an Arizona team who averages 3.25 goals against a game. In L.A. the Kings are second in the NHL for best goals-against average at 2.41.
Still, this trade's focus was clearly making the Coyotes' a tougher team to score upon, and Kuemper will help with that process.
At 6'5", 215lbs he fits the mold of the goalies the Coyotes have in their AHL team in Tucson. Adin Hill stands 6'4", 198lbs, while Hunter Miska fits more along the stature of Raanta at 6'1", 174lbs.
Money talks
The Arizona Coyotes had already worked out a new contract for Kuemper who was set to be an unrestricted free agent while only earning $650,000 from the Kings.
GM Chayka took care of that situation by signing Kuemper to a two-year $3.7 million contract.
While he agreed to pick up 15% of Rieder's contract, the young GM saved $691,250 by swinging this deal.
Now, Chayka needs to extend the contract of his starting goalie Antti Raanta and that should be taken care of shortly. One has to admit it's a bit strange to sign your new backup goalie while your starter is still not inked to a new extension.
Wedgewood just didn't work out
While the Coyotes sent former backup Louis Domingue walking, they had high hopes that Scott Wedgewood would fill the gap as a backup goalie.
As his numbers indicate, that just didn't happen, and he's off to La-La-Land in hopes of better fortune and fame (good luck with that).
He fits the situation in L.A. since he won't get to play much unless there are back-to-back games or Quick is hurt.
He filled his role in Arizona, but sometimes things just don't work out.
Good luck Wedgie...
Final trade analysis
Some are saying on social media that the Coyotes got fleeced in this trade, but let's evaluate it logically.
Rieder just didn't fit into Tocchet's system here, and he actually hasn't earned the two-year contract he signed for $4.45 million. He may have needed a change, but his flaw was not being able to ever finish a play.
How many times did we see Rieder breakaway by using his blazing speed to either shoot wide or get stopped by the opposing goalie?
Those times are over, and if any other players are contemplating their fate on the team, using Rieder as an example... that you either give it your best effort or you're gone, should wake them up in the middle of the night in a cold sweat.
Tocchet expects and demands results. It's starting to show... they've won four straight games by playing his system more and more every game.
With the addition of Kuemper, the Coyotes now have a backup goalie who can team up with starter Raanta to cut into the defensive lapses they've experienced.
Just as in baseball to improve your team you need good pitching and defense. In the NHL having a good goalie like Pekka Rinne or Mark Andre-Fleury can take you a long way... like leading your division.
That's the goal of the Arizona Coyotes, and this may be the first step in improving this team to make it more competitive and get into the playoffs... soon.
The trade deadline is next Monday, hold onto your seatbelts... more may be happening.
What is your take on the trade the Coyotes made with the Los Angeles Kings? Who won this trade? Let us know in the comments section below.