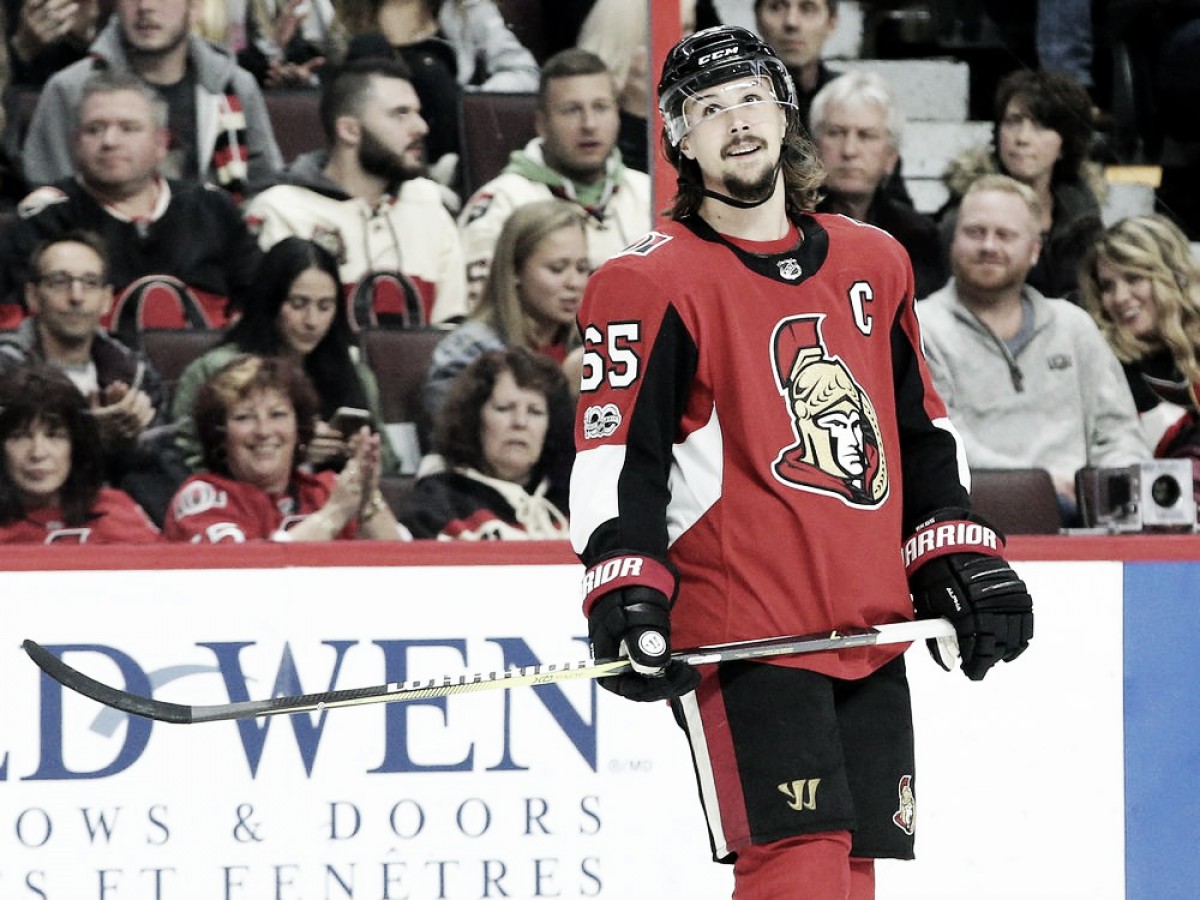 According to Bob McKenzie of TSN, there is a 50/50 chance that a deal could be worked out to move the defenseman by the trade deadline Monday at 3 pm ET.
So what changed?
Wasn't it just recently that we heard that Ottawa Senators' GM Pierre Dorion wasn't interested in trading the super-star defenseman?
What changed?
Sens' owner Eugene Melnyk wasn't pleased back in November when Karlsson stated to a group of reporters back in November, "I'm going to get what I'm worth and it's going to be no less, no matter where I'm going," in reference to his pending 2019 free agency.
Within days of that, rumors surfaced that Karlsson was asked to submit his 10-team no-trade list of teams he won't want to be traded to.
So, now Dorion is listening to calls from teams and making calls to teams to evaluate the true interest in making a deal for Karlsson.
To date, no official offer has been made to move on a trade, yet at least a half a dozen teams have been rumored as interested parties to obtain the grand jewel of this trade deadline. If another team is fortunate enough to land him, here is what they can expect.
It will take a significant offer to make a deal
The Senators have stated that the number of notable pieces in the price could be discounted somewhat if Bobby Ryan and his contract are taken on as part of any Karlsson deal.
Not many contending teams have the cap space to take on Ryan's contract.
Ryan, soon-to-be 31-years-old, who has never scored for Ottawa the way he did for Anaheim, has another four years on a contract that pays him $7.5 million per season with an annual cap hit of $7.25 million.
Then today another team besides the obvious Tampa Bay Lightning became a possible suitor.
The Nashville Predators.
Wait... isn't this the team who is already loaded on the blueline with the likes of P.K. Subban, Roman Josi, Mattias Ekholm, and Ryan Ellis?
Yes, but Nashville GM David Poile is known for making blockbuster trades like swapping Shea Weber for Subban and Seth Jones for Ryan Johansen.
He isn't afraid to now consider what it would take to get Karlsson. The return would be substantial to land the All-Star defenseman.
According to Pierre LeBrun of The Athletic, Poile has "chatted" with the Senators about a possible trade to send Karlsson to the Preds.
Would this make the Predators an obvious NHL "super" team?
Close.
They would need to give Ottawa quite a bit to add Karlsson to their blueline.
If Tampa Bay wants to raid their prospect pool to almost guarantee a Stanley Cup victory, they have prospects like Anthony Cirelli, Callan Foote, Mitchell Stephens, Conor Timmins and Taylor Raddysh to think about offering to the Senators.
What's the hurry?
Many teams inquiring about Karlsson may be planting a seed to see what it would take to actually swing a deal. They may be thinking that if he is not dealt this time around, he could be back in the trade market again before the draft.
The advantage of getting Karlsson by the trade deadline is you get him for two Cup runs for the price of one. With a player of his magnitude, it becomes a definite choice to get him earlier rather than later.
Besides the issue of giving up quite a few of assets to add Karlsson is the negative of paying him what he thinks he's worth. It's assured that the 10-team no-trade list he submitted isn't going to include teams with cap space like the Arizona Coyotes, Carolina Hurricanes or the Colorado Avalanche.
He'll want to go to a winner where he can hoist the Cup he narrowly missed winning last season.
It's quite a dilemma and makes the possibility of an actual trade seem remote... at best.
Monday is fast approaching and if nothing transpires before this weekend, the complexity and probability of actually putting a trade like this together become less likely... for now.
The rumors are flying, and do you think Karlsson will stay or go? Let us know your thoughts in the comments section below.