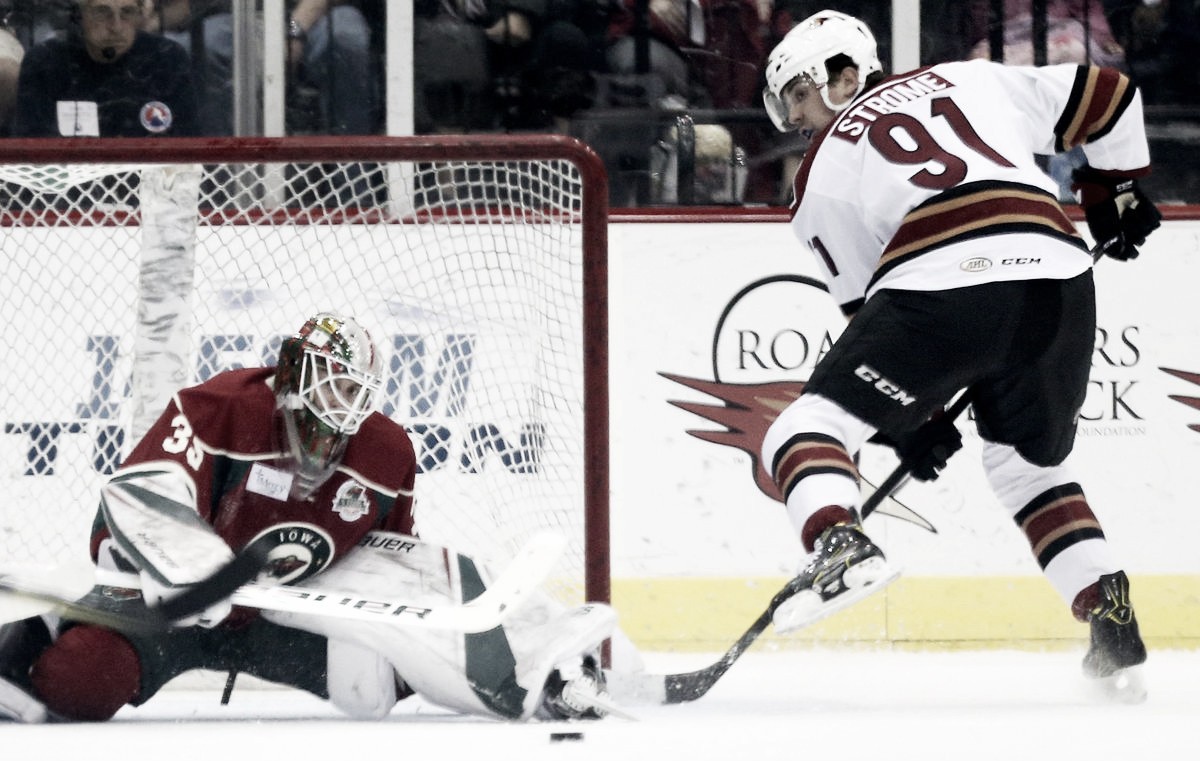 When the Arizona Coyotes drafted center Dylan Strome back in 2015 NHL Entry Draft they thought they had the center they had been looking for and were encouraged he'd be a quality NHL player.
The problem is so far, he has been a quality AHL player.
NHL, not so much.
Strome's statistics are impressive
He's shown that he can be an offensive dynamo, but only at the junior or AHL level thus far. His 354 OHL points in 219 games equate to a stunning 1.62 points per game.
But, that is at the OHL level. Christain Dvorak who currently plays center for the Coyotes also had an illustrious OHL career where he had 244 points in 158 games, and a 1.54 points per game ratio.
When he got to the NHL those totals have decreased significantly. He has 63 points in 141 NHL games or 0.45 points per game.
Welcome to the most competitive league in the world.
Will Strome ever be at the point of his young hockey career where he will be a permanent NHL player?
There are some doubts, and when the Arizona Coyotes' Assistant GM, and GM of the AHL Tucson Roadrunners, Steve Sullivan was asked if the team will call up Strome to participate in some NHL games, he mentioned that there is no firm plan in place to promote the young center to the parent club... at this time.
Now if an injury happens to another center on the Coyotes, he would more than likely be recalled.
Strome is helping the Tucson team win
The Tucson Roadrunners are currently leading the Pacific Division of the AHL, and look to be in the playoffs fighting for the Calder Cup. They have an impressive 30-17-3-1 record and have the seventh best winning percentage in the AHL with a 0.627 mark.
Dylan Strome is part of the reason they are doing so well.
His 21 goals, 27 assists in 42 games place him sixth in scoring in the AHL, and second as a rookie. His 1.14 points per game leads the league. He has pitched in eight power play goals to add to his resume.
The Coyotes' GM John Chayka feels that the success of the Roadrunners can only assist the Coyotes down the road. So, with that being said he went out on NHL trade deadline day and worked some magic.
The organization acquired Jordan Maletta from the Columbus Blue Jackets in return for Ryan Kujawinski, Carter Camper (who had five assists Friday night for Tucson) from the Cleveland Monsters in return for future considerations, Pierre-Cedric Labrie and Trevor Murphy from the Nashville Predators for John Ramage and Tyler Gaudet, and Derek Army from the Milwaukee Admirals for future considerations.
Will Strome be traded this summer?
Anything can happen, and to say the Coyotes have been more than patient with Strome's development is an understatement.
At this point, he could be traded this summer when Chayka has stated that he will look at improving the forward line of the team. The defense seems to be pretty well set, and by acquiring Darcy Kuemper in goal, the goalie situation has been fortified.
If the Coyotes were to say... go after a John Tavares (hey, we can dream, can't we?) they would need to return some assets to the New York Islanders to get a talent like that.
Strome could be a piece of Chayka's trade puzzle who could come in handy when negotiating for a forward who can turn around the Arizona team's future.
Even a Mitch Marner (who went right after Strome in the draft) could be in the cards for the Coyotes to acquire. Toronto has a logjam at center ice, with about nine centers including the newest addition of Tomas Plekanec whom they acquired from the Montreal Canadiens.
Marner's speed and scoring ability would fit nicely in the desert. He currently leads the Maple Leafs in scoring, and with Auston Matthews on the mend, has become the offensive threat the Coyotes hoped Strome would be when they drafted him.
Oh, to re-do that draft selection now looks like something the Coyotes are regretting.
Final thoughts
Look, Dylan Strome has the ability and maybe just needs more time than other prospects to develop. What's important is that he is playing in a similar system in Tucson, and getting ice time to work on the improvements he needs to make to be a regular NHL performer.
What makes Chayka get grey hair at an early age is will Strome get there, and does he continue to wait on his progression to the point where his value has deteriorated and he becomes a draft-bust and a permanent AHL-level player?
Hey, that's why he gets paid the big bucks!
What is your analysis of Dylan Strome's future? Draft-bust, or slow to develop future NHL player? Let us know in the comments section below.