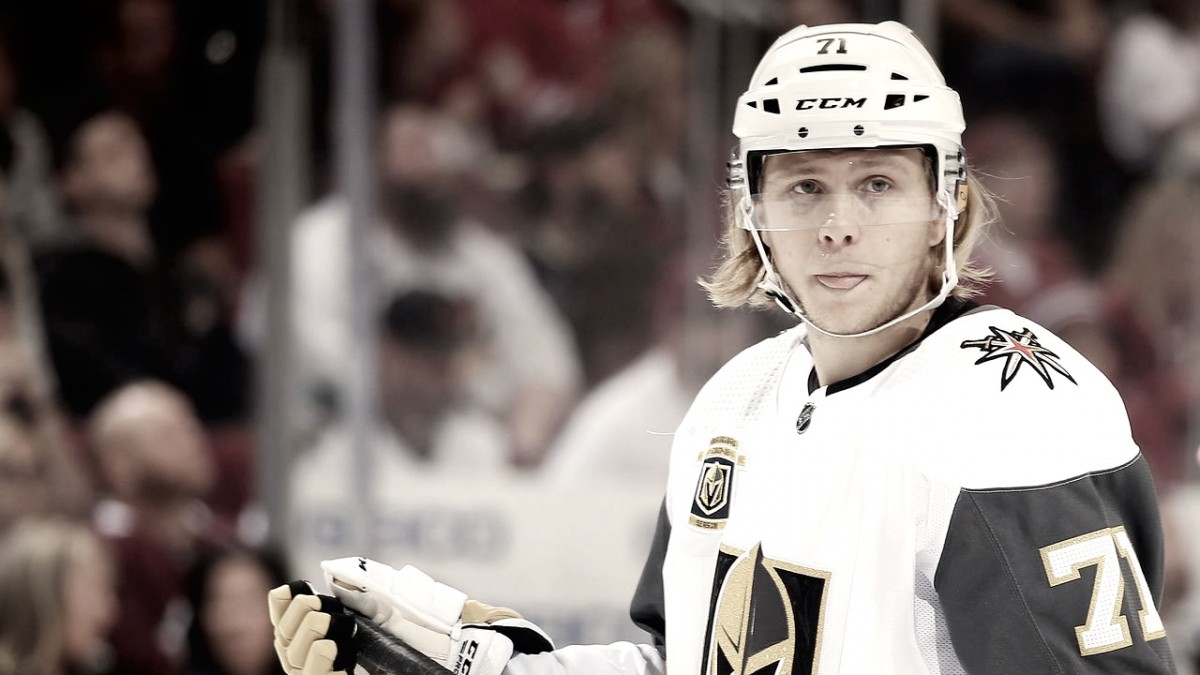 Unlike the NBA the NHL does not have an award dedicated to the "Most Improved Player".
Debatably, it might be something the league should consider adding in the near future. With that in mind, if the NHL did have a "Most Improved Player Award" today, which players would be in consideration to win it this season?
Let's take a look at the top candidates for 2017/18.
William Karlsson, Vegas Golden Knights
William Karlsson is the most obvious place to start. Before joining the Vegas Golden Knights, Karlsson played four seasons in the NHL and over the course of 183 games, he only managed to score 18 goals.
Being a castoff of the Columbus Blue Jackets during the expansion draft, seemed to have given Karlsson motivation to prove his former team wrong. The 25-year-old embraced a new role in Vegas and has quickly become the team's number one center this season.
Karlsson currently has 35 goals and 60 points and is on pace to finish with 43 goals and 73 points. Those numbers are a far cry from the six goals and 25 points he put up in Columbus last season.
Sean Couturier, Philadelphia Flyers
Sean Couturier is another player that has vastly improved this season. The Philadelphia Flyers' center is putting up unprecedented numbers compared to his first six seasons in the NHL.
Prior to 2017/18, Couturier had never hit the 40-point plateau and only scored a career-high of 15 goals. The Flyers' center currently has 29 goals and 63 points in 68 games.
It has been impressive to see Couturier suddenly on pace to double his career-average in goals, and points. It has been seven long years for the 25-year-old, and he is finally showing everyone why the Flyers selected him eighth overall back in the 2011 NHL draft.
Yanni Gourde, Tampa Bay Lightning
After finishing his junior career with the Victoriaville Tigres in 2012, Yanni Gourde took a long road to the NHL. He spent the better part six seasons fine-tuning his game in the ECHL and the AHL.
Prior to the 2017/18 season, he played a total of 22 NHL games and scored only nine points. The Tampa Bay Lightning gave the undrafted Gourde a chance to crack the roster this year, and he took the opportunity and ran with it.
Through 68 games this season, Gourde has found the net 24 times along with 29 helpers. He is playing a key role, providing secondary scoring for a Stanley Cup contending Tampa Bay Lightning team.
It's fair to say that Gourde is a bit of a late-bloomer at 26 but there is nothing wrong with that. As legendary Martin St.Louis broke out around the same age for the Tampa Bay Lightning many years ago.
Nathan MacKinnon, Colorado Avalanche
Nathan MacKinnon is another name that should be considered for the "Most Improved Player Award". He was selected first-overall by the Colorado Avalanche back in 2013, and several scouts saw superstar potential in the Nova Scotia product.
In MacKinnon's first four NHL seasons he showed promise and was a decent offensive player but he appeared to be a level under the league's elite. Perhaps it was a product of playing on some very bad teams, but it looks like the 22-year-old has finally turned the corner.
Ever since Matt Duchene's departure, MacKinnon has put the Avalanche on his back and has carried the team back into playoff contention.
He found chemistry in a new role, centering a line with Gabriel Landeskog and Mikko Rantanen and has hit new career-highs in goals (32), assists (47) and points (79). If he can finish the season off strong and help the Avalanche secure a playoff spot, MacKinnon should be a heavy contender for the Hart Trophy Award.
Connor Hellebuyck, Winnipeg Jets
Coming into the 2017/18 season many people were unsure if Connor Hellebuyck was a true number-one goalie in the NHL, and if he was the guy to help the Winnipeg Jets get back into the playoffs.
Through his sample of work this season, we can safely say that the 24-year-old has exceeded expectations. Hellebuyck has solidified himself as the team's number-one goalie and is a big reason why the Winnipeg Jets are one of the best teams in the NHL. They are Stanley Cup contenders and are one of the best teams in the Western Conference.
Hellebuyck is having a major breakout season and is currently posting a career-high in wins (35) and save percentage (0.923).
He also holds an impressive, 35-10-8 record and is ranked third in wins amongst NHL goalies. At this point, Hellebuyck should be a serious candidate for the Vezina Trophy along with Andrei Vasilevskiy of the Tampa Bay Lightning and Pekka Rinne of the Nashville Predators.
Honorable Mentions
Kyle Connor, Winnipeg Jets
John Gibson, Anaheim Ducks
Mikko Rantanen, Colorado Avalanche
Miles Wood, New Jersey Devils
Darnell Nurse, Edmonton Oilers
Do you agree with this list of "Most Improved Players" in the NHL? Who would you give the award to? Let us know in the comments section below.