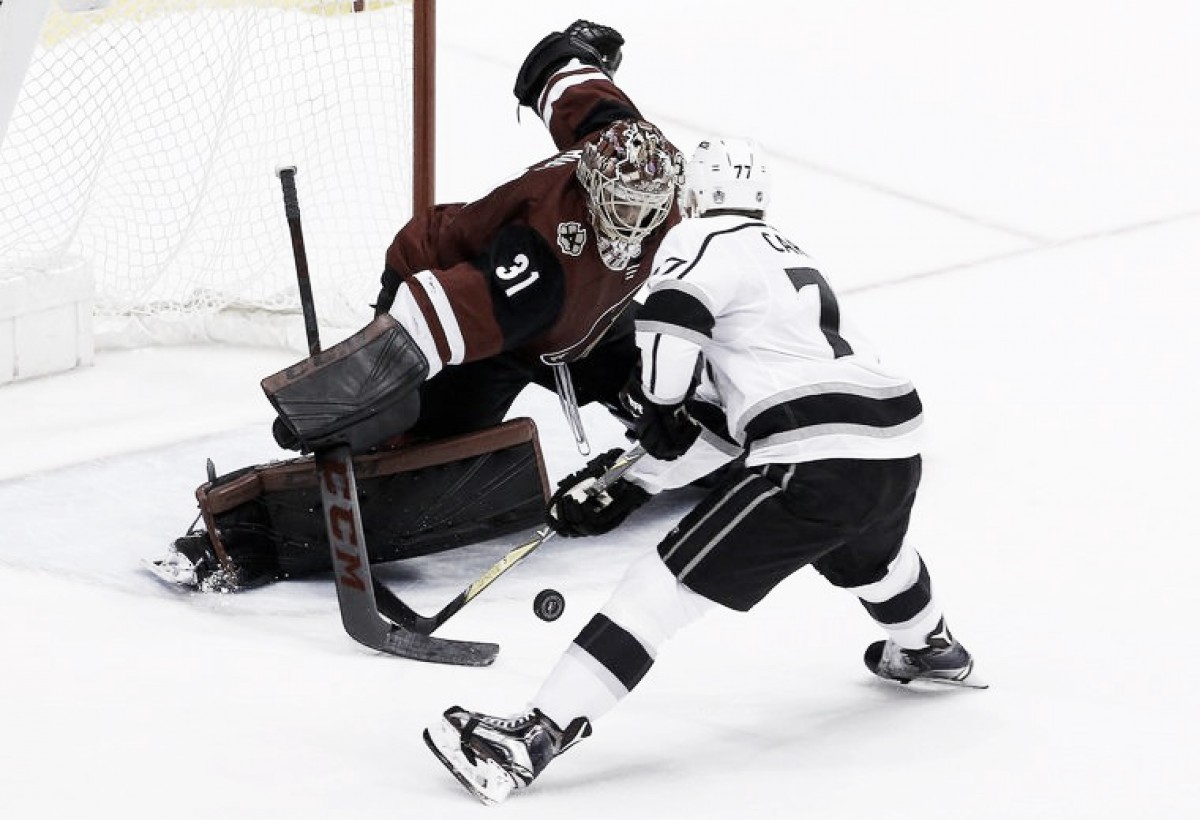 As an Arizona Coyotes' fan the game Tuesday last night was a memorable one.
Why?
Because it marked the first time the team has been out of last place in the NHL standings since they were tied with the Buffalo Sabres at the end of November of last year.
The current surge has resulted in no longer residing in the cellar
Even though both teams played last night, both lost to keep the Coyotes one point ahead of the Eichel-less Sabres for now.
The Arizona club is 6-3-1 in their last 10 games which stands out in the league. There are only five other teams with a better record and two others with the same record. That means they are playing better or equal to 77.4% of the rest of the teams.
It is a surge for certain, and if they could have played at near this level of competence they would more than likely be in the playoff hunt.
Injuries have a way of really destroying a team, and the Coyotes were no exception. Antti Raanta came out of the gate out of shape which precipitated his injury.
Jakob Chychrun missed 29 games with a mystery injury he suffered in the off-season, putting more pressure on an already weak defensive unit.
There is hope
The recent Coyotes' team is showing the rest of the league that they can play much better. Just look at how they battled the Nashville Predators (102 points) last night, who has the best record in the NHL.
They came up short, but they competed. This without Raanta again, as Darcy Kuemper filled in admirably. The team hopes to sign Raanta to an extension, and having both goalies healthy next season will determine their success ratio.
Clayton Keller has been a pleasant surprise this season as he continues to show everyone he belongs in the NHL and will excel with his skills. Through 70 games he has 19 goals, 32 assists to lead the team in scoring.
His puck handling skills are only equaled by his skating ability. If you've ever watched him on the power play, it's obvious that he controls the puck with the best of them, and knows what to do with it when an opportunity arises.
Brendan Perlini along with Keller will more than likely hit the 20-goal mark for the team as he is maturing every game and hitting the net with regularity.
He is a streaky scorer, but still a scorer. The Coyotes need more like him to execute a better offensive game which ranks 30th in the NHL with a 2.41 goals a game average.
Moving forward to next season
The Coyotes have been eliminated from playoff contention this season, but what about next season?
There is no doubt that GM John Chayka will be busy this summer before the draft to see what he can do to improve this team.
They need a solid 30-goal scorer like a John Tavares to really put them in the thick of improving. The Coyotes will have the cap space of $15 million to work with, and it may be a pipe dream, but don't underestimate the ability of Chayka to pull a rabbit out of his hat.
Or there is always a good, tough forward like James Neal who will be available. His 24 goals with the Vegas Golden Knights would sure help the Coyotes' cause.
David Perron will also be on the market looking for a contract next season. He has excellent stats with 16 goals, 47 assists in 64 games.
With the defense pretty well set, short of replacing Luke Schenn and Kevin Connauton and the goaltending looking promising once they sign Raanta, things may be looking good.
The way Connauton has been playing, it is possible they may keep him as the seventh defenseman. Since February 1, 2018, the big guy has had six goals, and three assists, but has cooled off in his last five games being held scoreless.
The confidence he gained was mirrored by the entire team, as they have been playing much better hockey since 2018 began.
Not being in last place is a place to start
Obviously, this team wants to be better than 30th out of 31 teams in the NHL. They really need to improve if they want a new arena. Fans may come out to see the new facility, if and when it is ever built, but a winning team will draw them there much more.
The ingredients are starting to blend, and when the exactly correct mixture is obtained... you'll see the Coyotes in the playoffs.
And, as they always say once you make the playoffs anything can happen.
Just ask a member of the Nashville Predators of last season.
It may be a dream, but some dreams become reality.
As an Arizona Coyotes' fan are you hopeful that their improved play will continue into next season? Let us know in the comments section below.