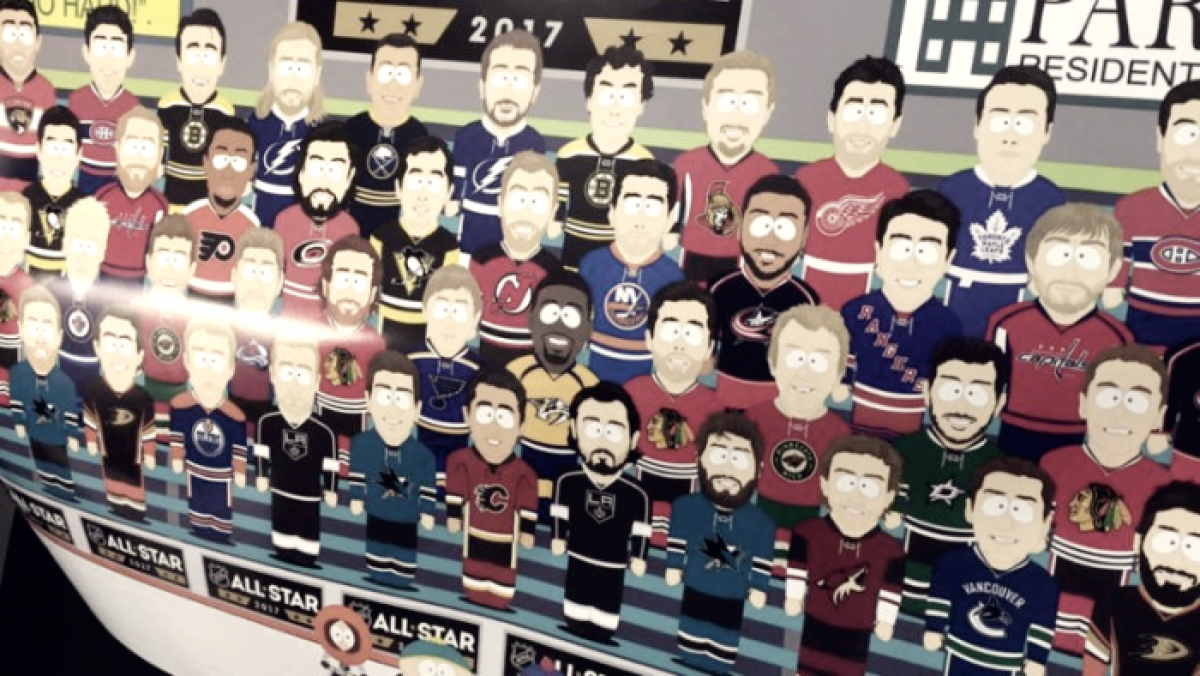 Here's NHL comic captions – Week 23 of the 2017/18 season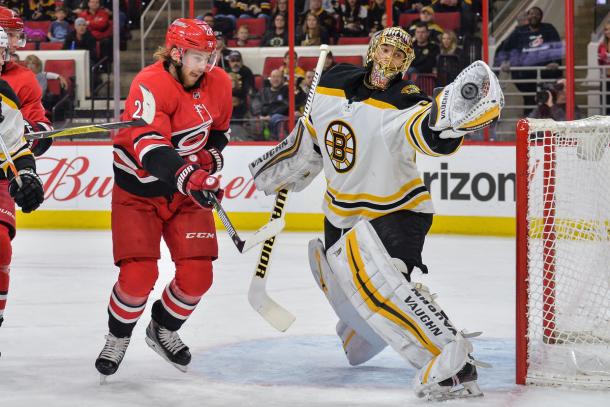 "Wow, that glove is so huge he could probably catch a watermelon in it!" Elias Lindholm, center - Carolina Hurricanes
After Brad Marchand scored his 30th goal with just 11 seconds remaining in the first period, the Boston Bruins fell asleep and allowed four unanswered goals, including two power-play tallies to give the Carolina Hurricanes the false impression that they were going to win this game.
Then in this March 13, 2018, contest the Bruins showed why they are one of the most dangerous offensive teams in the NHL.
In the matter of 8:22 the Bruins threw their own tea party by scoring five unanswered goals to turn the Hurricanes into a light shower. The main culprit was David Pastrnak who threw in a hat-trick to fortify the Boston attack.
He also assisted on Marchand's first-period goal to give him a four-point night. Marchand returned the favor assisting on two of Pastrnak's scores.
The Bruins needed this win, as they currently have just 12 games remaining, with seven being on the road and 11 against quality teams. They still must play the Tampa Bay Lightning twice, so their work is cut out for them.
The Hurricanes are now a category -1 storm trailing the New Jersey Devils by 11 points with 71 total points on the season.
---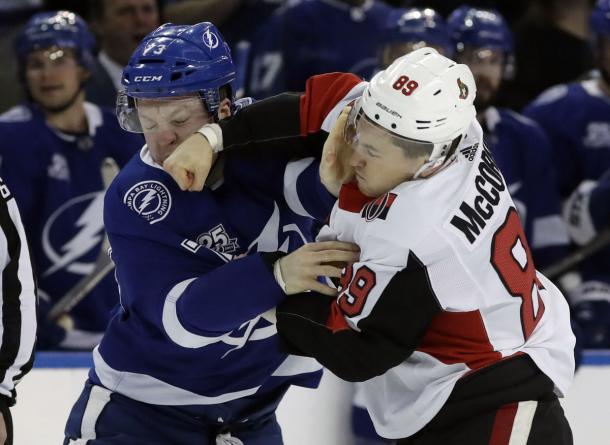 "Come on Max, I just went to the dentist...you have a wicked right, dude!" Adam Erne, left-wing - Tampa Bay Lightning
Mike Hoffman scored two goals and was joined in the scoring parade by five teammates who had two-point games. For Hoffman, it marked the fifth consecutive season of hitting the 20-goal plateau.
The Ottawa Senators were able to end the Tampa Bay Lightning's 10-game streak without a regulation loss. It has to feel good to knock off one of the top two teams in the NHL.
The Lightning defense seemed to be on vacation in the first and second periods as they gave up six goals including two within 3:37 in the initial stanza.
"Playing a team coming in on a back-to-back and giving up seven goals ... it's unacceptable," Tampa Bay defenseman Anton Stralman said. "It's hard to win games giving up that many goals."
"Turnovers. Bad tracks. Inability to block shots. Inability to kill a penalty," Tampa Bay coach Jon Cooper said. "Add them all up. Probably a little bit of bad bounces I guess, but maybe that drops it by one or two. Still, score four and lose by three ... that's a tough night at home."
The loss also spoiled the first career hat trick for J.T. Miller, who has five goals in seven games for Tampa Bay since being acquired from the New York Rangers at the Feb. 26 trade deadline. Nikita Kucherov and Steven Stamkos each collected three assists.
---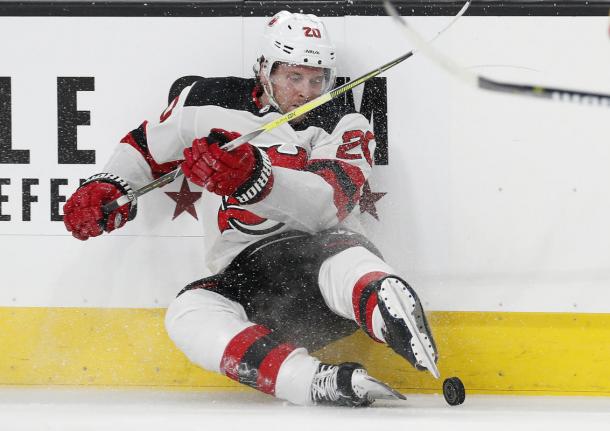 "See... what they don't know is I'm also skilled in soccer." Blake Coleman, center - New Jersey Devils
The upstart Vegas Golden Knights have not had too many bad games, but this one can go down as one of those games they'd just as soon forget. Shoot... even gamblers have bad nights.
The Golden Knights lost some of their shimmer as the New Jersey Devils came in and hit the jackpot... a laugher against a team who plays well at home. The Vegas expansion team had a 25-7-2 record at home before this game.
It was the worst home loss for the Golden Knights this season. Perhaps they can rest assured that they can get bad games like this out of their system before the playoffs begin next month.
Giving up four goals, two each in the first two periods was not a good start for the Vegas club. And, New Jersey struck fast as the two tallies in the initial period were just 1:37 apart. They followed that up with two goals in just 36 seconds in the middle frame.
Vegas retaliated with two goals of their own in the second, but then folded like a weak blackjack hand giving up four unanswered goals in the final period.
New Jersey is fighting for their playoff life and perhaps that was their motivating factor in the win. They have a five-point lead at this writing over the streaking Florida Panthers for the last playoff spot in the Eastern Conference. The Panthers have two games in hand.
---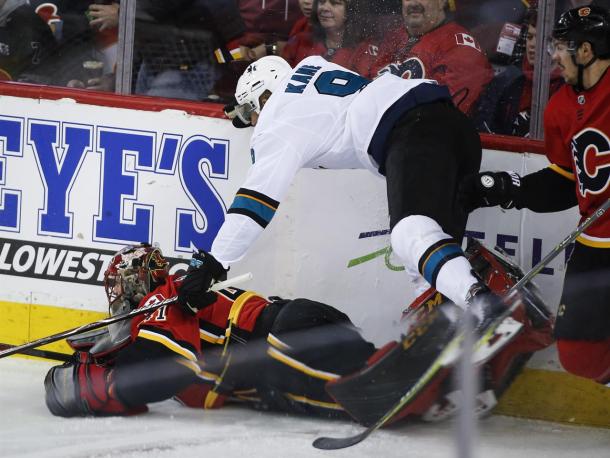 ​"Might as well stay down Smitty, I'm going to be all over you with four goals tonight, buddy." Evander Kane, left-wing - San Jose Sharks
It may have taken Evander Kane 565 games to finally score a hat-trick, but when he did he threw another in for good measure.
The San Jose Sharks eat the Calgary Flames alive in this game 7-4 on March 16, 2018.
"It's nice to get that monkey off my back," said Kane, sent from Buffalo to San Jose for forward Danny O'Regan and draft picks. "It's been a long time since I've scored a hat-trick. That was great. It made it even better, obviously, in a big game, an important game."
For Flames' goalie Mike Smith, it was not a good game. He allowed six goals on just 20 shots, and he was not pleased with his performance.
"Terrible," Smith said when asked to describe his performance. "It was one of those nights where pucks were hitting things, going in. A couple bad breaks there. It was definitely an off night and a tough one to swallow right now."
The Flames are throwing fire retardant on their playoff hopes going just 3-6-1 in their last 10 games.
Conversely, the Sharks are heading to the playoffs going 7-2-1 in their last 10 contests. With games like Kane had, they should feel pretty good going to the postseason. If the playoffs started today they would battle their southern California foes down in Los Angeles.
We all know Kane feels revived coming from the hapless Buffalo Sabres who have been at or near the bottom of the standings.
Kane seems to like playing in San Jose thus far with five goals, five assists in 10 games.