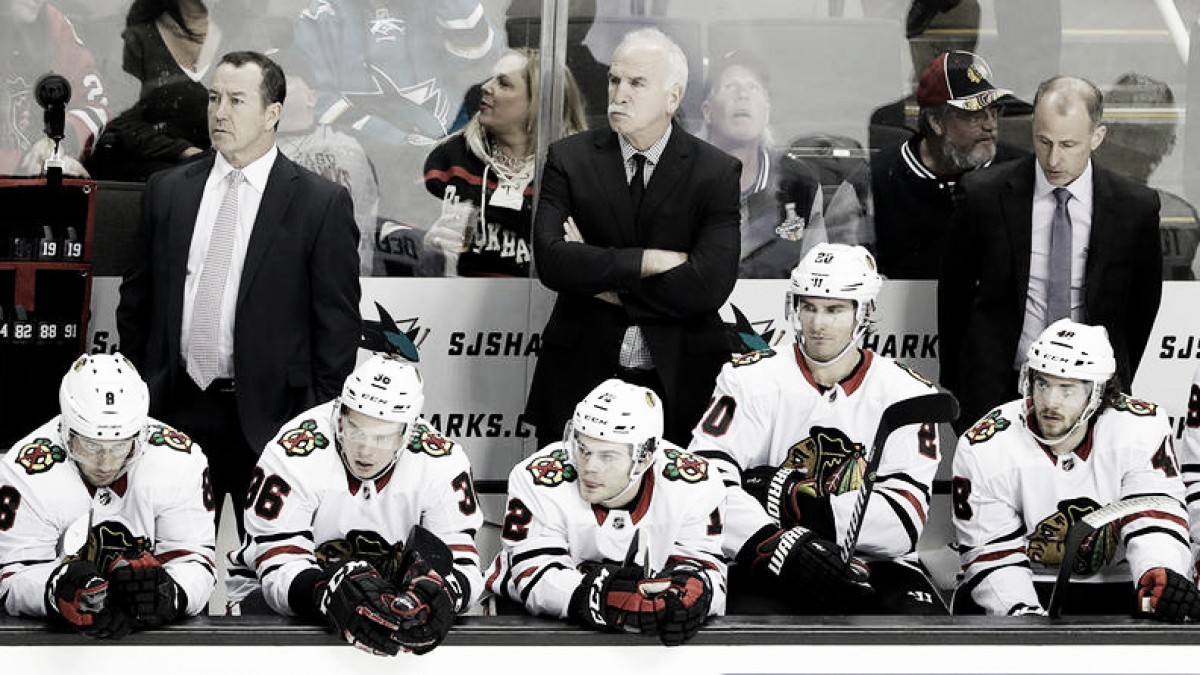 Every NHL hockey fan is accustomed to seeing the Chicago Blackhawks play in the playoffs.
That is until this season, which will mark the first time the 'Hawks have missed the playoffs since 2008.
What factors caused their demise?
One key factor to their not getting into the postseason this year has got to be the Artemi Panarin trade to the Columbus Blue Jackets. On the same night that the Blackhawks were eliminated from the playoffs, Parnarin scored a hat-trick for his new team.
That's putting salt in the wound, to say the least. In return for giving up a true scorer in Pararin who had 151 points in two seasons, the 'Hawks returned Brandon Saad back to the Chicago lineup.
Saad has only 31 points this season to Panarin's 68.
While this one factor is huge, it is not the only reason the Blackhawks failed to get to the postseason in 2017/18.
As can be the case for so many teams in the NHL, injuries can really hurt a team's progress. Losing Corey Crawford, who only played 28 games has got to be factored into the equation of playing golf early this season's end.
You don't replace a goalie of his stature easily, and although the team attempted to stop the leak, the dam was broken, and so was the team's playoff hopes.
It's even difficult to write that as of this writing the Blackhawks are dead last in the Central Division with just 69 points in 74 games. They trail the Dallas Stars by 14 points, so guess what?
They will finish last.
The other ugly factor is with their lowly 69 points they are only eight points behind a team like the Arizona Coyotes who have rallied since 2018 began to surge out of last place in the NHL standings.
A history of winning
The Chicago Blackhawks qualified for the playoffs nine consecutive seasons, winning it all in 2010, 2013, and finally in 2015.
They're accustomed to winning, and so is their head coach Joel Quenneville. If the Blackhawks finish below .500, it will mark the first time in Quenneville's 21-year head coaching career that his team was below the break-even mark.
That would be historical.
Yet, the team will move forward.
Looking ahead what will need to change
Well... the salary cap will still be a nemesis for this team, but not as much as in the past. Right now according to capfriendly.com they have $4.75 million in cap space and it looks to increase to $6.9 million next season.
The biggest issue is still the fact that two of their star players Jonathan Toews and Patrick Kane take up $21 million of that cap liability and will for the next five seasons.
Then if you add in Saad, Arnismov, Seabrook, and Keith the salary cap limit expands to $46.825 million... for just six players.
There is hope in the young players
Nick Schmaltz in his second season has progressed nicely and has 20 goals, 28 assists in 70 games this year. He is third in scoring on the team behind Kane and Toews.


Alex DeBrincat in his rookie season is doing even better hitting the 25-goal mark with 46 points, one behind Schmaltz.
They are the future of this team.
Since the team is eliminated from playoff contention, it's time for Quenneville to see what his young players can do. So, players like left-wing Matthew Highmore and center John Hayden are getting some ice time.
In net, a healthy Corey Crawford is essential to them winning and being in playoff contention. He still has two more years on his contract, but at 33 is aging.
If Anton Forsberg is their future in goal, he has some big shoes (skates?) to fill. He wasn't anything close to stunning with a 9-16-3 record and a less than memorable .905 save percentage, or 3.08 goals against average.
This team WILL be better
With the talent they currently have and the young players rising to the challenge, this team has great potential to regain the status they once possessed prior to this season's uncharacteristically poor showing.
After all... they're the 'HAWKS !
What are your thoughts as to what caused the Chicago Blackhawks to falter this season, and what do they need to do to improve? Let us know in the comments section below.