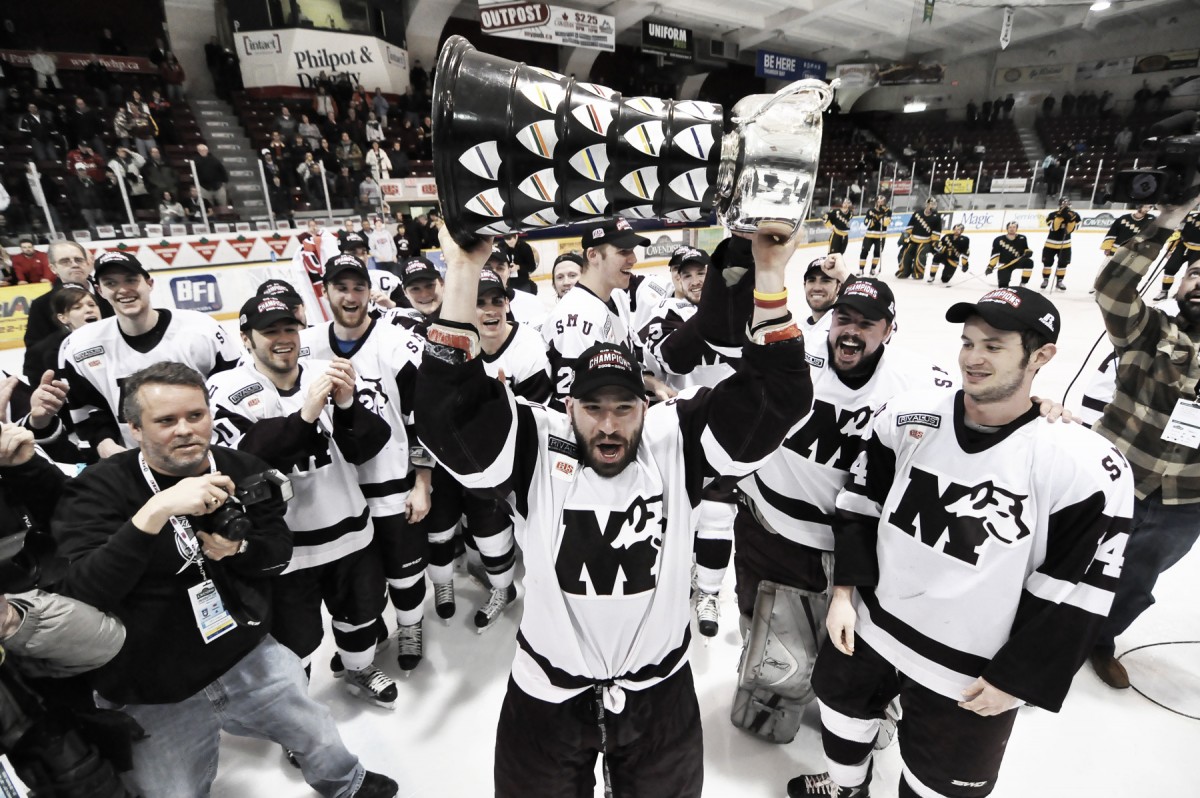 Mike Danton stands behind the bench of the Valley Wildcats Junior A hockey club, observing his charges on the ice. Life is good for Danton... very good.
It wasn't always so good… but one does not need to rehash the Mike Danton saga. Those who need to know, know the situation. It is a saga that is best left in the past. But it is a saga that could have ruined other people for life.
Not Mike Danton.
This is a man who has overcome more adversity than most people face in a lifetime. This is a man who had an NHL career (he played for both the New Jersey Devils and St. Louis Blues) cut short by circumstances and bad choices.
This is a man who has nothing to prove to anyone.
This is a man who is best judged by what he is doing now, not what he has done.
Overcoming past shadows
If anyone cares to listen to facts, they would see in Danton a man who overcame horrific situations and seemingly impossible odds to rise up and become a role model for children. Someone who overcame being away from the game of hockey for close to six years to become a champion.
He won the University Cup as a member of the Saint Mary's Huskies as well as a championship in a professional Polish league. He rejoined the ranks of professional hockey after university, playing in Europe for various professional teams until 2017.
During these years, he showed his scoring touch, notching 249 points in 239 games. After his time in professional hockey, Danton joined the Valley Wildcats of the Maritime Hockey League as an assistant coach.
Hockey has been very good to Mike Danton. But it is his message… his inner strength that shines forth when one speaks with him. Here is a man who has never dodged his past… but has not let it define him.
He has dreams of starting a foundation to give back to youth who could benefit from his message. He has his own hockey school in Halifax, Nova Scotia, and is dedicated to giving back to the sport that has done so much for him.
Proud daddy, sincere coach
Above all, Danton beams the most when he speaks about being a father. His love for his children is very evident once the topic of his family comes up. He loves being a dad, and that is very plain to see.
But it is his sincerity… his openness that one notices the most once some time is spent with him. Mike Danton the coach puts discipline and knowledge together behind the bench in a unique blend of passion and fire that one can't help but notice.
The players respond… after all, he was one of them. He has played at the highest level, knows the game and is always honest with his players. He praises and disciplines with the same enthusiastic energy.
Fire for life
Mike Danton the person tackles life with the same passion and fire, and his is an enthusiasm for life that is rarely seen. An enthusiasm borne of a second chance. A person can often be defined by their past… chained to those events that should have marked them for life.
Danton has broken those chains.
While his past may always be a part of his public story, it does not define him. And he will not allow it.
Mike Danton is not a cut and dry case. Those who know his story will draw their own conclusions about him and the situation, whether those conclusions are right or wrong.
But it isn't until you actually meet Danton that you see the true man… a man who knows he has shadows from his past following him, but a man whose passion and enthusiasm for hockey and life shines a light bright enough to dispel those same shadows.
His truly is a story of ruin to redemption.