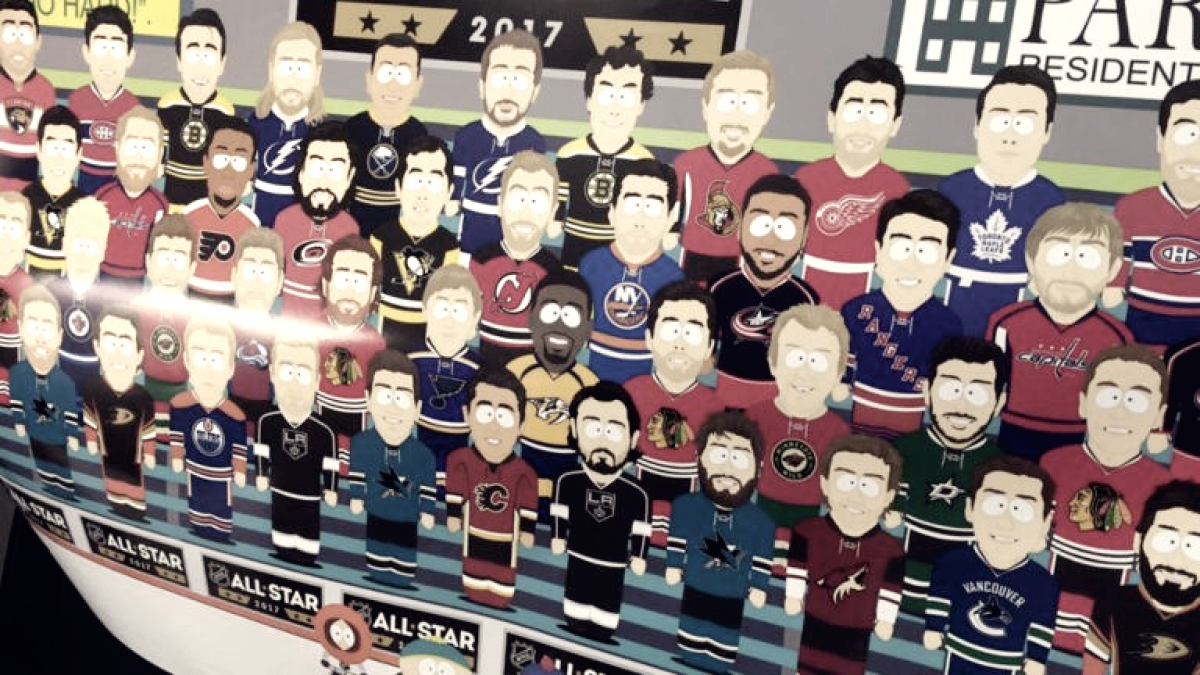 Here's NHL comic captions – Week 25 of the 2017/18 season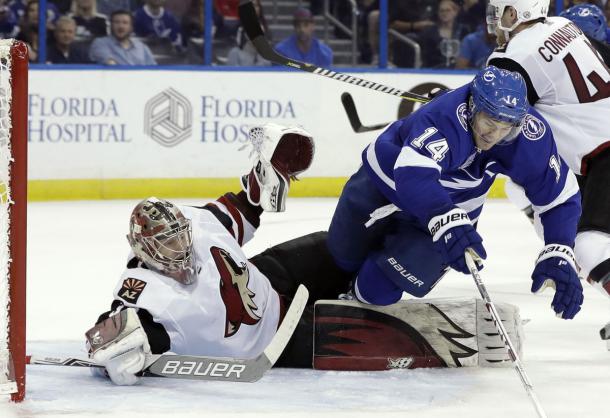 "I guess you haven't heard about the new goalie interference rule yet, huh Chris?" Antti Raanta, goalie - Arizona Coyotes
One thing which was clear in this March 26, 2018, game was the Arizona Coyotes are no slouches anymore.
They took it to the Tampa Bay Lightning on their home ice in a game which the Lightning played without Steven Stamkos, but seemed disinterested in winning.
How so?
Try only placing 20 shots on net to back up that argument. One could also state that Tampa Bay's defense was lousy. Both Ryan McDonagh and Brayden Point were on the ice for three of the four Coyotes' goals.
For Arizona, Clayton Keller went into the record books as their highest scoring rookie when he collected his 23rd goal on an empty-netter to cap off the 4-1 victory for the Desert Dogs.
Keller's assessment of their recent play brings hope for a fruitful 2018/19 season.
"I think we're trying to treat every game like a playoff game and we kind of get up for that," Keller said. "We just want to come out and finish the year strong and hopefully bring something home for next year."
Newly called up defenseman Trevor Murphy also collected his first NHL goal to assist with the win.
These Coyotes are running like a pack and have played excellent hockey since the new year 2018 began.
---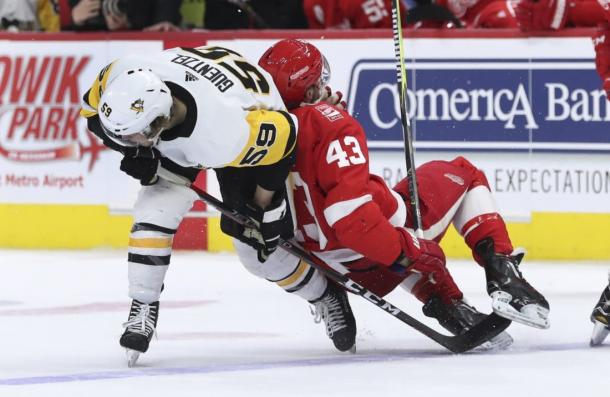 "Can you give me a ride to the bench Jake? I'm outta gas..." Darren Helm, left-wing - Detroit Red Wings.
Normally when you allow a player like Sidney Crosby to score the first goal 38 seconds into the game, you're in for a long night.
The Detroit Red Wings had other thoughts in mind as they went on to score four unanswered goals to put the hurt on the defending Stanley Cup champs 5-2.
Darren Helm had a goal and two assists and three other Red Wings' players had multi-point nights, including Luke Glendening who potted two goals in the win.
The Red Wings were overdue to win since they hadn't had a regulation win since a 3-1 victory over the Carolina Hurricanes back on February 24, 2018.
With first place in the Metro Division on the line for the Pittsburgh Penguins, they played an uninspired game against an opponent they should have dominated.
That's the NHL... you're never sure what you're goin' to get. One thing for sure in this game, the Pens got zero points and that hurt them.
---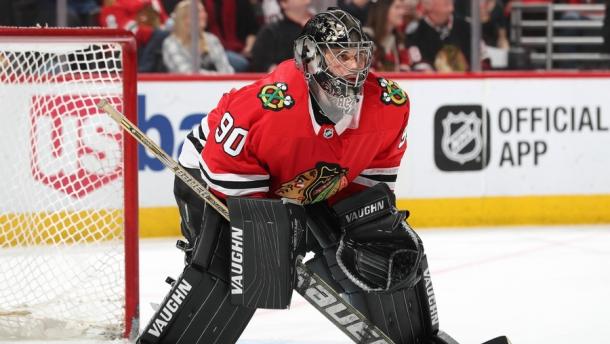 "This is a heck of lot more exciting than crunching numbers at the office!" Scott Foster, goalie - Chicago Blackhawks
It's not too often when you're an emergency backup goalie that you get the call they you're needed in a game.
For Scott Foster, a goalie who played in a men's league this was a dream come true. In normal life he's an accountant and a former hockey player for Western Michigan from 2002-2006.
He was called into service when starter Anton Forsberg was injured in warmups, and his replacement Collin Delia came up cramping at 5:59 of the final period in a game won by the Chicago Blackhawks 6-2 over the Winnipeg Jets.
"The initial shock happened when I had to dress, and then I think you just kind of black out after that. ... From my perspective, this is a dream. This is something no one can ever take away from me. It's something I can go home and tell my kids and they can tell their friends and whatnot. Just a ton of fun and a lot of good memories."
He may never get into another game again, but he can always boost about his 1.000 SV%, and 0.00 GAA in the NHL.
---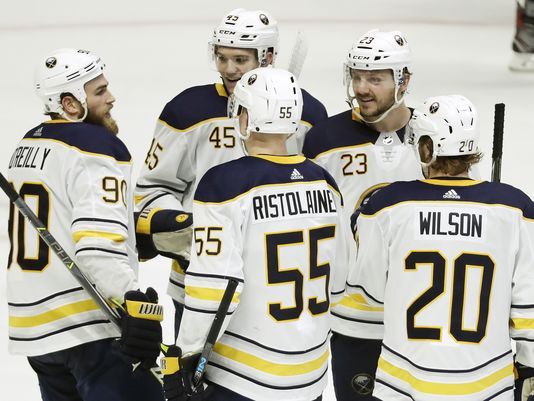 "So THIS is what it feels like to win!" Ryan O'Reilly, Brendan Guhle, Sam Reinhart, Scott Wilson, and Rasmus Ristolainen - Buffalo Sabres
It hasn't been a good season... AGAIN for the struggling Buffalo Sabres as they linger in last place in the NHL.
The good thing is in the last three games they actually beat two top playoff level teams in the Toronto Maple Leafs and the Nashville Predators.
In this game the Sabres withstood falling behind 3-1. They then rallied back to tie the game and then gave the Preds another one-goal lead before turning on the after-burners to smoke the Nashville club with four unanswered goals to gain the victory.
The key to this win for Buffalo was that Jack Eichel tallied five assists and Sam Reinhart gathered a hat-trick to overwhelm the Predators. The Sabres were dynamite on the power play as they were able to score four extra-man goals.
The problem all season long for the Buffalo team is they just don't win games. With the lowest point percentage in the NHL with .397, they aren't going anywhere fast.
Perhaps the fact that the Sabres will more than likely finish last and have the best odds at selecting Rasmus Dahlin, can keep Buffalo fans loyal... but who knows?