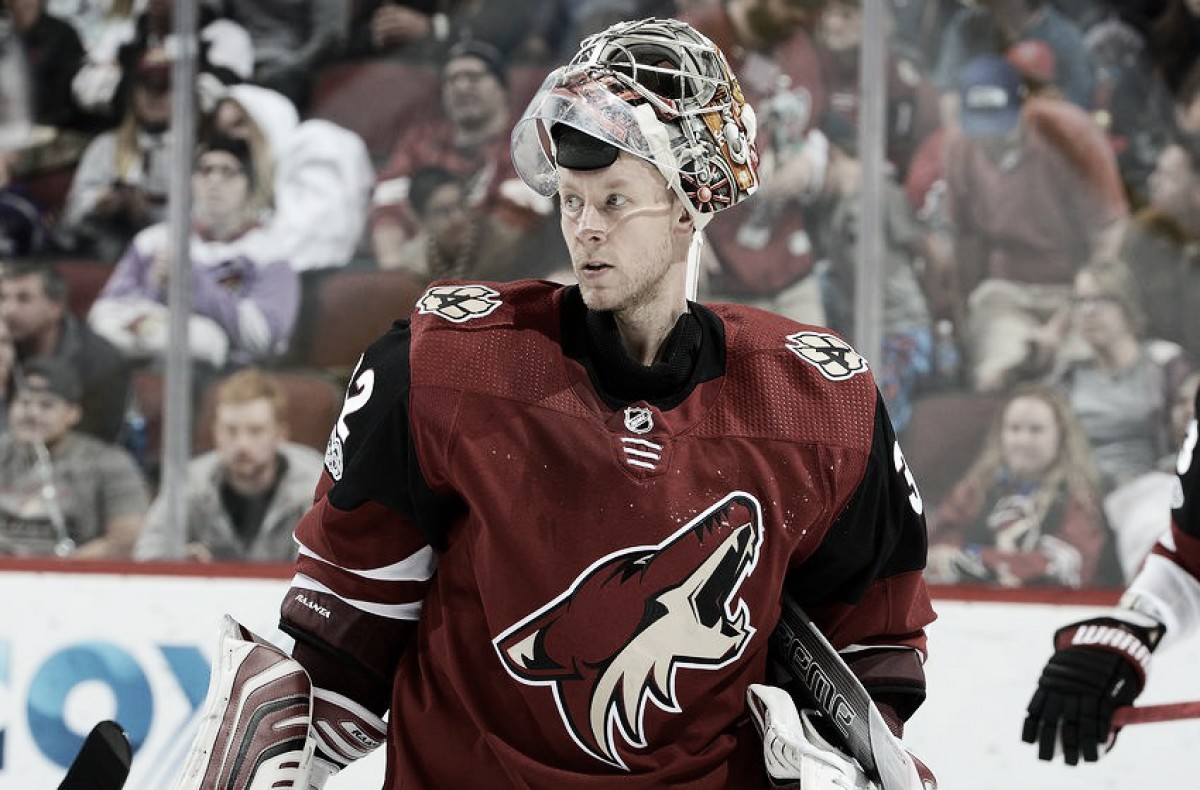 The rumored Antti Raanta contract extension is said to be possibly a four-year contract worth up to $4.5 million a year. That would keep the Arizona Coyotes' starting goalie in the desert to continue his netminding for a while.
Raanta has played well, when he plays
On Monday he was named the NHL's second star of the week after he won three games, allowing just three goals.
Funny how players tend to step up when a contract extension is at risk. The same thing happened recently when the Coyotes' forward Max Domi collected three assists in a game and Raanta recorded a shutout against the St. Louis Blues.
Domi has had a really down season, and his contract is due to expire July 1, 2018. He is coming off his three-year entry-level deal, and is hopeful to get an extension.
The issue with Raanta was his injuries. He has missed games on at least five different occasions, and that has to concern the team's management. Of course, now that the Coyotes acquired Darcy Kuemper in a trade with the Los Angeles Kings for Tobias Reider, there is an adequate backup behind Raanta.
Raanta has missed 25 games, or 32 percent of the team's 79 games this season due to injuries. It is not certain as to why he has been so injury prone. One occurrence wasn't his fault as he was rear-ended on the freeway while attempting to get to a game against the Dallas Stars.
What's head coach Rick Tocchet's take?
"It's been a learning process for him," Coyotes head coach Rick Tocchet said. "He didn't like the start, getting hurt and all that stuff. But there's been a stretch where the numbers don't lie. There was a six-week stretch where he was one of the top two or three goaltenders in the league. Right now, injuries are a big part and one we've got to curb.
"I think for him, a big summer of training is going to be huge. He knows what he can do if he's healthy, and that's a good mindset for him going into the summer."
"Obviously, I wish he came in better shape this summer," Tocchet said. "But since that time, he's done everything we've asked of him and more. His nutrition is way better, he's lost body fat, and he goes through practice and I don't see him breathing heavy. To me, it's all a positive and he's learning. He wants to be the guy."
There's no doubt that the Coyotes want and need a goalie like Raanta to be between the pipes next season. He wants to be there, but must determine if his training regimen is sufficient enough to keep him healthy next season.
Raanta's recent play has been stellar
He's been playing like the goalie they thought they got when he came over from the New York Rangers last summer along with Derek Stepan.
If his last five games are any indication of his future ability, he should be able to lead his team to the playoffs next season for the first time since 2011/12.
With a 5-0 record in his last five games, and a stingy 1.20 goals against average to go along with a top ranking .961 save percentage, he's been rock-solid.
Maybe rock-solid enough to earn $4.5 million a year for four years?
We'll soon find out.
Do you think Antti Raanta is worth a contract extension which is being rumored recently? Let us know in the comments section below.