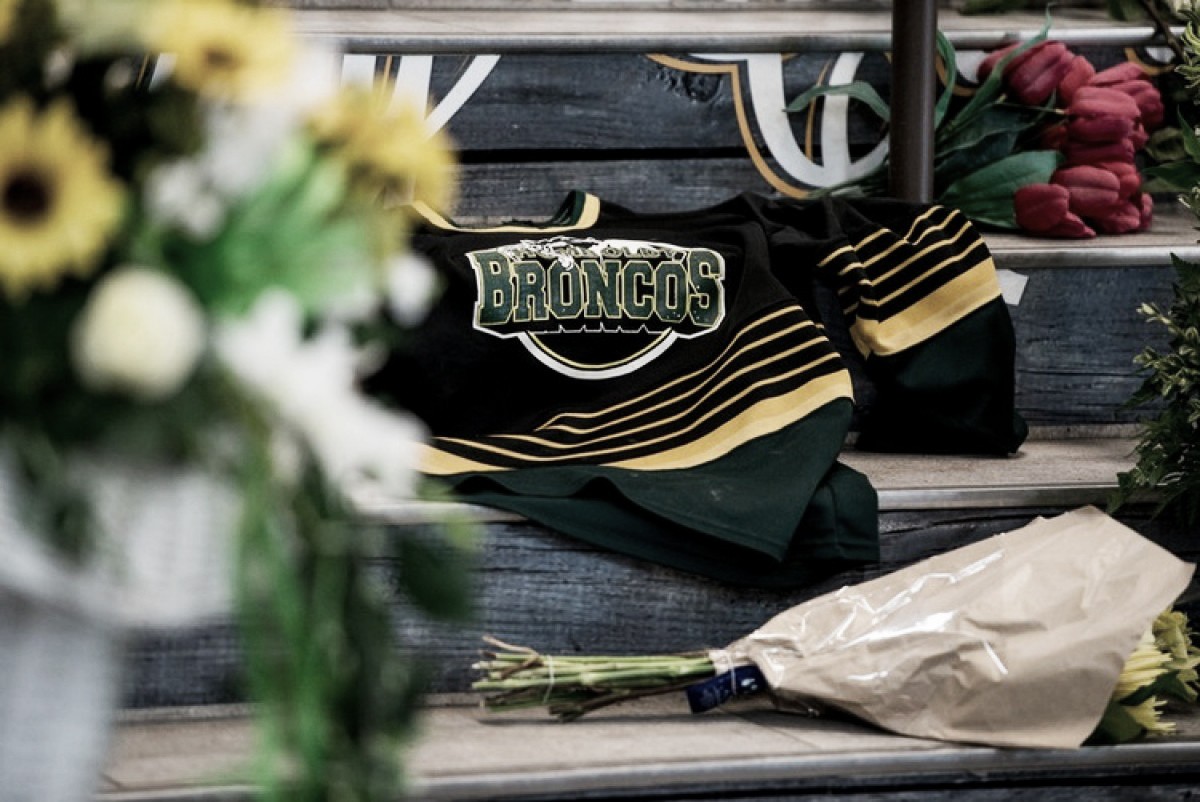 This one hits home.
It hits so hard to anyone who has ever played sports... especially hockey. It hits so hard for parents who have ever blindly put their kid on the bus and just assumed they would come home. It brings you to your knees if you yourself have ridden that bus. The people who are directly involved, if it is so hard for a nation to comprehend what has happened, for them, it must be incomprehensible.
This one just hits a little harder.
What happened?
On April 6th, 2018, the Humboldt Broncos of the Saskatchewan Junior Hockey League, the SJ for short, boarded a bus and traveled down a stretch of highway they had traveled hundreds of times. To a prairie hockey player, the open highways that produce natures greatest sunsets and most adoring wheat fields, the road might be just as important as the ice you skate on. It weaves together the small towns and big dreams.
Cliché, I know, but true. But as they traveled along, inching closer to their destination, Nipawin, they never made it. The harsh winter that often lingers into late April in those parts, seemed much harsher than normal on that night. We don't know if weather played a factor, but the cold sting of winter must have seemed colder.
At around 5 pm, their bus collided with a semi-truck. Suddenly the game six they were supposed to play in their semi-final playoff series meant very little.
I am sure chaos ensued.
It is not an understatement to say the country, and hockey community stopped in its tracks.
The reaction
If you scroll through your twitter feed it seems as though everyone knew someone on that bus and if they didn't know someone directly they knew someone who knew someone on that bus.
If they didn't know someone who knew someone then you definitely knew someone who knew someone who knew someone on that bus. It feels as though all of Canada was on that bus.
But we weren't all on that bus. There were 29 souls on that bus. All of them passionate about the game; you have to be to dedicate your time to ride that bus. There were coaches with families. There were players with friends and girlfriends, moms and dads, brothers, sisters, billet families.
There was a statistician and a play by play announcer. There was a bus driver. There was an athletic trainer. All of these people have people who love them. They all have hometowns.
It probably happened so quickly. One minute they were probably getting their head in the mindset to lay it all on the line for the boys. Maybe they were using those few hours to catch up with friends back home. Maybe they were just sharing a couple laughs with the team. Maybe they were doing nothing at all.
But it all changed so quickly and for that, hockey's heart breaks.
Shatters actually.
Jr hockey changed in a way it never should of this weekend. Kids, just out there, living the dream will think more than once when they jump on the bus, and that is so sad.
The pride of Saskatchewan
In Saskatchewan sports culture you have two things; the Saskatchewan Roughriders and Jr hockey. The WHL teams take care of the "big" cities, but the heart of the small prairie towns are these Jr Hockey teams. These truly are the stereotypical farm communities that get excitement from Saturday night hockey games. Their heroes truly are the young men who wear those jerseys and run those towns.
You have to remember that Saskatchewan's towns are small. Humboldt has just under 6,000 people. It is the city with the 14th largest population in the whole province.
15 lives were lost in the crash, some small schools in Saskatchewan have only 30, 40, 50 kids. The impact is massive. In Saskatchewan, Jr hockey players get the NHL treatment. These kids, for the kids of the towns they played in, truly were and are larger than life.
It is all just so sad.
The overwhelming support
Within all the sadness though, glimpses of hope, humanity, life, love, friendship, nationhood, solidarity, and hockey have been the light of the tragedy.
West Jet, an airline most prominent in western Canada announced that they were adding more flights to get parents to Saskatoon, where most of the young men were taken after the crash. A tweet also shared a moment where an airline asked over the intercom if anyone would offer their seat to parents, family, and friends who were trying to get to loved ones in Humboldt.
Before the message ended, there was a line up of willing passengers.
Tim Horton's, a prominent coffee shop chain in Canada, was selling doughnuts with green and yellow sprinkles on top, the Bronco's colours. This shop was in Nova Scotia, thousands of Kilometers away.
The Niagra Falls was even lit up in yellow and green. So was the CN Tower and city signs across the nation.
People, opened their homes, stating families could stay the night, never having met the people they were offering this too.
Many Canadians are waking up this morning very sad, but very very proud to be Canadian.
Yes, the large moments of remembrance mean a lot. The Winnipeg Jets and Chicago Blackhawks played a game with "Bronco" as their nameplate on the back. The intertwined circles of the Calgary Flames and Vegas Golden Knights bring tears to so many eyes.
The donations are staggering, over four and a half million at the last check. This isn't about NHL players though, and it really isn't about who the biggest donors are. It is about the reality that something so familiar to all hockey players just became so terrifying.
Healing
But all over Saskatchewan, little towns are holding vigils because this hits so close to home. Main street on dirt road communities has small flags flying at half mast. Cold arenas that don't seat thousands, rather hundreds, maybe less, are holding defining moments of silence.
Kids who loved these Jr hockey players are trying to understand why this happened. Hospitals in the prairies are holding the surviving victims and the hopes of recovery. I am sure many are looking for answers they will never find.
There really is nothing anyone can say to make any of this any better. The only thing that is for certain is Humboldt and the players and lives that it holds will be supported immensely by the hockey community.
As stated so many times, this tragedy has resonated with so many people in hockey. It resonates for the simple fact that so many people have done it. So many have ridden the bus.
Every single person in the NHL at one point had jumped on a bus with their best friends on some no-name highway and headed down the road to a no-name arena to play the game they love.
An NHL dream doesn't start at the Air Canada Center, it starts in these small rinks with just a small number of passionate fans. Jr hockey means everything to hockey. So much to Saskatchewan.
With all of that being said, tonight and in the weeks to come in small rinks across Canada, and across the world, playoff games are happening. Towns are anxious and excited to see how far their hometown heroes will get in their local league playoffs.
It is amazing how the championships of these small leagues truly do feel like the Stanley Cup.
Some 21-year-olds will be putting on their Jr hockey jersey for the last time. Some of them will be playing their last game ever. Some will close this chapter of their career and move to the next. Overtime winners will be scored.
Breathtaking saves will occur. Coaches will lose their cool with bad calls, and trainers will rush to the ice as the hundreds watch on hoping the injury to their star player isn't season-ending.
Players will jump in front of slap shots, not because it is what they are paid to do, but because they truly couldn't imagine doing anything else. Kids will cry real tears as seasons end and jerseys are packed away until September.
Many of the kids will put on a completely different jersey in a completely different town next year, so each season truly does have a life of its own.
Those are all very normal hockey things. Sometimes painful, but normal, and when you look at it from afar, those things are all really poetic.
And when it is all said and done many of those players will say a quick hello to the people who came to watch, maybe take a picture or two, they will give a hug and maybe a kiss, they will probably make a comment about how hungry they are, and then they will take a deep breath and get on the bus, because that's what hockey players do.
15 lovers of hockey won't get to do that though. That's why 36 million people in Canada woke up thinking about a farming community east of Saskatoon. That's why anyone who has ever played, watched or supported hockey kept refreshing their news feeds Friday night, wishing, hoping, praying for some good news.
Jr. hockey will live on, it means too much to these small towns for it not to. For a while though, it will go on with an incredibly heavy heart.
Most of us have no direct connection to this tragedy, but anyone reading this probably feels painfully connected.
May they heal well and quickly.
For those who are no longer here, may they rest well and in a world painfully to far away from this one, may they all be together, and all their dreams come true; because that's what Jr hockey is all about.
That's what Jr hockey will always be about.
Closing
Canadians often look to Hockey Night in Canada for all things Canadian, including healing. Last night, this was played in honour of the Humboldt Broncos; for those who lived, those fighting to live, those who didn't, and those fighting to find peace in tragedy.