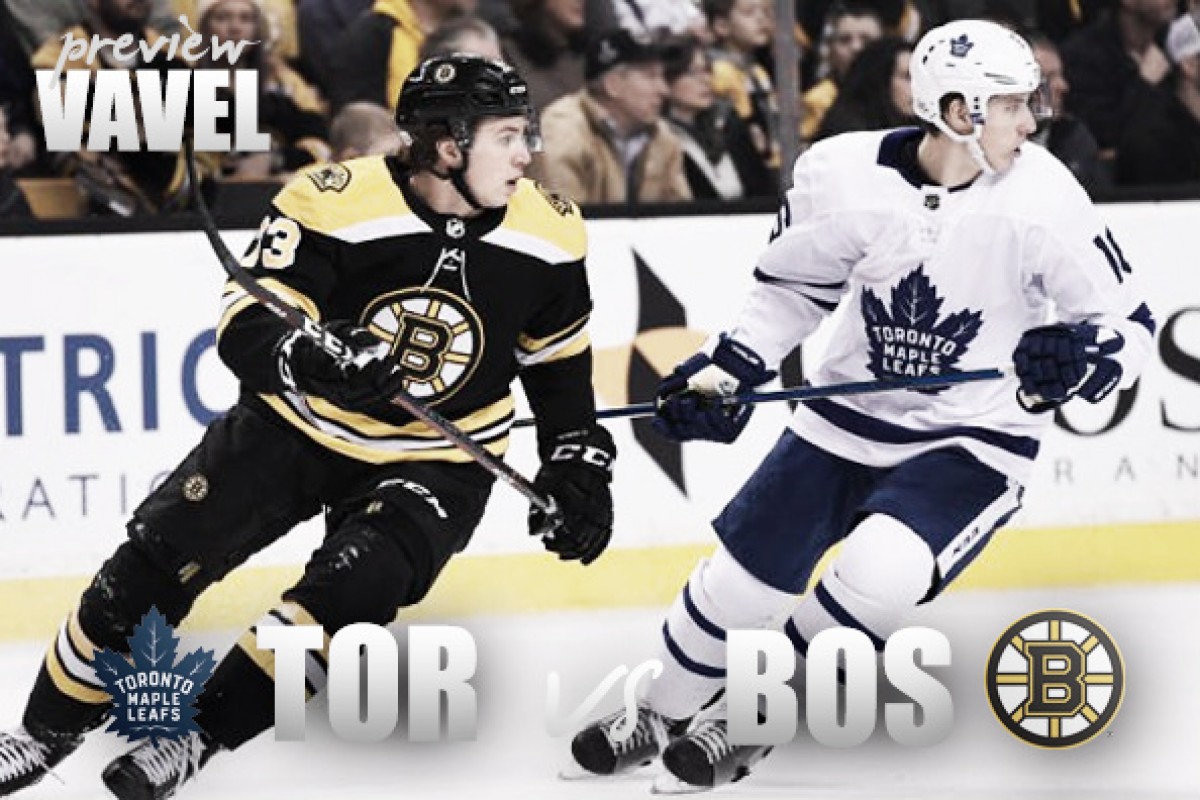 The Toronto Maple Leafs will face the Boston Bruins in the opening round of the NHL Stanley Cup Playoffs in a best-of-seven Eastern Conference quarterfinal series starting Thursday, April 14, 2018.
Many will see this battle as a rematch of the first-round tilt in 2013 that ended in disaster for Toronto, but both teams have seen plenty of turnover since the Maple Leafs blew a three-goal lead in Game 7 five years ago.
Toronto hopes to build on a surprise postseason appearance last year, while Boston will look to avenge their first-round elimination in six games at the hands of the Ottawa Senators in 2017.
Season series
The Maple Leafs had the edge against the Bruins in the season series, as Toronto defeated Boston in three of their four meetings in 2017/18. The Maple Leafs outscored the Bruins by a margin of 12-10.
It goes without saying that most matchups between these two Original Six squads have been quite close. Toronto beat Boston 3-2 in overtime on November 10, 2017, then downed the Bruins 4-1 on the following day.
The Bruins took the next contest with a 4-1 victory on February 3, 2018, while the Maple Leafs won a 4-3 decision over Boston on February 24.
In their most recent game, Ron Hainsey scored with 1:23 left in the third period to put the Maple Leafs on top.
"It's always nice to beat them. Last time, they handled us and I thought today we were better," Maple Leafs coach Mike Babcock said. "I think if we played them [in the Stanley Cup Playoffs] it would be a really good series. We like our hockey team; we think we've been getting better for a while, learning how to play the right way. So if we play hard, we have a chance to play with anybody."
Bruins' netminder Tuukka Rask was lights-out with 23 saves on 24 shots in the February 3 meeting. Boston got goals from four different skaters in the 4-1 triumph.
In the first game earlier in the season, Patrick Marleau was the hero 1:07 into extra time after James van Riemsdyk knotted the score with a minute left in regulation, notching his second goal of the night.
Patrice Bergeron and David Pastrnak bent the twine for Boston.
On the next day, in what was the second half of a home-and-home on November 11, 2017, the Maple Leafs held the Bruins to just one goal. Mitch Marner, van Riemsdyk, Morgan Rielly and Marleau scored for Toronto, and backup goalie Curtis McElhinney made 38 saves.
"You need points. [Friday] night, we were a minute away and couldn't close," Bruins coach Bruce Cassidy said. "Tonight, we were there. If you continue to play hard, things will go your way."
Player matchups
The Maple Leafs had six players who scored 20 or more goals during the regular season.
Marner led Toronto with 69 points (22 goals, 47 assists) in 82 games, while Auston Matthews was second in team scoring with 63 points (34-G, 29-A) in 62 contests.
William Nylander recorded 61 points (20-G, 41-A) for the Maple Leafs, while Nazem Kadri had another outstanding campaign with 55 points (32-G, 23-A). van Riemsdyk put up 54 points (36-G, 18-A) in 81 games.
Marleau's production also stayed consistent with previous years in his first rodeo as a Maple Leaf. He found the back of the net 27 times and provided another 20 helpers while playing all 82 games.
Brad Marchand was outstanding for the Bruins this season with his 85 points (34-G, 51-A) in 68 games. He was followed by Pastrnak's 80 points (35-G, 45-A) and Bergeron's 63 points (30-G, 33-A).
Torey Krug provided a solid two-way presence on the Bruins' blueline with 59 points (14-G, 45-A) in 76 games, and rookie Danton Heinen had a decent campaign with 47 points (16-G, 31-A) in 77 contests.
Proven playoff performer David Krejci also notched 44 points (17-G, 24-A) in 64 games played.
Stats
The Maple Leafs placed third in the Atlantic Division with a 49-26-7 record, good for 105 points and their best regular season in franchise history.
Toronto was second in the NHL in goals scored with 277, while their 232 goals allowed was 11th in the NHL, even if their defence hasn't always looked spectacular.
The Maple Leafs are known to play to their offensive strengths while goalie Frederik Andersen gives them a chance to win on most nights. Their speed and finesse could pose problems for the Bruins.
Toronto's 25-percent power play efficiency also puts them at second in the league. They were 81.4 percent on the penalty kill, which put them in a two-way tie with the Vegas Golden Knights for the 10th-best shorthanded rate.
Boston finished second in the Atlantic with a 50-20-12 record, good for 112 points and their best season since their President's Trophy win in 2013/14.
The Bruins' 261 goals-for was the NHL's third-best total, and their 117 goals-against were the second-fewest in the league.
Boston scored on 23.6 percent of man-advantage opportunities (fourth in the NHL) and killed penalties at an 83.7 percent ratio, putting them third in that category.
The Bruins must use their strength, depth, size and defensive abilities while living up to their grinding and checking reputation to tame the Maple Leafs' offensive prowess. But Toronto also has speed as an advantage, which could pose problems for Boston.
Prediction
While Boston has home-ice advantage, both cities are renowned for how much they love all their sports. Hockey is no exception, and the TD Garden atmosphere for the first two games will be lively, to say the least.
Games 3 and 4 will be at the Air Canada Centre in Toronto, which hasn't seen a Maple Leafs series win since 2004.
The Bruins-Maple Leafs rivalry is a historic one, and this series is bound to feature match games with each team's best players duking it out for playoff supremacy on every shift.
Rask and Andersen will undoubtedly provide an exciting goaltending battle, as Rask went 34-14-5 in 54 games played with a 2.36 goals-against average and .917 save percentage.
Andersen posted a 38-21-5 record in 66 games, along with a 2.81 goals-against average and .918 save percentage.
Making a bold prediction on this series is tricky, especially where anything can happen in the playoffs.
The Bruins are determined to go deep in the postseason with their influx of youth and veteran depth, but the Maple Leafs' rebuild being ahead of schedule means you can't bet against Toronto either.
Whether the Maple Leafs have the defence for a long playoff run yet remains to be seen, however.
This writer picks the Bruins to advance in either six or seven games, without ruling out a possible Maple Leafs upset in the same number of games.
What are your thoughts on this playoff series? Will Boston move on to the second round? Will Toronto pull off an upset? Let us know in the comments section below.