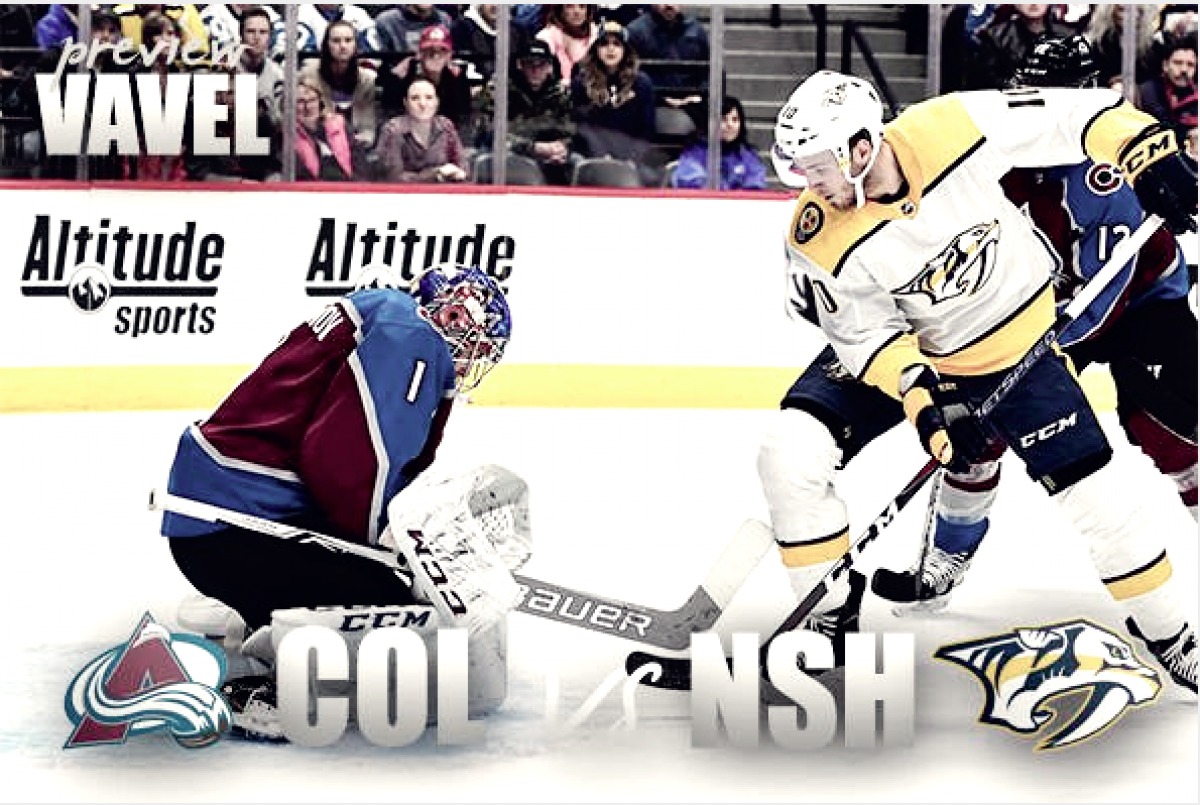 One of the best stories in hockey this season, the Colorado Avalanche take on the NHL's juggernaut in the Nashville Predators beginning Thursday, April 12, 2018. A matchup that appears similar to last year's Predators vs Blackhawks, the Avalanche will try to pull the same feat Nashville did a season ago.
Season series
The Nashville Predators faced the Colorado Avalanche four times during the regular season, managing to sweep the series. The first two games were not particularly close, with Nashville winning the first matchup 4-1 on October 17, 2017, as well as the second meeting 5-2 on November 18, 2017.
However, Colorado kept the last two games competitive, falling in overtime in the third game and losing 4-2 in the final regular-season meeting (the last goal was an empty-netter).
Of the Avalanche, the only players with any sort of success scoring against Nashville were Nathan MacKinnon, Mikko Rantanen, and Tyson Barrie. They each had three points each, with everyone else with two or less.
The Predators, however, had no difficulty putting up points against the Colorado Avalanche. Filip Forsberg was dominant in the season series with six points, and Roman Josi, Colton Sissons, Craig Smith, and Viktor Arvidsson each had five points. P.K. Subban was also quite dominant with four of his own.
Player matchups
The Avalanche don't have depth in any significant way, but they do have a few highly talented offensive players, headlined by Nathan MacKinnon. The leading scorer of the Avalanche put together an unreal breakout season with 97 points in 74 games, a performance that puts him in the midst of a heated MVP conversation.
Aside from him, Mikko Rantanen quietly had an incredible 84-point sophomore season, as well as Gabriel Landeskog's solid contribution of 62 points. Alexander Kerfoot was the next forward with any offense to speak of, with a modest point total of 43 in his rookie year.
From the blueline, Tyson Barrie had a career season with 57 points in only 68 games played. Nikita Zadorov led the league in hits with 278 and is an intimidating presence.
Due to the Semyon Varlamov injury, Jonathan Bernier is going to be the man between the pipes. He has a .913 and a 2.85 GAA in 37 games played.
As for Nashville, the team has a much more balanced offensive attack. Filip Forsberg led the team with 64 points in 67 games, followed closely by Viktor Arvidsson with 63. Ryan Johansen, Craig Smith, and Kyle Turris also put together good seasons with 54, 51, and 51 points respectively.
On the defensive side of things, P.K. Subban was dominant as usual amassing 59 points. Nashville's captain Roman Josi also contributed nicely with 53. Ryan Ellis is also of note, tallying 32 points but only in 44 games.
Pekka Rinne has been unreal for the Predators and is the favorite for the Vezina with a .927 save percentage and a 2.31 GAA.
Stats
The Colorado Avalanche just squeaked into the playoffs via the second wild card, doing so with a 43-30-9 record and 95 points. Division-wise, they held down fourth in the absolutely brutal Central Division.
Colorado boasts some very strong special teams, with a power play ranked 8th in the league at 21.9% and a penalty kill coming in at 4th with an 83.3%. Offensively, they have proven to be better than most with 3.11 goals per game, good for 10th.
Defense is a different story, however. Their goals against per game is 17th at 2.88, and they bleed shots giving up the 5th most in the league at 33.3 per game. If it were not from some good goaltending Colorado would be in some serious trouble.
The Predators feature a decent power play which falls at 14th with a 21.2%. Their penalty kill is one of the league's better ones at 81.9% which is good for 6th.
Due to their good depth up front, Nashville fields an offense that produces 3.18 goals per game ranking 8th in the NHL. Their defense is their strength, however, the second best in the league only allowing a mere 2.49 goals per game.
Prediction
For the Predators to pull off a victory in this playoff series, they really need to do one thing: shut down MacKinnon's line. This is no easy feat, as MacKinnon is easily a top three league-wide offensive player and his chemistry with Rantanen and Landeskog is stellar.
However, Nashville certainly has the tools to pull this off. Even if Colorado's top line gets past their elite defense, Pekka Rinne will not be easy to beat. If the Predators manage to accomplish a whole or even partial stifling of this line, a series loss would be nearly impossible.
On the flip side of things, the Colorado Avalanche do have the potential to pull out an upset. Don't believe me? Ask Nashville. Being underdog is nothing new to the Avalanche, many had them pinned as competing for a higher lottery pick this year instead of the playoffs.
Few believed in the team, from the competence of general manager Joe Sakic to if MacKinnon would finally live up to his 1st overall pick potential. Many said coach Jared Bednar would be fired before the season's end. Look how all of that turned out.
Joe Sakic pulled off a fantastic Matt Duchene trade, MacKinnon could win the Hart Trophy, and Bednar will be a finalist for the Jack Adams best head coach award.
The point is they can't be counted out. If MacKinnon, Rantanen, and Landeskog can find room to work, then all bets are off. Each player can put up multi-point games any given night against any given team. And if Jonathan Bernier finds his groove and some young players break out, then the hockey world will have a fantastic series before them.
With all of that considered, the Nashville Predators are just too good for the Colorado Avalanche to overcome. Expect them to make it hard though, dragging it out to six games before the Predators eventually clinch a second-round berth. Even if the Avalanche's top line is out firing on all cylinders, it still may not be enough.
Give us your thoughts on this series. Is Nashville just too strong for the upstart Colorado team? Please comment below.