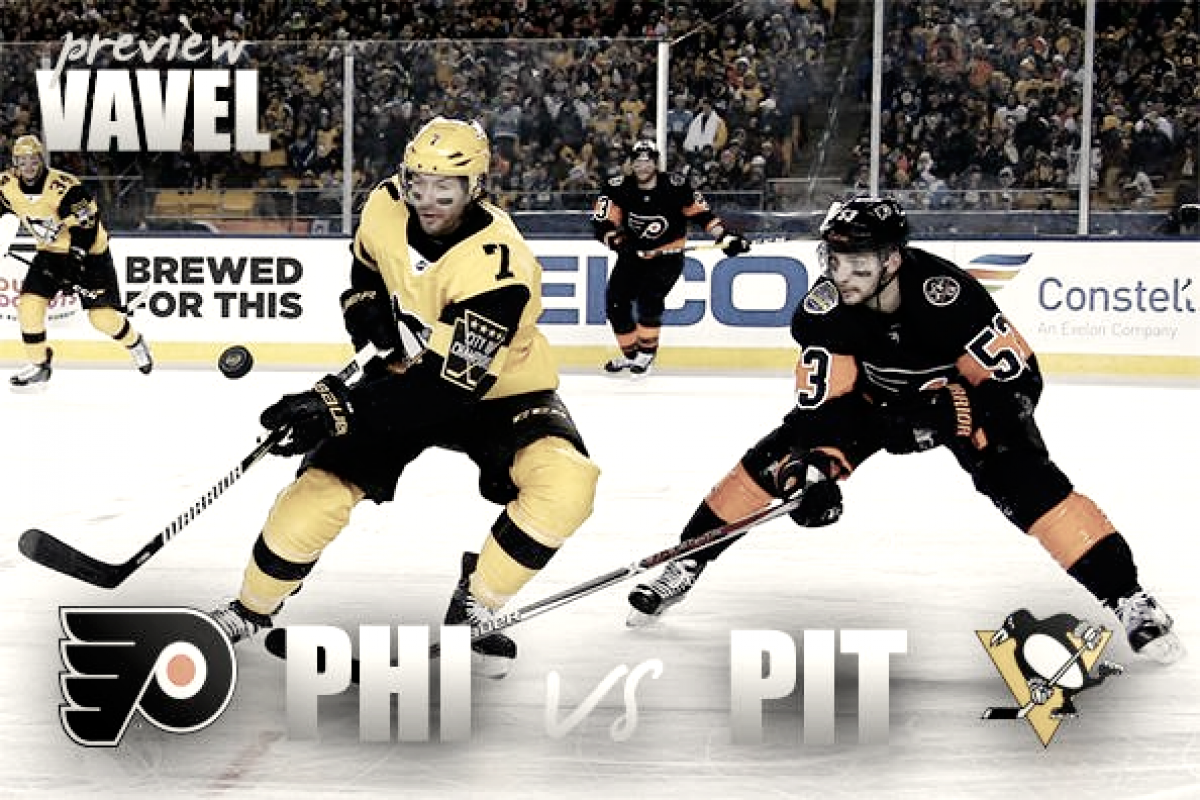 One of the greatest playoff match-ups of all time, "The Battle for Pennslyvania" will start the NHL playoffs on a high note. This is one of my favorite match-ups to watch, and it should be a real doozy of a series starting April 11th.
Season series
The season series did not bode well for the Philadelphia Flyers as the Pittsburgh Penguins swept all four games they faced each other, including two overtime wins. The Penguins scored five goals in each contest.
The first time these teams faced off, the Penguins unloaded on the Flyers with 52 shots on net which outpaced Philly by 20 shots. This was the first of two games to go into overtime where Pittsburgh won 5-4. Even though Pittsburgh won, this game began the injury struggles for goaltender Matt Murray after he collided with Jakub Voracek. This loss ended up being Philly's eighth straight loss at the time.
The second time these teams played, Pittsburgh dominated Philly to win 5-1 including a four-goal second period. After struggling to score in previous games, Pittsburgh seemed to come alive facing their rival and went bananas in the scoring department. Tristan Jarry got the win and held back any attempts the Flyers had at a comeback.
The third time these teams played, Pittsburgh dominated again to give Philly it's fourth straight loss. Pittsburgh ended up winning that game by a score of 5-2 off the back of Sidney Crosby who had three points in that game. It was another win for Jarry who made 26 saves.
The most recent time that these teams played was probably the best preview for the playoffs. They went toe-to-toe and the game went into OT where Pittsburgh ended up getting the 5-4 win. Philly heavily outshot Pittsburgh 45-32, but it wouldn't be enough for them to get the win.
Player matchups
Sidney Crosby
It's obvious that the number one player that Philly has to watch out for is Sidney Crosby. The man is a playoff scoring machine with 164 points in his career including 27 points last year on his way to back-to-back Cups. Crosby has 89 points on the year to give him third best on the team, but when the playoffs come around, he can't be stopped.
For Philly to have any chance at all, they must limit him from touching the puck by any means necessary.
Evgeni Malkin
Another offensive juggernaut that Philly will need to slow down is Evgeni Malkin. He's a player that comes alive in the playoffs, Malkin led the team this year in points with 98 in 78 games. He has 157 points in his playoff career including 28 last year. Malkin has the ability to take over a game just like Crosby, and if Philly wants any chance at all they have to play their best hockey all series.
Phil Kessel
Phil Kessel has been instrumental in Pittsburgh's two Cup runs. He has a total of 45 points in both those runs, and has scored clutch goals for Pittsburgh throughout the playoffs. Kessel had 92 points on the year and is a player that can sneak up on you if you're not paying attention to him. Philly has to limit Pittsburgh offensive weapons or this is going to be a long, quick series for them.
Claude Giroux
Probably the quietest player to score 102 points this year, Claude Giroux is Philly's match for Crosby. Giroux has had a heck of a year and for Philly to win they need him to keep up that play.
He will have to fill up the scoring sheet constantly since Philly isn't as deep at forward, and he will need to bring his A game during this series for Philly to have any chance. If Pittsburgh shuts down Giroux, they have no chance.
Jakub Voracek
Second on the team in points with 85, Jakub Voracek is another offensive weapon that Philly will look to in this series. Philly is very limited in their lines, having only two lines of true offensive firepower.
Voracek has only four seasons of playoff experience, but if he can bring his career-best year into the playoffs, it may not matter. Voracek can provide the punch that can get Philly riled up and annoy Pittsburgh. Pittsburgh has to keep an eye on him or he may control the series.
All three Philly goalies
This series will come down to goaltending... because it always does. Philly has three in Brian Elliott, Petr Mrazek, and Michal Neuvirth. Neuvirth is hurt again so he may not be a factor, but that still leaves Elliott and Mrazek. Elliott has looked great this year at times but has looked terrible as well and the same goes for Mrazek.
The playoffs aren't a time for goaltenders to sit on their hands, it's a time for them to play the best game they have ever played in every game and in every series. Philly has to hope that Murray continues to struggle, but if Philly can't find their way either, I don't see them outplaying Pittsburgh offensively.
Stats
Philly ended the year in third place in the Metro Division with a 42-26-14 record for 98 points which was only two back from the second place Penguins.
Philly had the 12th best goals for average and was tied for 14th in goals against. To be within the top 15 is good, but Philly will have to play above what the stats say in order to win.
Pittsburgh just barely eeked out second place in the Metro with a 47-29-6 record which was good for 100 points to give them two points more than Philly.
Pittsburgh is tied for the third-best goals for average and 20th ranked in goals-against average. Philly has to look to limit Pittsburgh's offense while taking advantage of how many goals they generally give up. If Philly can get to the goaltenders early and often, then they just may have a chance.
Prediction
For as good as Philly has been this year, they have also had stretches where they have looked terrible. With that said, it doesn't matter what happened during the season, it just matters who gets hot at the right time.
Right now, that is Philly.
They fought tooth and nail to get out of the wild card, and almost surpassed Pittsburgh for that second spot in the Metro. I see this series going the distance, and for as good as Pittsburgh can be sometimes, I see Philly taking it in seven.
I don't see the Pittsburgh teams of past years where they were ready to dominate in the playoffs, I see a much more lax, slower team this year that Philly should be able to jump all over.
If the Flyers can shut down a few key players and remain defensively strong, I don't see Pittsburgh being able to overcome a Philly offensive onslaught.
So, Flyers in seven.
Who do you think will win? What do you think about this series? Tell me in the comments below!