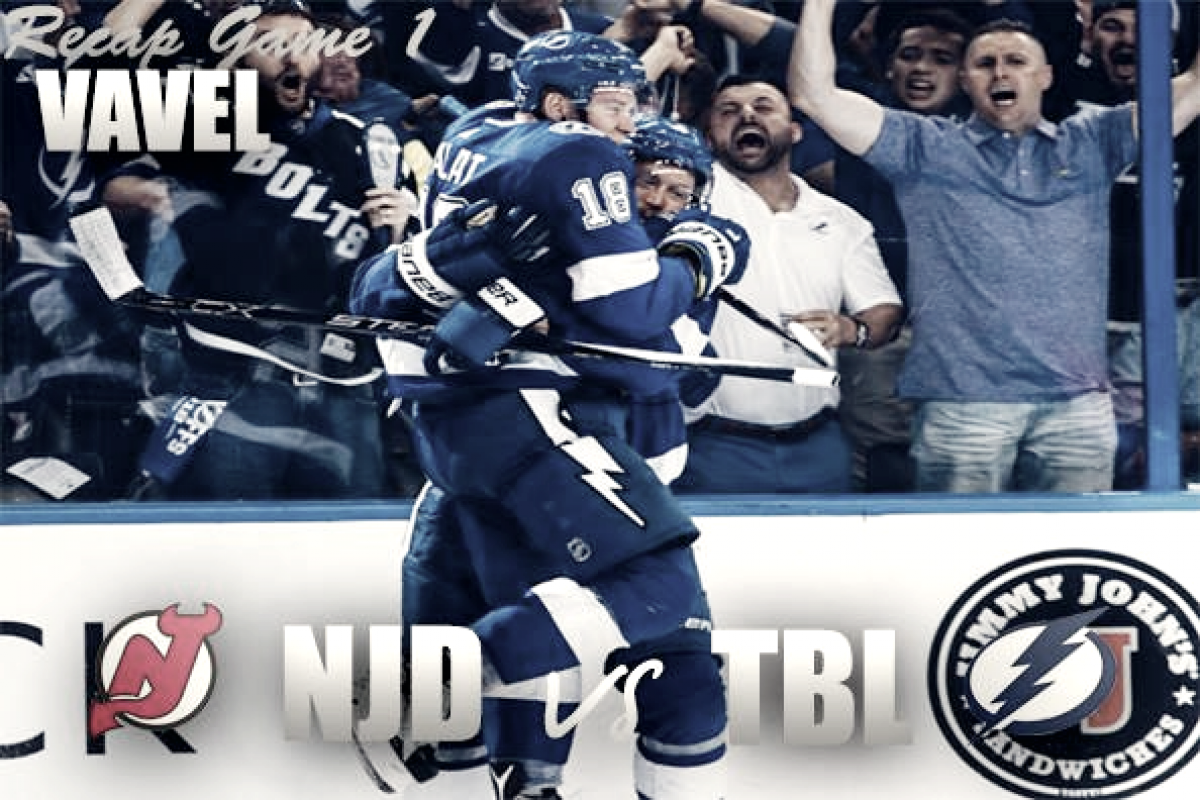 The Tampa Bay Lightning handed the New Jersey Devils a Game 1 loss by the score of 5-2 to start the second day of the playoffs with a bang. It wasn't all bad for New Jersey though as goalie Keith Kinkaid looked pretty solid in his first ever NHL playoff start even with letting in four goals.
Tampa takes control and never looks back
Both teams come out fast in the first period looking to take over the game and bend it to their will. It was a fast-paced opening few minutes in Game 1 as both teams were getting the puck to the net. It looked like New Jersey may have lucked out with starting Kinkaid, and that lasted for a while as both teams went back and forth with no luck.
With five minutes left in the opening period though, Ondrej Palat opened up the scoring to give Tampa a 1-0 lead and it would begin Palat's three-point night.
After Palat's goal it all fell apart as only just a few minutes later, with barely any time on the clock, Tampa would score again to end the period on the blade of Tyler Johnson. Palat would get the assist for his second point of the night.
The first period would end with New Jersey having been severely outplayed, and Tampa taking a 2-0 lead into the locker room. Tampa dominated and controlled the pace of play that entire period, and it wouldn't stop there either.
Hall scores in his first-ever playoff appearance
What happened in the first period would be translated again into the second for Tampa. New Jersey wasn't able to stop the Tampa onslaught and just 1:54 into the second, Tampa found the back of the net again.
Tampa was on the powerplay for the first and only time of the night when Yanni Gourde scored. Mikhail Sergachev took a big slap shot from the top of the blue line that missed the net and bounced right to Palat. Palat then inadvertently kicked it over to Gourde who put it past Kinkaid to give Tampa the 3-0 lead. But, New Jersey would not go away quietly.
In his first career NHL playoff game, MVP candidate Taylor Hall converted on a bad turnover deep in the Tampa zone to pull New Jersey to within two. Tampa goalie Andrei Vasilevskiy got a piece of it, but Hall just willed that puck to go into the net. The game was now 3-1 with 6:05 left in the second.
The second would end with Tampa playing very conservatively, but New Jersey could not take advantage of that. Tampa was hanging back and New Jersey did have their fair share of chances but they just couldn't convert as both teams would head into the locker room with the score 3-1. But, as the saying goes having a two-goal lead in hockey is the unsafest lead to have.
Close but no cigar
The third started with both teams playing very lax with not much happening, but around five minutes in, New Jersey went on the attack. It was like head coach John Hynes opened the offensive floodgates. New Jersey tried there darnest to score a goal and take advantage of how much Tampa was playing off the puck. It wouldn't turn into a goal, but it would turn into a man advantage.
9:35 into the third period, Tampa's lead got smaller. Travis Zajac would score on the powerplay to bring New Jersey within one, but that wouldn't be enough. New Jersey tried to keep up the intensity, but Tampa is just too good of a team to let someone else dictate the pace. So, they went on the attack.
Less than three minutes later, Alex Killorn converted on a 3-on-2 to give Tampa the 4-2 lead with just under eight minutes left in the third. A beautiful pass from Gourde was all Killorn needed to put it past Kinkaid.
New Jersey was completely defeated after that goal as life seemed sucked out of the players and the bench. They did have a few more chances from a Hall end-to-end but it resulted in a turnover, and some good screened Kyle Palmeri shots that Vasilevskiy didn't really know where they were until the last second. But, nothing was getting by him.
After a very quiet night from both Steven Stamkos and Nikita Kucherov, a great defensive play from Stamkos would lead to a Kucherov break away who shot it home in the empty net. The score would then be 5-2, and with about 1:30 left in the third, it was basically over.
Even though New Jersey ended up losing, they didn't play a bad game. Hall, Palmeri, and Nico Hischier all played very well in the loss. Kinkaid was pretty great considering that the game could have been a blowout like the Pittsburgh and Philly game from the night before.
After the game Gourde said, "It's Game 1, you want to win the first game. That was all of our focus. It's good that it's out of the way and now it's on to Game 2."
The final score would end up being 5-2 as New Jersey has to face Tampa at home again on Saturday, April 14th at 3 P.M.
What did you think of game one? Do you think New Jersey has a chance? Tell me in the comments below and I hope that you will be locked into Vavel all playoffs long as you join us on the journey that is the NHL playoffs!