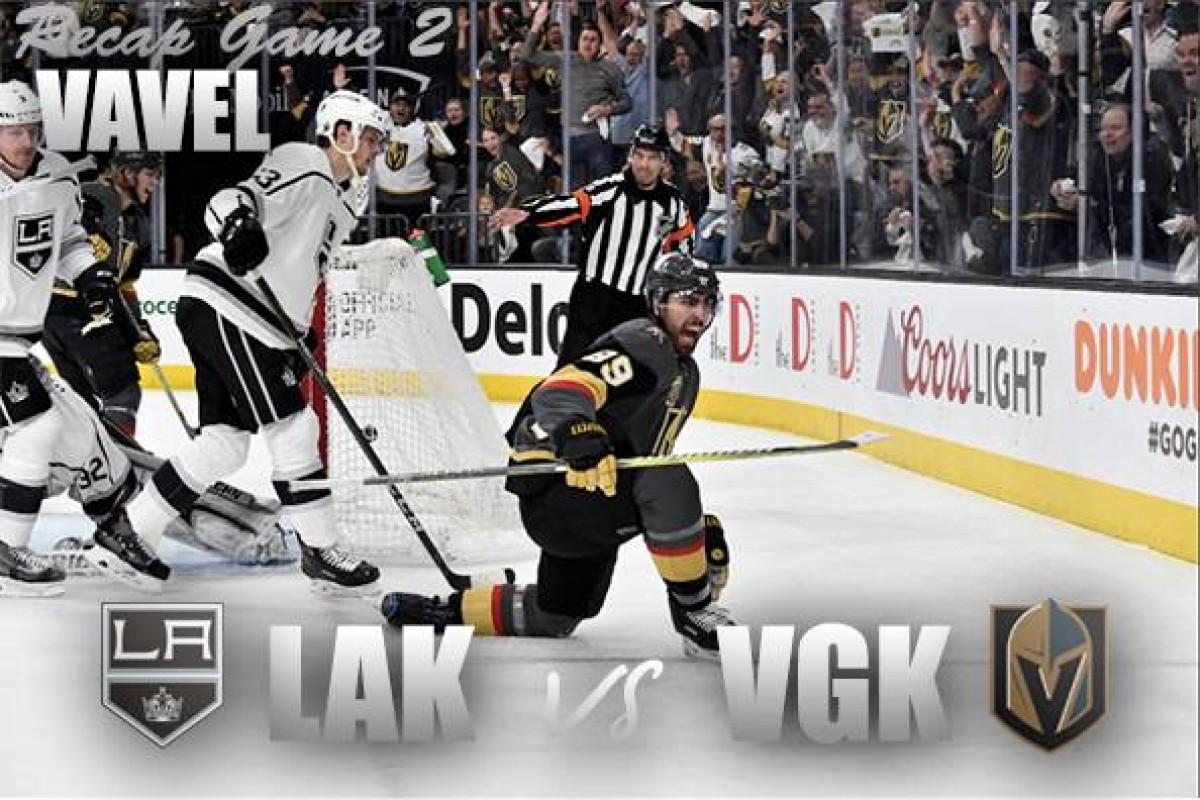 The Vegas Golden Knights and the Los Angeles Kings put on a show last night in the NHL. In a rocking T-Mobile Arena, the impossible Golden Knights used a relentless amount of speed throughout the game to eventually find one crack in the Kings to send this one home.
The margin for error resembled a Stanley Cup Final, thanks to the overwhelmingly sensational play by Jonathan Quick and Marc-Andre Fleury.
The series shifts to L.A. on Sunday, but unlike a lot of series that are 2-0, this one feels far from over.
Untimely penalties
In the first period, the Kings took one and it cost them a goal and Vegas took one in the middle of the second period, and it cost them a goal.
Alex Tuch scored for Vegas while Paul LaDue put one in against Fleury.
Brayden McNabb's penalty in the offensive zone in the middle of the second for Vegas was a particularly bad penalty to take. Vegas had all the momentum at that point in the game and that penalty successfully took the wind out of Vegas and allowed the Kings to eventually get a shot through traffic to beat Fleury.
It is been said time and time again in playoff hockey that it's about moments. The Kings seized that moment and made it happen, despite being dominated in nearly every category during the period.
Quick/Fleury duel
Fleury and Quick. Quick and Fleury. So far they haven't just stolen the show; they ARE THE SHOW.
This will be the story of the series one way or the other. Jonathan Quick was as close to unbeatable as you can get and Marc-Andre Fleury was no slouch either.
Very rarely do you have two goalies playing the way these two are playing.
Both teams are struggling to score goals so far in this series, so until a goalie cracks, it is going to come down to a little bit of luck when it comes to beating one of these goalies.
Quick was the only reason that this game was close in the second period and unlike Game 1, the Kings were able to get one past Fleury in the second.
Overtime was no different when Vegas essentially took over on the forecheck but Quick was up to nearly every challenge, and when called upon, the man they affectionately call 'Flower' was right there to turn any threat aside.
Overtime in Vegas
Overtime hockey in the playoffs has a special way of putting fans through a different type of agony. Every little play matters and that is an understatement. Teams are tired and nine times out of 10, the game-winning goal is the furthest thing from a beauty.
Watching Vegas experience overtime was a blessing. You can't help but applaud the city of Las Vegas for their support of the team. With a city that has more going on in it than most cities in North America, the ability for the Golden Knights to capture the heart of the city is special.
The game winner
Erik Haula ladies and gentlemen.
If Vegas this year was all about opportunity, the postseason hasn't changed. Haula from James Neal and Shea Theodore.
When you have these long marathon games there are a few stats that always stand out; shots on goal and time on ice.
Shots on goal were heavily leaned towards Vegas, outshooting LA 55-30.
Time on ice leaders were:
Alec Martinez of LA with 44:43
Oscar Fantenberg of LA with 40: 58
Anze Kopitar of LA with 38:54
Nate Schmidt of Vegas with 37:19
One can only wonder how many minutes Drew Doughty would have played. It isn't a stretch to have seen him play 55+ minutes.
Game 3 goes Sunday night in Los Angeles at 7:30 Pacific Time.
Did you stay up late to view this game? What are your thoughts on how the series goes from here on out? Let us know in the comments section below.