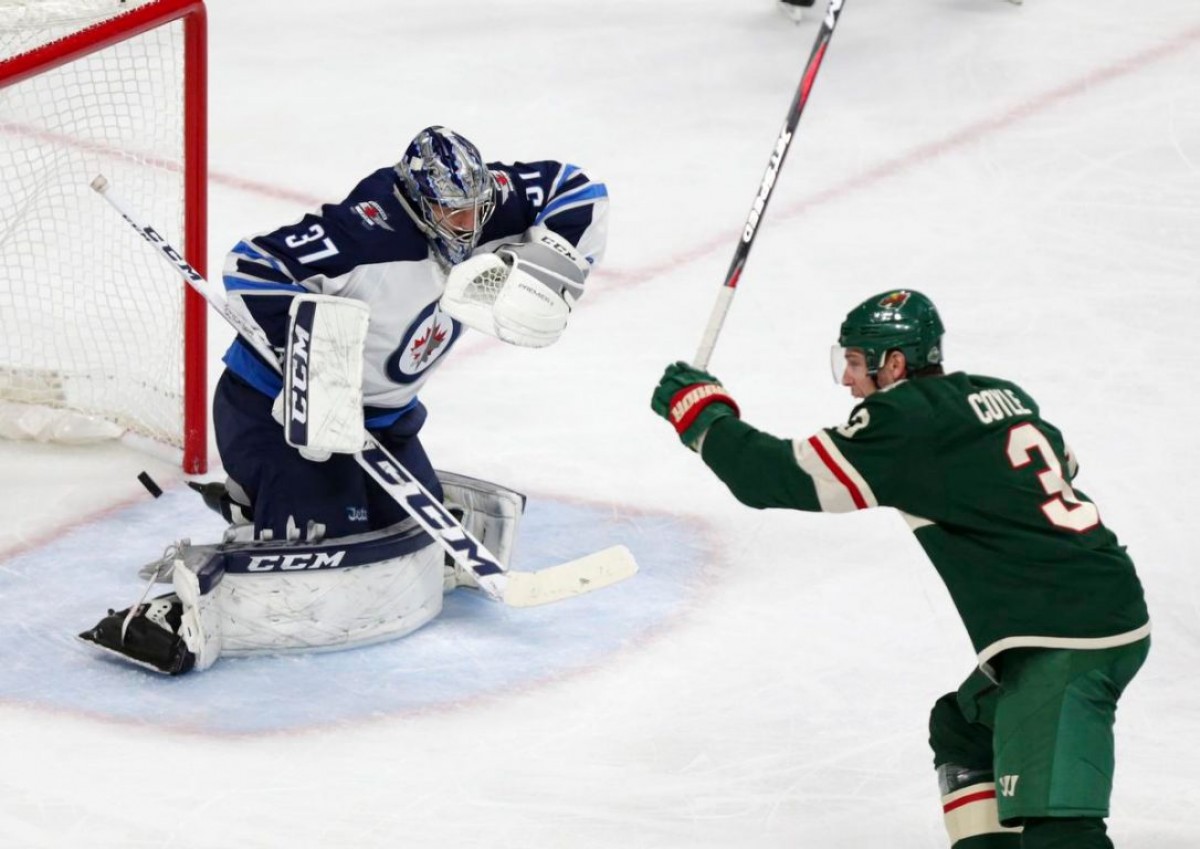 The Winnipeg Jets defeated the Minnesota Wild in Game 4 Tuesday night 2-0. Mark Scheifele scored both goals for the Jets including an empty netter with only 10 seconds to play.
Hellebuyck comes up big for Winnipeg
Connor Hellebuyck was the big question mark for the Winnipeg Jets going into the postseason. He had a rough Game 3 and the pressure was on him to respond.
He did in a big way.
Hellebuyck turned aside all 30 shots he faced including 10 in the third period. It was also the first playoff shutout in the history of the Winnipeg/Atlanta franchise. He collected the puck after the game and the smile could not come off his face.
In an interview after Game 3, Hellebuyck said: "It's the playoffs, we're going to lose, it's not losing it's how you respond after a loss".
He had good news before the game as well. He was one of the three goalies nominated for the 2018 Vezina Trophy. Hellebuyck alongside the Nashville Predators' Pekka Rinne and the Tampa Bay Lightning's Andrei Vasilevskiy will be on the red carpet in Vegas in June.
Scheifele has strong 2-way game
Mark Scheifele scored his second and third goals of the postseason in the victory. He scored with only 28 seconds remaining in the first period and it turned out to be the game-winner.
Kyle Connor gave him a great pass and Devan Dubnyk had no view of the shot. He finished the game with an empty net goal with just 10 seconds remaining in the game. He played over 20 minutes and was a +2 for the game.
Byfuglien steps up in Myers' absence
Winnipeg defenseman Dustin Byfuglien stepped up for the Winnipeg Jets. He played over 28 minutes and went head to head with Minnesota's top line. He finished a +1.
Byfuglien needed to log more minutes because mainstay Tyler Myers was out for the Jets. He has an upper body injury and the Jets are hopeful that he will return for Game 5.
Minnesota is on the brink
Minnesota is down in the series 3-1 heading back to Winnipeg. Their chances looked slim heading into the series and they have now worsened. Top center Zach Parise has a broken sternum and will miss the rest of the series. He tallied three goals in the first three games, so his scoring prowess must be supplemented by others.
Injuries are part of the game, but missing a seasoned veteran like Parise may be the straw that broke the camel's back for the Wild.
Nino Niederreiter and Charlie Coyle both are scoreless in the series and they need the two scoring wingers to step up if they have a chance to make a comeback.
Game 5 goes Friday night at the MTS Center in Winnipeg.
Will the Minnesota Wild have enough gas in the tank to mount a comeback? Feel free to leave your comments below.