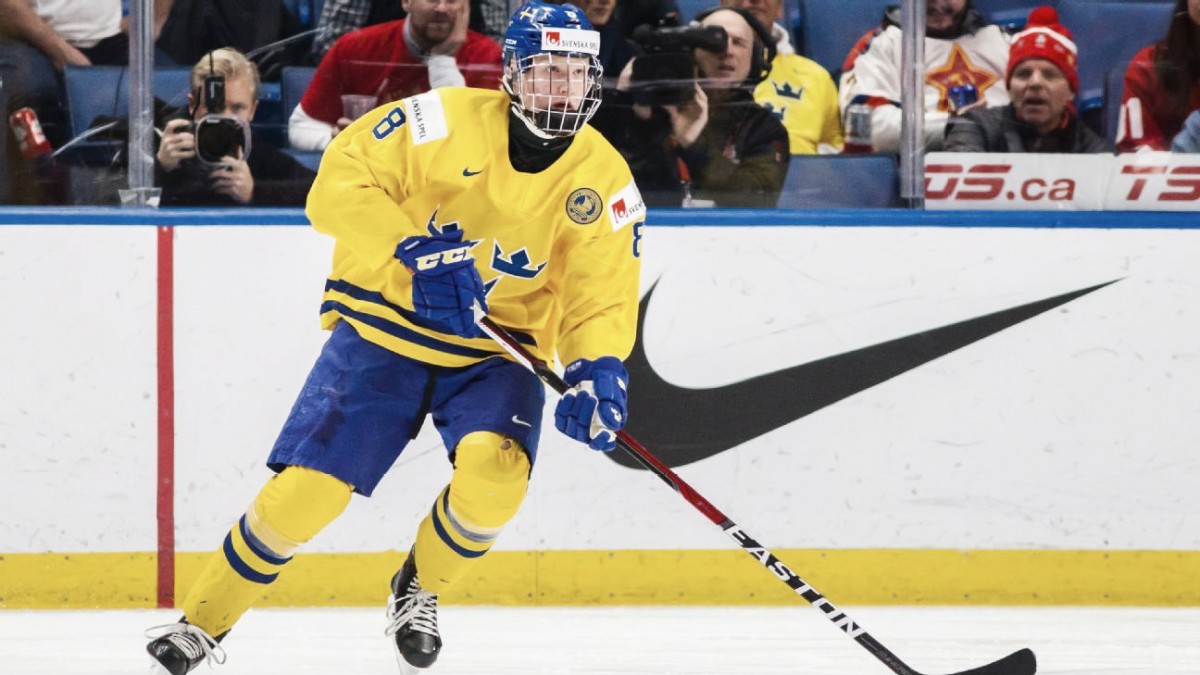 Last year's draft showed the Arizona Coyotes falling to the #7 spot in the NHL Entry Draft lottery. They wound up dealing that pick to the New York Rangers along with young defenseman Anthony DeAngelo for center Derek Stepan, and goalie Antti Raanta.
So far, that deal seems to be in the Arizona club's favor as Stepan nearly tied his best scoring campaign back in 2013/14 when he tallied 57 points. He had 14 goals, 42 assists this season, and has been an inspirational leader in the locker room.
Raanta is making the Rangers think twice about letting him go as he really came on strongly at the last part of the season. He accumulated a 21-17-6 record with a strong .930 save percentage and a very respectable 2.24 goals against average. He threw in three shutouts for good measure.
So will GM John Chayka deal again?
He could and with the guarantee of no worse than the sixth overall pick, he has plenty of options. He's already shown that he is not afraid to pull the trigger to make a deal which will allow his team to finally get to the postseason for the first time since 2011-12.
I mean this is the desert... but that is a LONG playoff drought and his job could be on the line if he doesn't produce soon.
Now, this writer is not naive enough to state that he would deal the first overall pick and miss the golden opportunity of drafting a generational talent (ala Connor McDavid or Auston Matthews) like Rasmus Dahlin.
That would be crazy.
But if the Coyotes fall from their current third position with a 11.5% chance of winning the Dahlin sweepstakes, then all bets are off.
GM John Chayka has traveled to Russia on a scouting trip and will be in Toronto tonight when at 7:30pm-8pm the 4-15 picks will be revealed. The NHL is building this up to increase drama and viewership of the Vegas Golden Knights vs the San Jose Sharks Game 2 playoff contest tonight. The first three selections will be revealed during the second intermission of the game.
Looks like the NHL's marketing team is working overtime on this one.
It is very dramatic and look at the strange results last year when the New Jersey Devils jumped from the fifth spot to the first spot. Then, the Philadelphia Flyers catapulted from No. 13 to the second spot, and the Dallas Stars went to the No. 3 pick up from No. 8.
Chayka has stated that he and his staff are ready for numerous trade options ahead of the June draft.
"Our philosophy is we want to be prepared and as prepared as possible," Chayka said. "We know we're going to be picking in the top 10 -- but at the same time, you can move up, you can move down. … It becomes my job to make sure we're getting the best player we can and moving up or down and making sure that we zero in on that guy."
Beyond Dahlin this draft is filled with gifted players
If the Coyotes' run of bad luck acquiring the first overall pick continues there are some considerably excellent alternatives available to the Desert Dogs.
Andrei Svechnikov
"Physically ready for the NHL, Svechnikov blends world-class finishing ability with hard-nosed and defensively responsible play. A goal scorer who can impact the game in all situations. Terrific blend of speed, power, and precision. He'll be a front-line threat for years to come." - Cam Robinson, DobberProspects.com
Svechnikov's initial season with the Barrie Colts was not ideal. A broken hand in late October required surgery and kept him out until the beginning of December. Still, in 44 regular-season games, saw him lead all OHL rookies with 72 points, including 40 goals. He received the Emms Family Award as OHL Rookie of the Year, and was named to the OHL All-Rookie first team.
He would add a dangerous element to the Coyotes' forward line, which needs scoring and Svechnikov could be just the player to fill that gap.
Filip Zadina
The Czech Republic native is ranked third, and has increased his stock among top five draft eligible teams with seven goals in seven games at the world juniors. He tallied 82 points (including 44 goals) in just 57 games for the Halifax Mooseheads.
How's that for offensive contributions which could ignite the weak Coyotes' forward line?
Brady Tkachuk
This feisty forward is the son of Keith Tkachuk a former Coyotes' star player and the brother of Matthew who put up 24 goals with the Calgary Flames this season. Some scouting services list him as the second overall prospect.
Brady, at 6'3", 196lbs would definitely be the physical player up front who could add a new dimension to the Coyotes' forward line. He is one tough customer (hey, he gets it from his Dad) with 31 points and 61 penalty minutes in 40 NCAA games this season.
Just think of a line with say... a Lawson Crouse and Tkachuk banging bodies in the corners! The opposition will be bruised and leery to try and deal with these two hulks. Crouse stands 6'4", 220lbs and isn't afraid of using his size. He's having an excellent season in Tucson playing for the AHL Roadrunners who are in the playoffs right now.
He had 15 goals, 17 assists in 56 games, and showed his toughness with 70 PIM. In the playoffs he has gathered one goal, three assists in four games.
So, tune and see where the Coyotes pick
If you really want to get into the possibilities (very similar to playing the slots in Vegas) you can try this NHL Lottery Simulator which of course may or may indicate what will happen when the white ping-pong balls drop later today.
Where do you think the Arizona Coyotes will select in today's NHL Draft Lottery? What kind of player do you feel they will be able to draft, and how would that impact the team's goal of making the playoffs? Let us know in the comments section below.