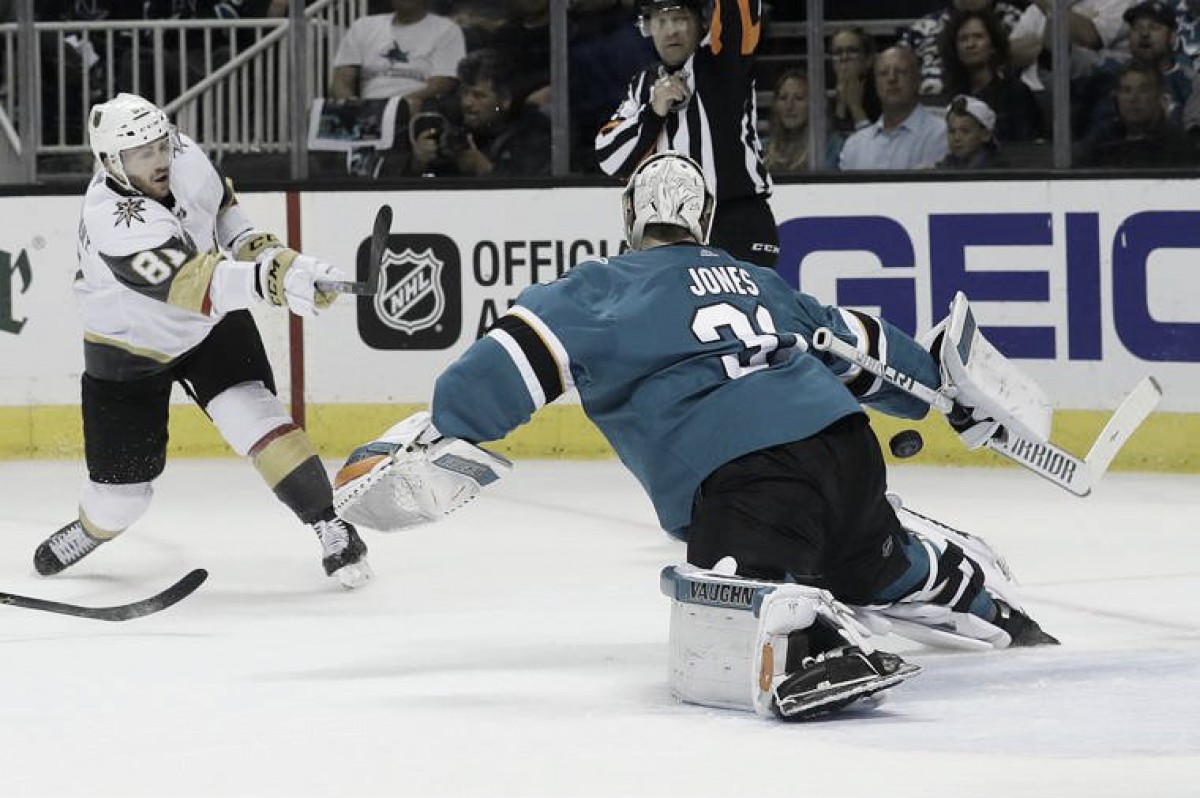 In this back and forth round-two playoff series, it was the San Jose Sharks who thwarted the Vegas Golden Knights in their Game 4 matchup.
The Sharks scored two first period goals and one goal in each of the last two periods to stymie any idea that the Golden Knights would be going back to Vegas with a two-game lead and the opportunity to close out the series in front of their boisterous home crowd.
Martin Jones was impossible to beat
Coming up with 34 saves in the game, Martin Jones stepped up admirably to completely shutdown the Golden Knights attack. His sixth career playoff shutout gives the Sharks new life after being down one game.
"Good game from everybody," said Jones. "Probably our most complete game of the series, I thought. We're trying to carry this over to next game. It will be tough. They've been tough games. We just need to make sure we have the same mindset for 60 minutes that we did tonight."
Two first period goals set up the win
This series has featured two overtime games with one game being won by each opponent. The other two games have been blowouts, so scoring first helps the momentum in any playoff game.
Marcus Sorensen, a fourth-line forward scored his fourth playoff goal at the 15:37 mark with this acrobatic tally on Marc-Andre Fleury.
1-0 Sharks.
In any hockey game scoring a goal in the last minute or so of a period can change the complexion of a game almost instantly. Scoring a goal with just six seconds remaining can jam a dagger into the heart of an opposing team trying to stay in the game.
Joonas Donskoi completed a brilliant end-to-end display of puck possession and agility to put the Sharks into a key two-goal lead going into the locker room for the first period intermission.
2-0 Sharks.
His bullet-like wrist shot from the slot area beat Fleury, and the Sharks were on their way in Game 4.
Tomas Hertl extended the San Jose lead
Tomas Hertl has been a pleasant surprise for the San Jose Sharks in the Stanley Cup Playoffs. Not only has he come up big with five playoffs goals, his goals have been timely and effective at destroying any momentum the Golden Knights tried to mount.
Hertl has been deadly in front of the net, and if don't clear him out, he will burn you. That's exactly what he did on this goal, as he placed a rebound from a Mikkel Boedker wraparound attempt by Fleury at 5:35 of the middle stanza.
Both Hertl and Logan Couture were swarming in front of the Vegas net, and it paid off big time to take a commanding lead.
3-0 Sharks.
Vegas just couldn't solve Jones
Jones played brilliantly all night to completely frustrate the Vegas offense and saves like this were just another night at the office for the Sharks' netminder. He was cool, calm and collected in a key game which sends the series back to Las Vegas for an exciting Game 5.
Joe Pavelski's power play goal ended Vegas' night
Captain Joe Pavelski tallied his second goal of this series at the 11:43 mark of he third period on a power play and any hope that Vegas could salvage Game 4 were diminished as the Shark tank crowd went berserk in their glee.
Pavelski is always tough to move out of the net front area, and he did a fine job of screening Fleury and then just getting enough room around Fleury to throw in the fourth and final goal for the Bay area hockey club.
The series now moves back to Vegas in an always pivotal Game 5. Most hockey experts agree that winning Game 5 in a playoff series is key to winning the series.
Vegas will need to do that, or this series could be over if they allow the Sharks to have the luxury of going back home to clinch the series in Game 6.
Grab your popcorn, as Friday night's game has got to be on any serious NHL fan's viewing agenda.
Must win games usually are.
In this back and forth series, who do you think has the advantage going into a key Game 5? Let us know in the comments section below.