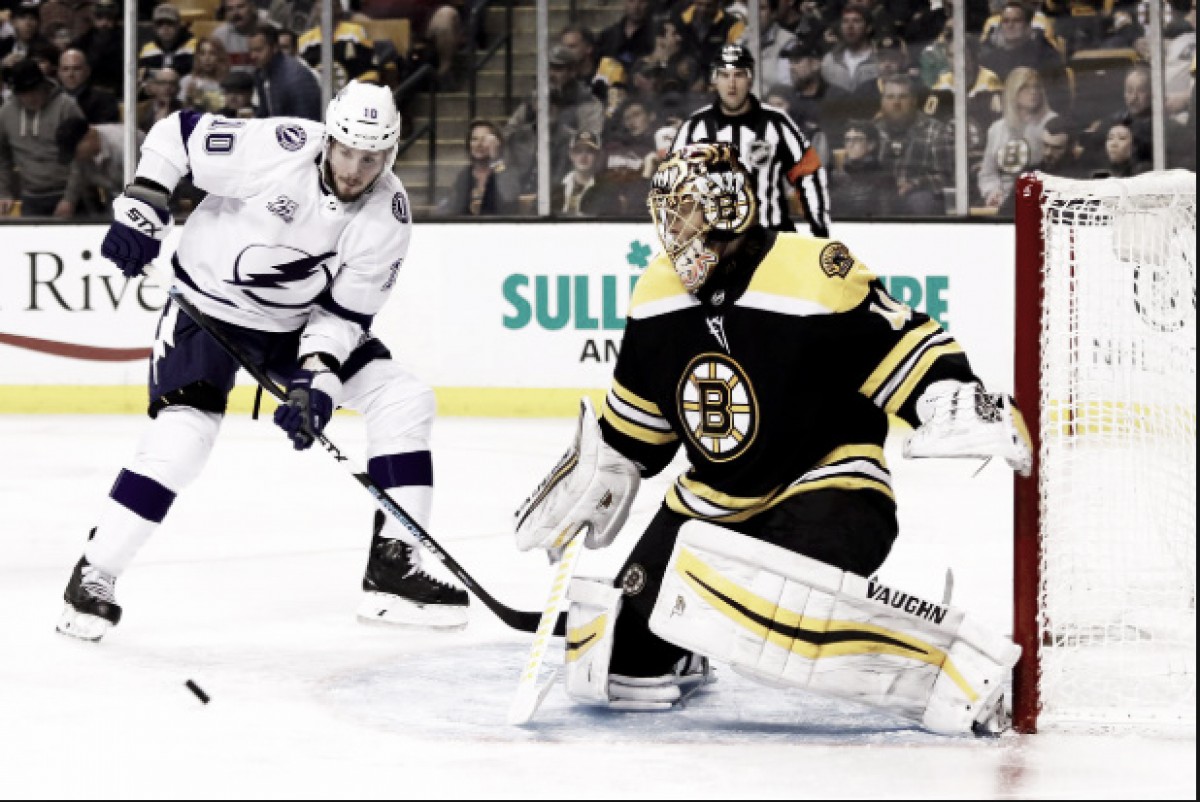 The Tampa Bay Lightning went into Game 4 looking to grab a win, and head back home to clinch the series. And they did just that, with an unlikely hero to take a 3-1 series lead. Both teams head back to Tampa Bay to play Game 5 on Sunday.
It started well with Tampa getting the puck deep into the Boston Bruins' zone. Boston countered with shots of their own as they started to control the game within the first five minutes, but Andrei Vasilevskiy was there to make several saves to keep the game scoreless.
Brayden Point scores first
Tampa got on the board first with a beautiful goal scored by Brayden Point. Point carried the puck in the neutral zone, waiting for teammate Tyler Johnson to skate back onside. He carried the puck into the zone, splitting two defenders and walking in on Tuukka Rask to slip the puck into the back of the net.
The Bolts struck again a few minutes later on the powerplay when Nikita Kucherov pulled off his best Alexander Ovechkin and fired home a shot from the left faceoff circle of Rask to double the lead for Tampa.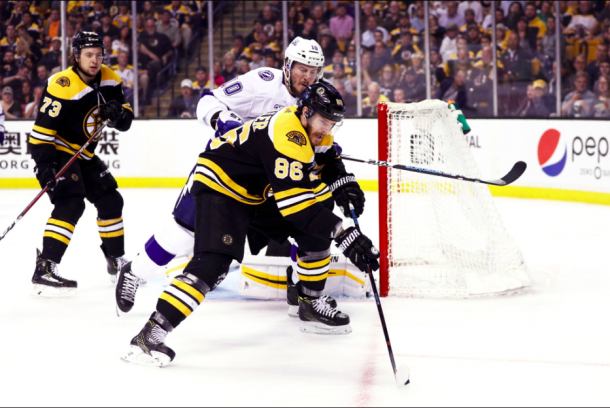 B's pull one back
Boston got a goal back when David Pastrnak batted down a lost puck from the air and into the back of the net past Vasilevskiy to pull Boston within one.
Within the first few minutes of the second period, Boston went back to the power play, and Patrice Bergeron capitalized to level the game at 2-2.
Bergeron got his second of the night, giving the B's their first lead of the game when Brad Marchand took the puck down the boards and had a shot, which Bergeron got a stick to deflecting it past Vasilevskiy and into the back of the net.
With about seven minutes left in the last period, Steven Stamkos leveled the game at 3-3 with his shot from the slot.
Both teams would see that scoreline as the third period ended and the start of overtime was soon to come.
Girardi winner
At 3:18 of the overtime period, Dan Girardi got a piece of a pass in front from Alex Killorn and tapped it into the back of the net past Rask, giving the Bolts a 4-3 win, and a 3-1 series lead.
Game 5 is Sunday at Amalie Arena.
Do you think the Boston Bruins have the energy to come from behind, or is Tampa Bay a good enough team to take the series at home? Let us know in the comment section below.