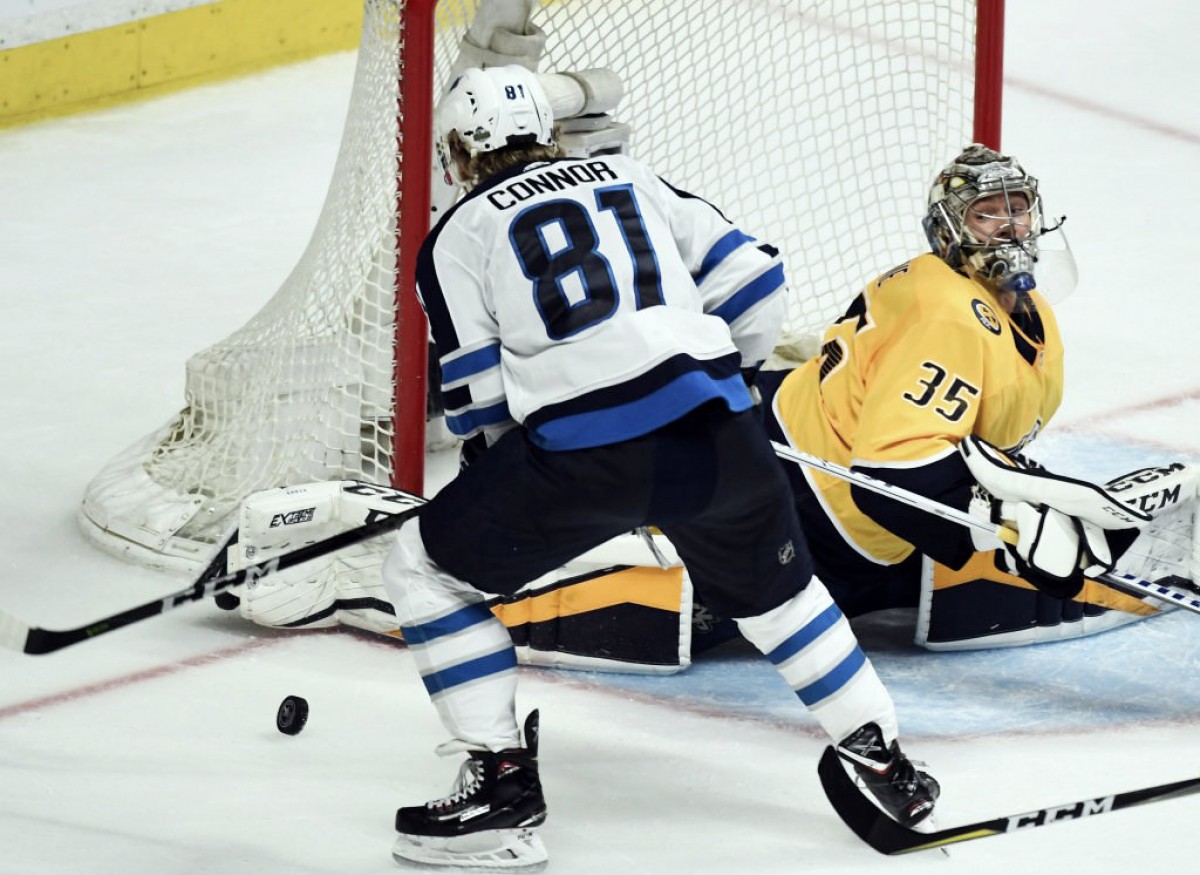 Once teams get to the playoffs and get accustomed to playing each other for a maximum of seven games, they make adjustments quickly to take advantage of situations.
The Winnipeg Jets, who are an awesome offensively gifted dynamo team, just needed to adjust to not scoring in the first period, and boy did they over-achieve!
Try four goals in 9:17 of the middle stanza to blitz the stunned Nashville Predators who must have felt like they were hit by a runaway train... or make that a JET.
Scoreless first saw each team looking for an advantage
The first period saw no scoring, but Nashville ended up throwing 11 shots on the Jets' netminder Connor Hellebuyck, who stopped all of them.
Each team seemed to be more careful and not get penalized, especially the Predators who did not want Winnipeg's fourth rated playoff power play unit to take the ice. The Jets are averaging 3.8 goals a game and limiting man-advantage situations is playing smart hockey.
There were no power play chances for either team in a closely fought first period... but the action was soon to commence.
Second period bombs dropped by the Jets
Winnipeg started the scoring parade of six goals scored in this period with a beautiful play set up by Nikolaj Ehlers who drew two Nashville defenders towards him on the left boards.
He then proceeded to bounce a perfect pass off the boards... like a pool shot to his high scoring forward Patrik Laine. We all know Laine has a wicked shot and he unloaded one which deflected off of Paul Stastny's glove and past Pekka Rinne for a 1-0 lead.
The Predators came back with the tying goal just over three minutes later when Yannick Weber motored down the left wing and fired a bullet of a wrist shot on Hellebuyck's short side to get Nashville back to a 1-1 score. If Hellebyuck has a weakness it seems that might be where to place a shot to beat him.
In the next 4:31 the complexion of the game changed drastically. Winnipeg unloaded a four-goal atom bomb on the Predators which... all things considered decided the game's outcome.
The key player in this outburst was young Kyle Connor who drilled two goals past Rinne, scoring the first and third goals during the span. His two tallies were sandwiched between a blast from the blue line by Dustin Byfuglien.
Connor's first goal was pure hustle as he shot a rebound off of Rinne's pad, only to persist and get the rebound right back and made no mistake of it. It was his first career playoff goal, and what timing.
2-1 Winnipeg.
Byfuglien's blast from the point ensued after a scuffle for a loose puck in the crease, which Rinne tried to freeze the puck by lying on it... to no avail. The rubber disc squirted loose and back to the point where Byfuglien's shot made it through not one, but four Nashville players before it hit twine.
3-1 Winnipeg.
Connor strikes again
Kyle Connor liked scoring his first NHL playoff goal so well he decided to do an encore. On a pretty feed from Blake Wheeler Connor came down the slot to fire a shot which hit the camera... gee this guy really knows how to create the drama!
This made the score 4-1, and Nashville was on the ropes, and the Jets were indeed in complete control in this pivotal Game 5.
Nashville came alive with a short-handed goal
The Predators must have felt completely depressed with the chain of events, but they picked themselves up, brushed themselves off and scored a short-handed goal just 58 seconds after Kyle's goal to wake up the team. Viktor Arvidsson was sitting for slashing Jacob Trouba at the 17:23 mark.
Ryan Johansen raced past Patrik Laine on the right boards and coasted down on a 2-on-1 with Colton Sissions. Johansen disguised if he was intending to pass or shoot, but decided to try Hellebyuck's weak short side again. He got it by him to narrow the margin to 4-2.
Third period all Winnipeg
The Kyle Connor show continued in the final period as he showed off some fancy moves to pass the puck between his own legs and get by the defense to set up a picture-perfect goal by Mark Scheifele which clanked off the post and by Rinne.
5-2 Winnipeg.
The Jets were still wearing their scoring shorts as they poured another goal by Rinne who was pulled after this bad bounce goal got by him.
The fortunes (or in this case misfortunes) of the Nashville Predators were displayed visibly by the look on their head coach Peter Laviolette's face as well as the Nashville fan sitting behind him.
Winnipeg wins 6-2.
With Game 6 scheduled for Monday night in Winnipeg, the Jets have the chance to advance to their first Western Conference Finals in their existence. In fact, their series win over the Minnesota Wild was their initial playoff series win.
With a 79% chance of advancing due to their Game 5 victory, the Jets must be confident... but the Predators who had been to the Stanley Cup Finals just last year are not going to go away easily.
The Jets need to be running on all engines again if they care to advance to the next round.
I wouldn't miss Game 6.
It should be something else.
Will the Winnipeg Jets' success continue, or will the playoff experienced Nashville Predators prevail? Let us know your opinion in the comments section below.