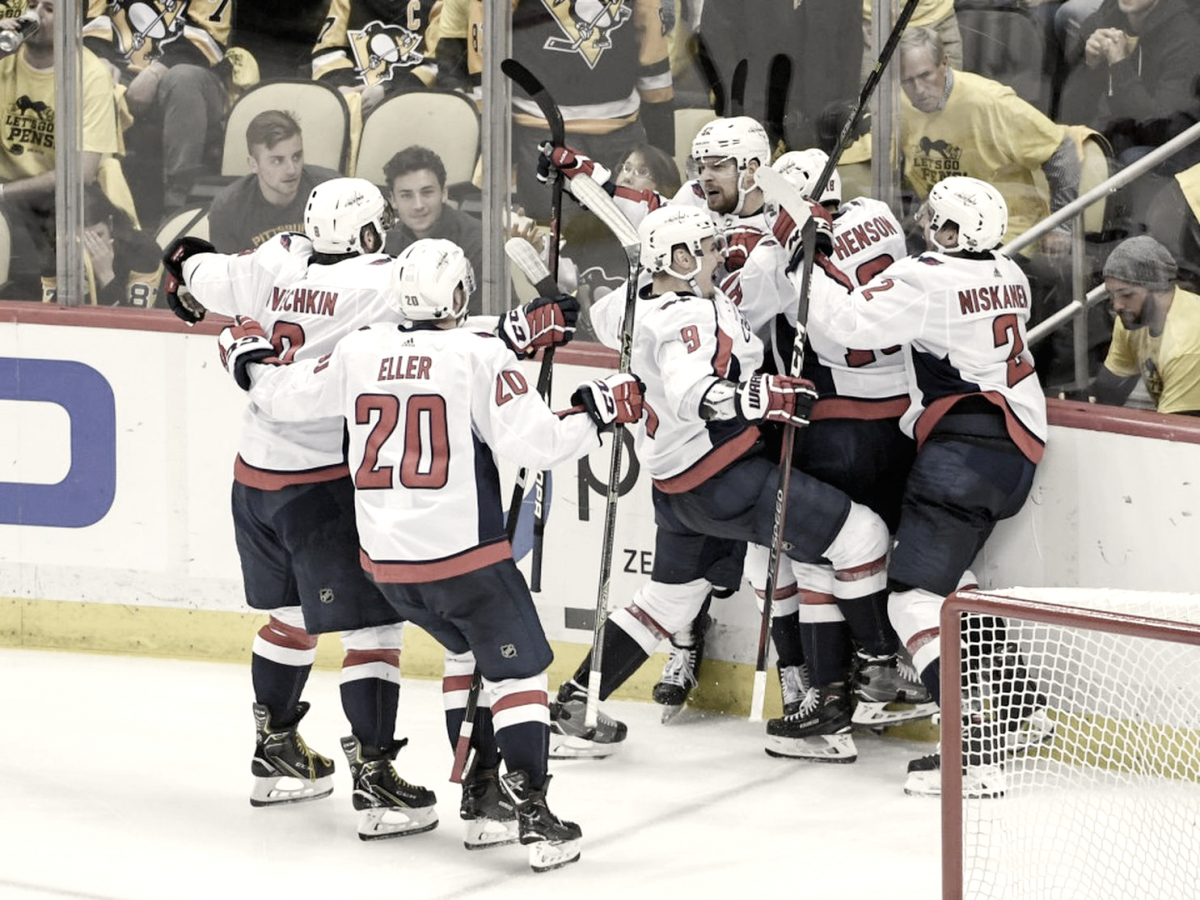 There are no inaccuracies in the title. This isn't a simulation or a dream. It really happened. For the first time since 1998, the Washington Capitals are moving on to the Conference Finals. For the first time in 1,109 days, the Pittsburgh Penguins have lost a playoff series.
It wasn't easy for either side as it was a hard fought battle, but in the end, history was made.
Murray and Holtby are freaking good
Game 6 saw goalies Matt Murray and Braden Holtby do what they do best... which is be great. Murray gave up two goals on 30 shots and Holtby gave up one goal on 22 shots. The first was all about the goalies as Murray and Holtby went toe to toe for what would be the last time this season.
In the first, Murray was saved again by the post as T.J. Oshie got it past him but it dinged off the iron. Holtby made sure that his team stayed in it as he stopped all the shots he faced that period. As Washington poured it on, Murray stood tall bringing a 0-0 tie at the end of the first.
Both teams went to the locker room with the score 0-0 and the goalies looking impenetrable.
A true battle of attrition
After Washington's Game 5 loss, Oshie said that that Game 6 in Pittsburgh would be "one of the toughest games any of us have ever faced." Which was true especially with Nicklas Backstrom out of the lineup and giving Pittsburgh the ability to expose the Caps lack of depth at forward, but they lucked out.
Just 2:13 into the second, the Washington Capitals took full advantage of the shaky play that Matt Murray has shown in the playoffs by taking the early lead.
Rookie Nathan Walker did work behind the net to eventually set up Alex Chiasson at the face-off dot to beat Murray over his shoulder for a weak goal that gave the Caps the 1-0 lead. Walker had been waived by two teams this season and Chiasson didn't even have a contract when he tried out for Washington and now they both found their homes on Washington's fourth line.
PPG Paints Arena quieted as the fans worst fears slowly came to fruition as it seemed like Washington was controlling everything all over the ice allowing a slow, physical game to take place.
Just when it seemed like all hope was lost, Pittsburgh bounced back.
With 8:08 left showing on the clock, Evgeny Kuznetsov lost a face-off to Sidney Crosby who teed it up for Kris Letang who slapped it towards the net where it eventually found twine after it bounced off Chandler Stephenson to tie the game up at 1-1.
With the fans buzzing again and momentum seemingly in Pittsburgh's favor, both teams headed to the locker room with the score tied at 1-1.
The curse has been lifted
The Caps and Pens played a scoresheet clean third as both goalies looked impenetrable again and the game headed to overtime. Washington applied the pressure in the third outshooting the Pens nine to five, but Murray wouldn't break. Two very determined teams entered overtime with one goal in mind: win.
Then it happened.
Just a short 5:27 into overtime the black cloud that plagued Washington and Alex Ovechkin had been lifted. Washington scored and won. For the first time in 20 years, the city of Washington would experience a Conference Final.
After a bad turnover by Pittsburgh trying to enter the Caps' zone, Ovechkin stole the puck and tap it forward just enough to a streaking Kuznetsov to give him a breakaway and the game-winning goal which he gladly put between Murray's legs.
And just like that; it was over.
The only sounds being heard was the celebration by Washington as Ovechkin lifted his arms in the air, tilted his head back and jumped in the celebration with his team. As they danced around, Caps' fans rejoiced as the "little brother" to Pittsburgh finally won one.
They brought home the victory and are giving the city a taste of Stanley Cup fever because, for the first time since 1998, Washington is in the Conference Finals.
After the game, Alex Ovechkin had this to say, "Finally, you know? It's been too long. Finally, we beat Pittsburgh and finally we move to the next round. We didn't go home, we're not going to vacation, we're still battling and it's fun."
Pittsburgh Penguins head coach Mike Sullivan had this to say about his resilient group, "Sometimes we learn more from failures than successes. We haven't tasted this in a long time. That's a credit to our players. I couldn't be more proud of them as their coach. Obviously, we're disappointed. We have to digest it so we can be ready for next season."
This series showed a lot of what Washington had to offer and how good of a coach Barry Trotz is. It was about time Pittsburgh lost and it makes it that much sweeter that it was at the hands of Washington for Caps' fans.
I believe that the Caps can bring home the Cup and that Tampa should be very wary of this squad.
Looking forward
The Washington Capitals will move on to face the number-one seed in the east in the Tampa Bay Lightning with their first match-up taking place on Friday, May 11th at 8 P.M. E.T.
Is it the Caps' year? Will Ovechkin finally get his Stanley Cup or will he be thwarted by Tampa? Tell me in the comments below! ​