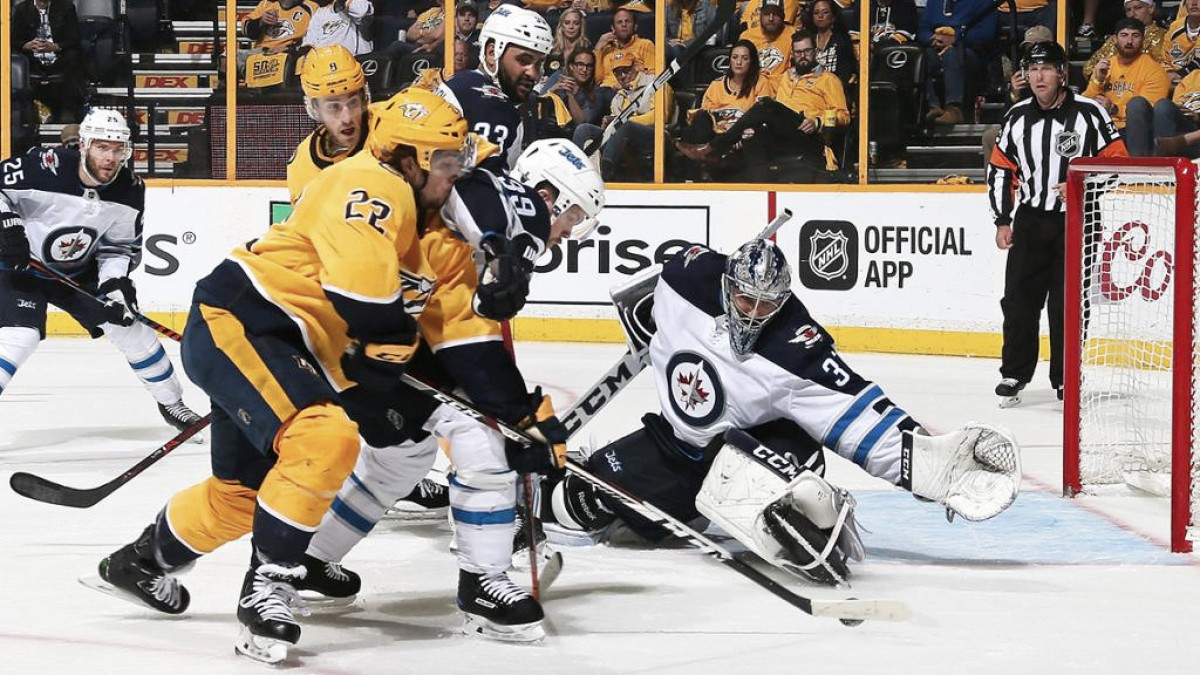 After six games, it comes down to this.
Win or go home.
The Winnipeg Jets visiting the Nashville Predators for the decisive Game 7.
The six-game series between the two Western Conference rivals has had it moments and tonight's Game 7 looks to be no different.
Is there a home-ice advantage?
The visiting team has won four times in the series matchup so there really doesn't seem to be a home-ice advantage.
Except... this is Game 7.
It may make a difference, and it may not matter. In either case Smashville will be the THE place to be to watch this dramatic final game of a hard-fought series featuring two worthy opponents.
The Winnipeg Jets have proven they can win on the road by winning Game 1 and Game 5 by a combined seven-goal margin.
They have the guns, but can their defense and goaltending withstand the barrage which will soon be hitting them in Nashville?
It could be a goalie battle
With two of the very best netminders in the game facing each other for a deciding game, a Hollywood script writer couldn't have planned it better.
Pekka Rinne is coming off a huge shutout of the offensive dynamo Jets and will be on top of his game.
His numbers in the Jets' series are not that impressive. He has a 3-3 record, 3.25 goals against average, and a .906 save percentage.
Compared that with his regular season stats and there is quite a difference. He was 42-13-4 during the 2017/18 season with an outstanding 2.31 goals against average, and a very respectable .927 save percentage.
Will he show up for Game 7?
Conversely, Connor Hellebuyck holds the advantage in goaltending statistics in this series. He has a 3-3 record, 2.67 goals against average and a .921 save percentage.
During the regular season he collected comparable numbers to Rinne with a 44-11 record, a 2.36 goals against average and a .924 save percentage.
It could be an offensive show
With the Jets displaying their offensive firepower by winning 4-1, 7-4, and 6-2 they certainly can put the puck in the net. No one is doubting that fact.
With forwards like Mark Scheifele and Patrik Laine firing pucks you can easily see the Winnipeg advantage.
Scheifele has five goals and four assists in the six games vs the Predators. Stopping him will be essential to a Nashville victory.
Laine has just one goal, three assists in the six games, and if he finds the net the Predators can be looking for their summer vacation plans. He's a deadly shooter whom you just can't leave open in any situation.
Now Nashville has offensive talents as well. Filip Forsberg not only showed us his incredible, deft scoring puck handling abilities, he even scored by shooting between his legs.
How do you stop that?
How do you stop him period? His three goals, six assists show he is very involved in the Predators' attack. Nashville's top line of Viktor Arvidsson (3-G, 3-A), Ryan Johansen (3-G, 5-A), and Forsberg (3-G, 6-A) make them a threat that the Jets need to squash if they hope to advance to the next round.
Defense wins championships
The Nashville Predators know that very well. In fact, their top line knows that too, as does their head coach Peter Laviolette who sends out that line to stop the Jets' top line.
Defense may very well decide Game 7.
The Predators' star defenseman P.K. Subban voiced that when he said,"I think it's just two good teams that have won on the road. Being on the road is a different mentality. We have to look at it like it's a road game. We can't let our emotions get too high off our crowd and just focus on what we need to do: take care of the puck, take care of our own zone, play solid defense."
The Jets' goalie Connor Hellebuyck is one cool customer and is just excited to be in the position of moving to the next round.
"We have a good group in here, one that realizes there are going to be some momentum swings" Hellebuyck said. "We got down by three in one game (a 7-4 win in Game 3) and we weren't fazed. We just continued to play our game and all of a sudden it was going our way. The momentum swings can be big and it's who can handle it the best."
It's close to game time, who's your choice?
The way the six games have gone thus far it is very difficult, if not impossible to choose what will happen in tonight's game. No team has won consecutive games, so does that mean a Winnipeg win?
Or will the playoff experience and defense-first mentality give the Nashville club the advantage?
That's why they play the games.
This game may be decided by who scores first, or who gets that slight advantage, whether it be a key turnover, or a spectacular save... something will happen to give one team an advantage over the other.
We just don't know what that will be... YET.
Who do you think will take a decisive Game 7 and advance to the next round to face the upstart Vegas Golden Knights for the Western Conference Finals? Let us know in the comments section below.