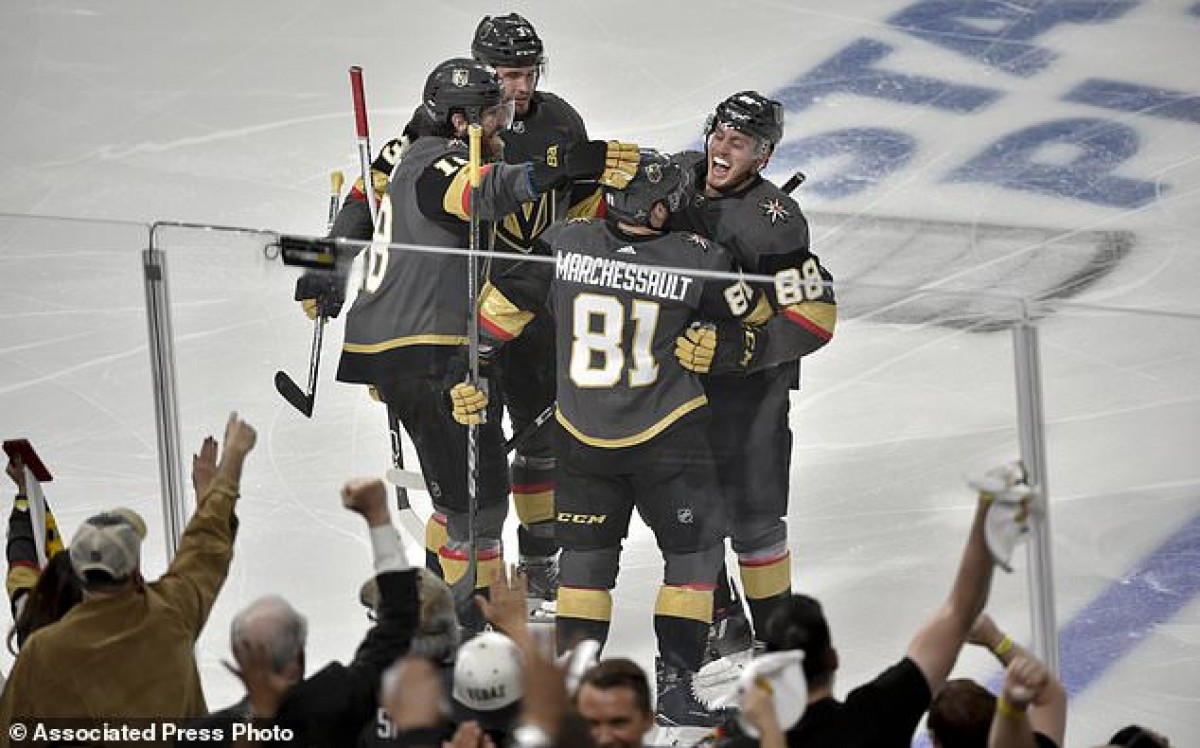 The Vegas Golden Knights came inches away from cracking. They were about as close to breaking as a team could come without actually breaking. Clinging... literally clinging, clutching and grabbing hold of the 3-2 lead in the third period, Vegas needed someone, anyone to step up.
Marc-Andre Fleury obliged.
Fast start
In a game as quick as hockey, seconds... not minutes are what matter. It is cliché to say "take things one shift at a time" but a game like Game 3 was a reality check as to why that cliché is so true.
Every second mattered.
With a rocking building and a roof that was about to blow off, the T-Moible arena in downtown Las Vegas, Nevada; Jonathan Marchessault made the most of his seconds on the first shift.
Just 35 seconds into the game, he burst in with speed compliments of yet another Winnipeg Jets' turnover, and maneuvered his way around goaltender Connor Hellebuyck to give Vegas the lead.
It was his THIRD straight backhander goal dating back to the last game. Perhaps he has discovered a weakness in Hellebuyck... and in the playoffs you take advantage of every weakness of your opponent.
They never surrendered that lead. They did however, rely on a few big moments to get them to that final buzzer.
James Neal gets woken up
During a dream first period for Vegas, outshooting the Winnipeg Jets 10-3 there was a moment that made the excited crowd gasp for air. Superstar Jets' defenseman Dustin Byfuglien ​clipped Vegas forward James Neal.
He was hit somewhere around the mouth/eye area. It was about as clear as day that it really hurt. Neal was called into the dressing room by concussion spotters almost immediately.
The man who returned was on a mission.
Eric Haula stole the puck from a wandering Hellebuyck behind the net and found Neal streaking in to direct it home.
Neal had an okay first two games. He was not a problem in the Golden Knights lineup, but his -1 +/- with a combined two shots in 33:38 minutes of ice time is well below average for Neal.
In last night's game, Neal had five shots, one goal, one assist, and was a plus three. That was in less than 13 minutes of ice time due to time missed being looked at for a concussion.
The second line of Erik Haula, ​Neal, and usually David Perron, ​replaced on this night by Alex Tuch needed a big game.
They combined for five points on this night, including the game winning and game tying goals.
Flower was superhuman
It's another cliché but your goal has to be the best player on the ice and steal a game or two during a long playoff run.
Marc-Andre Fleury was under siege for the last 40 minutes of the game, more specifically the last 20 minutes. He made 30 saves in the last two periods combined.
None more jaw dropping as these two point-blank, diving saves he made with about nine minutes left on the clock against a wide open sniper like Mark Scheifele.
Those are the kind of saves they make statues about.
Those are the saves that open the doors of the Hall of Fame for goalies.
Those are the saves that become the cover of the book and make a career.
He saved the game.
Fleury stole this game from out of nowhere. Vegas was really, really good in the first period but his 33 saves, and one assist could be the turning point of this series.
If Fleury can do it again on Friday night, and it is a BIG if, this Cinderella story becomes way bigger than Cinderella ever was.
Will this dramatic win motivate the Vegas Golden Knights to take a 3-1 lead in the series, or will the Winnipeg Jets reload their offensive machine to strike again? Let us know in the comments section below.