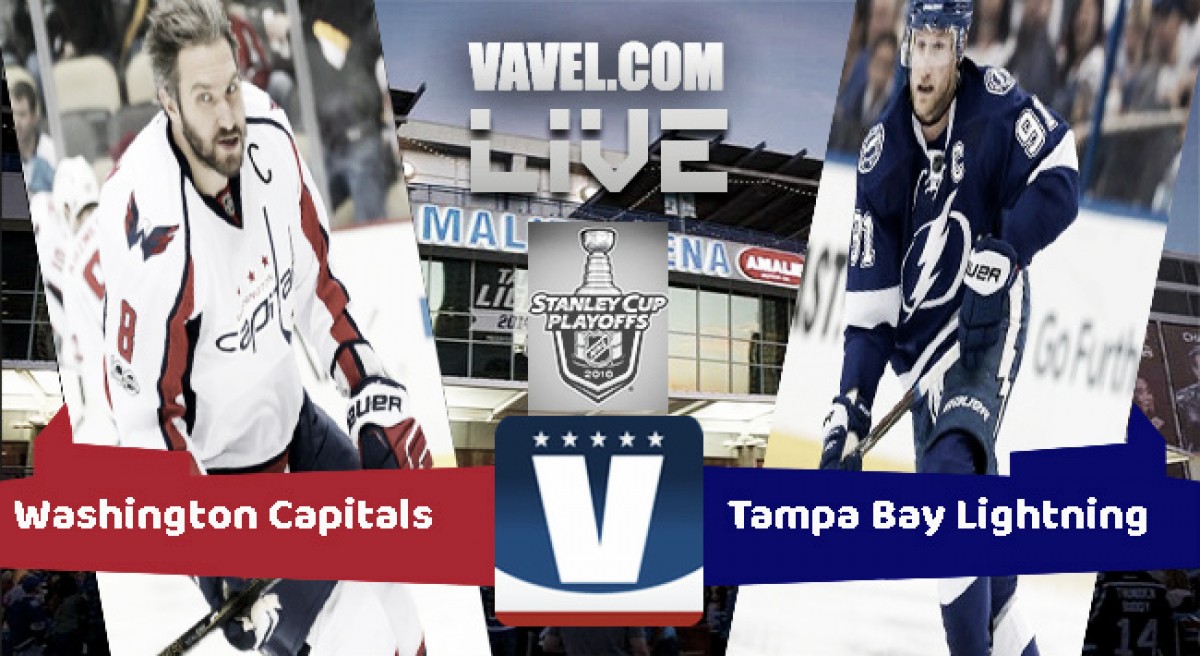 Thank you all for joining me in this AMAZING game! My name is Tyler Fisher, and I'll see you Monday night! Once again, your final score: Tampa Bay 3-2 Washington.
Callahan has his sixth multi-point game in his career. Tonight, he has a goal and an assist.
Wow! What. A. Game! Tonight's three stars: 3 - Vasilevskiy. 2 - Paquette. 1 - Callahan.
GAME OVER! The Tampa Bay Lightning win 3-2, take the series lead 3-2 as they now head back to Washington!
One minute remaining.
EMPTY NET CAPITALS. AGAIN.
Timeout, Washington.
The goal is Ovechkin's 11th goal of the playoffs.
1:36 - Ovechkin pulls one back for the Capitals! 3-2! We got ourselves a game now!
EMPTY NET CAPITALS
Under three minutes....
Brooks Orpik got rocked behind the net and had trouble getting off of the ice. Seems to be okay.
Eight minutes remaining in the final period.
The Bolts are having trouble getting the puck out of their own end.
The third period is going to be intense. I can already tell.
We're back for the third! Tampa Bay still leading 3-1.
END OF SECOND PERIOD: Lightning 3-1 Capitals
1:44 - What a save by Vasilevskiy! And what a shot by Ovechkin!
3:39 - Kucherov has a shot but Holtby is there to make the save.
So, the Lightning fourth line has made all the magic happen. But have yet to have a shot. Interesting.
Uh, okay broadcast. You can rewind five seconds without my permission.
8:20 - Lightning lead in shots 17-11.
I missed a Caps goal. 3-1.
Puppy duties call. BRB.
GOAL STANDS! 3-0 Lightning!
The goal is currently under review.
Lightning score 33 seconds into the second period!
You're joking, right?!
START OF THE SECOND PERIOD: Lightning 2-0 Capitals
Thoughts on the first period?
END OF THE FIRST PERIOD: The Lightning takes a 2-0 lead as they head into the first intermission.
This series is amazing. I love it.
TV TIMEOUT.
Caps kill off the penalty. Back to full strength.
8:11 - Brett Conolly whistled for a penalty. Tampa Bay goes to the Power Play.
TV TIMEOUT.
10:56 - GOAL LIGHTNING! Palat makes it 2-0 for the home side! (Goal at 9:04)
TV TIMEOUT.
14:49 - Save by Holtby on an Ondrej Palat backhand shot.
"A bombastic start for the Lightning." - Doc Emrick
The assist on the Cedric Paquette goal goes to Ryan Callahan.
If you're a Tampa Bay fan, you MUST be in shock right now. This is the start that you wanted and it has come to fruition.
19:41 - AND JUST LIKE THAT! Tampa Bay is on the board 1-0! 19 seconds into the opening period! Paquette gets on the board! What a goal!
20:00 - PUCK DROP!
HEEEEERRRRREEEEEE WEEEEEEEEE GOOOOOOOOOO!!!!!!
I got the best of both worlds right now. Hockey on the big screen, and local soccer on the smartphone.
I lied. Puck drop is now. Haha.
7:21 PM EST: Due to extended coverage of The 143rd Preakness Stakes, it looks like puck drop is scheduled for 7:30 pm EST.
7:18 PM EST: Starters in blue for the Caps!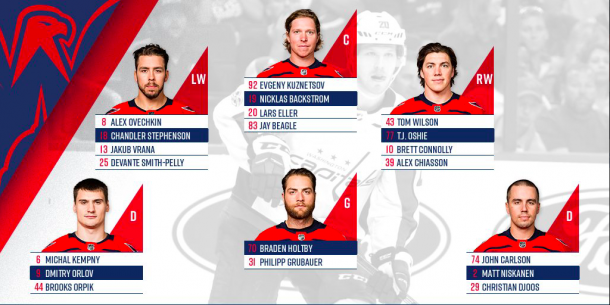 7:14 PM EST: Here's the starters for the Lightning!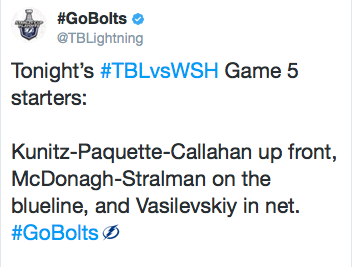 6:54 PM EST: JUSTIFY WINS THE 143rd PREAKNESS!
6:53 PM EST: Justify in first for now as they hit the 1/2 mile.
6:43 PM EST: I'm back! The Preakness Stakes is on right now, let's see if Justify wins race number two!
5:03 PM EST: Well that was fun! Tune in at 7:15 PM EST for the real action!
5:03 PM EST: Lars Eller with the game winner! Capitals win 5-4!
5:00 PM EST: To overtime we go!
4:54 PM EST: Another tie game! 4-4!
4:48 PM EST: And just like that, Capitals regain the lead! 4-3!
4:47 PM EST: TIE GAME! Ondrej Palat slides home a backhanded shot past Holtby to make it 3-3!
4:46 PM EST: Don't count out the Lightning yet! Cedric Paquette brings the Bolts within one! 3-2 with 13:00 left!
4:41 PM EST: 19 seconds into the third and Backstrom is whistled for a high-sticking penalty.
4:40 PM EST: End of the middle frame and the Caps hold a 3-1 lead heading into the third.
4:28 PM EST: Brett Conolly gets his second of the night! 3-1 Capitals!
4:25 PM EST: Nikita Kucherov brings one back for the Bolts! 2-1!
4:23 PM EST: Let's get to the second period! Caps lead 2-0.
4:05 PM EST: Two quick goals for the Capitals! 2-0 lead for the road team as the first period comes to an end.
4:00 PM EST: Mikhail Sergachev has numerous shots on goal but can't find the net. A couple posts were hit and the score is still 0-0.
3:54 PM EST: Tampa Bay has made the most of their chances, and they're getting the body in early. Score still 0-0 with 14:54 left in the first.
3:48 PM EST: So, I have popped in NHL 18 and have gone to the 'Play Now' mode. I will simulate the game, and provide updates. Let's see who EA Sports predicts who will win the game!
3:47 PM EST: Greetings everyone! It's game day in Tampa Bay! Who's your pick for tonight? Tweet me @LWOS_TylerF with your prediction and who scores first! Right now, we're gonna have a small simulation going on.
You can catch Game 5 between the Caps and Lightning on NBC Sports Network. Puck drop is at 7:15 PM EST. Or, you can follow with me, Tyler, and stay up-to-date with LIVE commentary, RIGHT HERE ON VAVEL!
McDonagh continues to say, "We still carried the play pretty well there. Had some offensive-zone time finally; we didn't have much in the second period. We'll look to kind of capitalize on that and keep using that for the next time."
Ryan McDonagh said in a statement, "Honestly, I think the best we felt as a team is probably when Killer [Alex Killorn] scored and gave us the lead there. We were really focused and determined for the last bit of the third period. If there's anything we can use going forward here, it's that mindset we had, focus, that determination, that locked-in both ways."
Washington is looking for a repeat performance in Game 5, however, they'll have to win it on the road, where they have managed to get a 7-1 mark during the playoffs.
Neither team has won at home. The road team owns an impressive 12-4 record in their 16 playoff games this spring.
"If you look at it overall and before the series said, 'It's going to be 2-2 after four games,' both teams are going to be happy. We wanted to win one home game for sure, but we didn't. It's fine - we have to keep moving forward and stay positive," Kuznetsov said in a statement.
Evgeny Kuznetsov and Alex Ovechkin both have 10 goals, pacing the Capitals.
"Now it's a best of three [series], and we've been in this position before. We knew it wasn't going to be easy," said Capitals center Lars Eller.
For just the third time this post-season, the Capitals are getting ready for a crucial Game 5 in a level series, 2-2. The first came against the Columbus Blue Jackets, who won the first two on the road. Washington went on to win four straight to advance and face the Pittsburgh Penguins. A Game 4 loss kept the Caps from seeing themselves go up 3-1 in the series.
Captain Steven Stamkos has been the king on the power play. Six of his seven post-season goals and six of nine assists have been on that unit. He now matches teammate Nikita Kucherov for the team scoring lead with 16 total points.
The Lightning need to win a home game if they want to win the series.
What's even more impressive is the Bolts' penalty kill. During the season, their penalty-kill was ranked in the bottom five of the entire league during the regular season. In the four games against the Caps, the awesome penalty-kill went 7/7 of killing off power plays in the last two games. Only three of those were in the final eight minutes of the first period of the game on Thursday.
The center of attention for the Bolts' turnaround has been their special teams. They have gone 6/14 on their powerplay in the series, which has improved their success rate. They also have had stellar help from Vezina Trophy finalist Andrei Vasilevskiy.
"It doesn't really matter this time of year, whether you're home or away, every game is huge and the emotion is going to be there. Road, home, it doesn't matter. We're going to go after it and hopefully get the next one," said Tom Wilson.
Tampa is in the Conference Final for the third time in four years, while the Capitals are in the same position for the first time in nearly 20 years.
The Tampa Bay Lightning are Eastern Conference and Atlantic Division champions, while Washington clinched the top spot in the Metropolitan Division.
"It seems like in this series, the pressure shifts on the home team. The big glaring 0-4 is staring at you. Home-ice advantage has been a disadvantage in this series. Having said that, I'd rather have Game 5 at home. I believe we'll be a different team than we showed up in Games 1 and 2," said head coach Jon Cooper.
The Caps are 7-1 on the road, while 3-5 at home in the post-season this year.
This series has been a roller coaster ride. The Caps took Game 1 and 2, outscoring the Bolts 10-4 over two games. But Tampa Bay came roaring back, winning both Games 3 and 4 in Washington, outscoring the Caps 8-4. Collectively, Washington has outscored the Lightning 14-12. The road team has won all four games, with the Capitals dominating its way to a 2-0 lead in Tampa.
Hello! Welcome to Game 5 of the Eastern Conference Finals for the 2018 Stanley Cup Playoffs! Today's game features the Tampa Bay Lightning and the Washington Capitals. The game starts at 7:15 PM EST from Amalie Arena in Tampa, Florida. My name is Tyler Fisher, and I will be your host for this evening. So sit back, relax, and enjoy as the forecast calls for severe LIGHTNING! (See what I did there?)