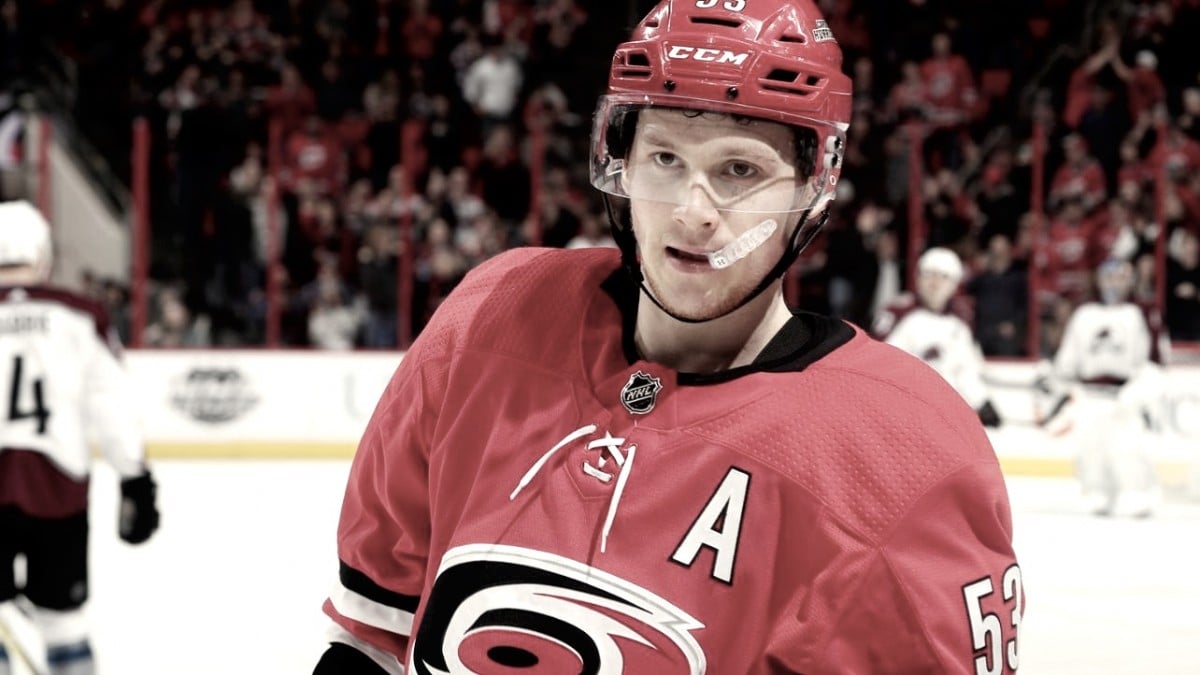 Since the end of the regulation season, there have been plenty of changes with the Carolina Hurricanes. We saw them terminate Ron Francis' contract as general manager and replace him with Don Waddell. They also named Rod Brind'Amour as the new head coach.
Aside from these changes, many suspect the Hurricanes to make some changes to their roster this off-season.
Recently rumors have been heating up around forward Jeff Skinner, and Carolina has a huge decision to make regarding his future with the team.
He becomes a free agent next season, so if the Hurricanes don't plan to extend him, they might be willing to trade him this summer. If Skinner is available there are likely plenty of suitors looking to add a gifted scorer like him into their lineup.
Possible landing spots
Edmonton Oilers
The Edmonton Oilers should be a team interested in the pursuit of Skinner.
Considering the disastrous season they had in 2017/18, one of their biggest problems was their lack of secondary scoring. Aside from Connor McDavid and Leon Draisaitl, the team didn't get enough production from their wingers.
Adding a player like Jeff Skinner would definitely address some issues on offense.
However, there are certain barriers to cross for this move to come to fruition. Cap issues aside, the asking price for Skinner likely won't be cheap. Skinner is one of the Canes' most valuable forwards, so they may demand a player like Ryan Nugent-Hopkins back in return.
Would the Oilers be willing to dip into their center depth for an upgrade on their wing?
Los Angeles Kings
Goal scoring has been an issue in Los Angeles for a long time. With their core (Anze Kopitar, Jeff Carter, Jonathan Quick) not getting any younger, they are likely in the market to add a player who can help them win right away.
Adding a player like Skinner makes a lot of sense. It would give them a huge upgrade for the team's offense and give them more balanced lines in the top-six.
But like the Oilers, Los Angeles doesn't have much flexibility with their cap-space and will likely need to find a way to offload some salary to fit Skinner on their roster.
Pittsburgh Penguins
The Pittsburgh Penguins are not afraid to make big moves and this has been quite evident over the past decade.
They have been consistently selling future assets for immediate help season after season and acquiring a player like Jeff Skinner seems like the type of move they would make.
Obviously, adding Skinner into the mix would give the Penguins' offense another dimension and more firepower around Sidney Crosby and Evgeni Malkin.
If the Penguins are able to move out a player like Carl Hagelin or Conor Sheary, it might give them enough wiggle room to go after Skinner.

Vancouver Canucks
The Vancouver Canucks are in the midst of a major rebuild. With the Sedins and their $14,000,000 cap-hit off the books, they definitely have money to spend for this upcoming season.
They might be in the market to add some offense back into their top-nine forward group and a player like Jeff Skinner might be a perfect target. He is a reliable 20-30 goal scorer and would help Brock Boeser carry some of the load offensively.
The real question is whether the Canucks want to make a move like this right now... trading assets for a proven player.
Or will they be more patient and give players like Elias Pettersson and Jonathan Dahlén a season or two to develop before surrounding them with more proven players….
Final thoughts
Skinner has been a very productive player for much of his NHL career - hitting the 50-point plateau four times and scoring 30 or more goals three times.
It is quite possible that the Hurricanes will be willing to listen to offers, but at the same time, they probably won't trade Skinner just for the sake of trading him.
Value wise, the asking price might be high. Carolina can wait until next year's trade deadline before they move him.
Do you think Jeff Skinner gets traded this offseason? If so, would it be any of the teams on this list?
Let us know in the comment section below.