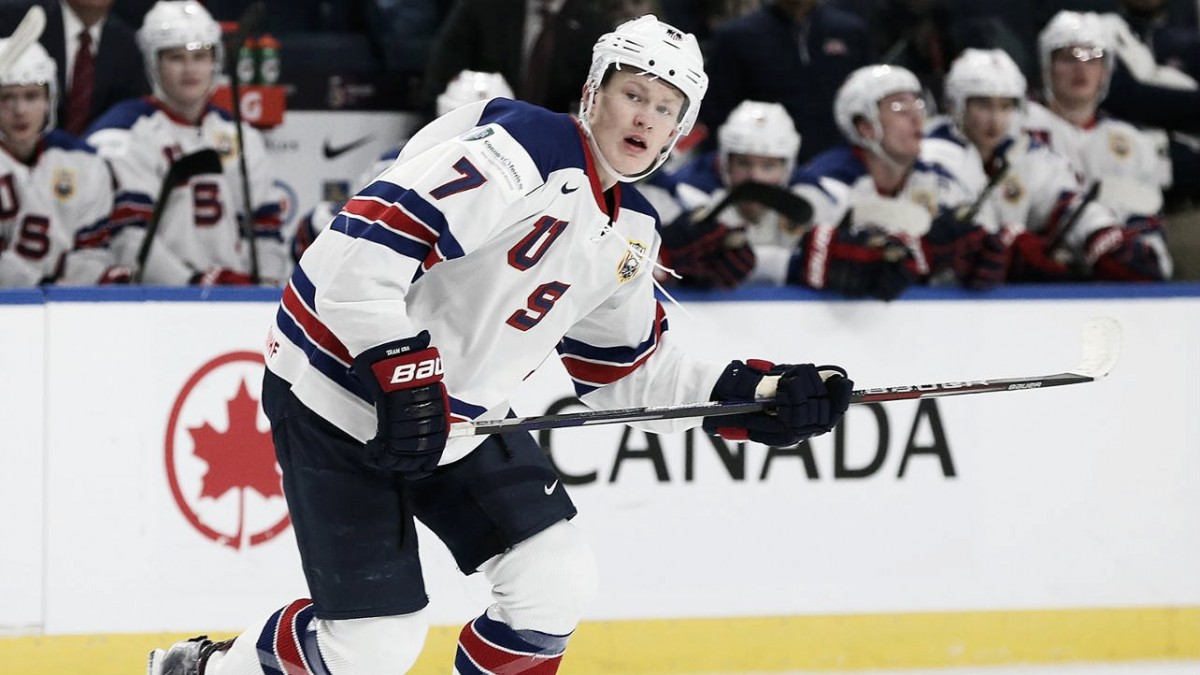 The Arizona Coyotes have the fifth overall selection in next month's NHL Entry Draft and can't think of a better selection than forward Brady Tkachuk of Boston University.
He could be gone by then, but if he's not, the Coyotes will certainly consider drafting him to add some grit and scoring to their forward line.
Familiar name, familiar hockey skills
If the name Tkachuk sounds familiar, it should be as Brady Tkachuk is the son of former star NHL player Keith Tkachuk, and the brother NHL player Matthew Tkachuk of the Calgary Flames.
Keith Tkachuk starred with the Winnipeg Jets (the original version) and Phoenix Coyotes for ten seasons. If his NHL career is any indication of things to come, son Brady could be an excellent player for the Arizona club to grab if available.
Keith amassed some outstanding statistics while in the NHL gathering 538 goals, 527 assists in 1,201 games.
Son Matthew Tkachuk hasn't done too badly himself with 37 goals, 60 assists in 144 NHL games. His CF% of 56.9 would definitely impress Coyotes' GM John Chayka, who is an analytics expert. Matthew also is one tough customer as he has collected 166 PIM with the Flames.
The gritty style of play seems to be in the Tkachuk genes and Brady fits that mold as well.
While playing in the USDP (U.S. National Development Program) Brady was sent to the box for 129 penalty minutes in just 61 games for the U18 team. He also netted 25 goals and 29 assists.
Grit and scoring... the Tkachuk way.
In the 2016/17 World Junior Championship U18 he showed his playmaking prowess with one goal and six assists in seven games. Oh yeah, he also had 12 PIM. He was the captain of the team who collected gold against the Finland team.
He went on to play at Boston University where his skills as a potential NHL player were displayed. He was able to score eight goals, 23 assists in 40 games and yes... 61 PIM to show he won't be messed with by the opposition.
Is Brady Tkachuk ready for the NHL?
His size of 6'3", 196lbs would certainly indicate he'd fit right in, but is he ready to make the jump to the big leagues yet?
With plays like this one must wonder if he is an NHL caliber player yet.
He may just return to BU to get more experience and refine his game. His father, Keith didn't confirm or deny that his son Brady would be returning to college to play another season and forego his NHL debut.
Then, teams thinking of drafting him may need to weigh if they want to use their pick for a player not ready to play in the NHL. The Coyotes are familiar with this as their star rookie Clayton Keller decided to jump from playing college hockey at BU to become a pro.
The results have been nothing but positive as Keller led all Coyotes' scorers with 23 goals, 42 assists in his rookie year. He and Tkachuk could be an awesome duo if on the ice at the same time. Tkachuk's net presence and size could amount to some needed additional offense for the team.
In any case, Brady Tkachuk is one talented forward and is highly regarded by hockey experts.
"Brady Tkachuk plays the game as his name would suggest, physically, aggressively and with a significant amount of skill. Tkachuk has a pro ready game in most respects as he is physically mature and strong enough to play against men. His skating is an asset as he has good acceleration and top speed, and is very strong on his skates in terms of balance and can make power drives to the goal when he drops his shoulder and drives to the goal. He is dangerous in front of the goal as he uses his size and strength to plant himself as a screen in front of the goalie and has excellent hand-eye coordination for tips and rebounds. Tkachuk has a quick release on his shot, has a variety of dangerous shooting options from a quick wrist shot, to a powerful one-timer." – Peter Harling/Dobber Prospects
Now, it's just a matter of time to determine if Brady is ready for the NHL and a team is willing to be patient with his decision to turn pro or stay in college.
One thing is certain, he would look really awesome in an Arizona Coyotes' uniform.
Will the talented Brady Tkachuk wind up playing in Arizona? Or will he return to college, or be selected before the number 5 choice? Let us know in the comments section below.