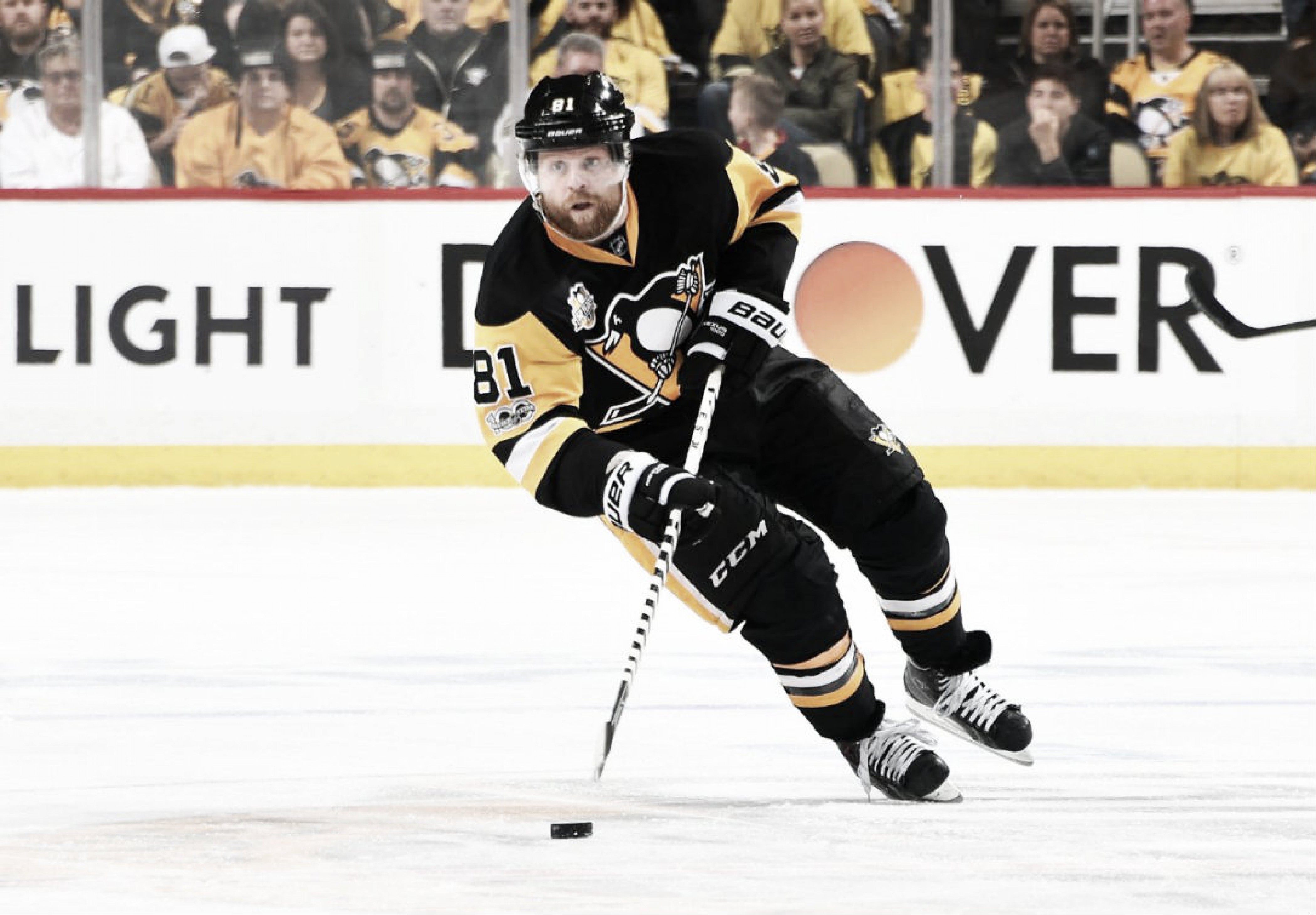 Let's all be honest here.
Phil Kessel is a complicated player... to play with to be coached by, and it seems egos are playing a large part in what could be his departure from the Pittsburgh Penguins.
What started all this?
Per Ron Cook of the Pittsburgh Post-Gazette who wrote earlier this week that he expects Penguins' general manager Jim Rutherford "to seriously look into trading" Kessel this summer due to a declining relationship with head coach Mike Sullivan. He blamed Kessel's desire to keep his iron man streak (currently at 692 games) alive in the regular season for his slump in the postseason, and said he believes Kessel hurt the team by not resting ahead of the playoffs.
The other issue which sticks in Kessel's craw is the fact that Sullivan did not put Kessel on Evgeni Malkin's line as he wished. This wouldn't be the first time a star athlete whines about an issue until the team considers their options of getting rid of the troubled player.
Rick Tocchet was able to soothe Kessel
Since this news has broken all kinds of rumors are flying around as to where... or if the Penguins will trade their eccentric forward.
One rumored landing spot could be with the Arizona Coyotes.
Why?
Well, the newly appointed head coach of the Coyotes is none other than the "Kessel Whisperer", Rick Tocchet. He had a way of getting through to Phil and that could make a significant difference as to where he would like to land, if traded.
Ron Cook also mentioned:
"Kessel deserves much of the blame. He's not an easy player to coach. His ego too often needs stroked. That's why former assistant Rick Tocchet was so valuable on Sullivan's staff. He was known as the Kessel Whisperer for good reason. But even with Tocchet, Sullivan had to be careful with the players he played with Kessel out of concern Kessel would pout if he wasn't pleased. I think that was a problem in these playoffs. Kessel wanted to play with Evgeni Malkin. Sullivan believed Malkin was better with Patric Hornqvist. Kessel was left to play with Derick Brassard or Riley Sheahan. Like Kessel, Brassard and Sheahan did next to nothing. There was a correlation."
Would he be missed?
Keep in mind that Kessel has an eight-team list of teams he'd like to be shipped to if it comes to that and no one knows if that list includes Arizona due to his close ties with Tocchet. He could also just waive that list since he has been vocal about being okay with a possible trade.
It's something to consider and GM Jim Rutherford would need to carefully consider it due to the fact that Kessel was a key contributor to the Pens' success lately. This past season he accumulated 34 goals, and 92 points.
That's not easy to replace.
It seemed that the Penguins' downfall in their three-peat attempt was more their lack of defensive toughness than offensive firepower.
Even though Kessel is being blamed for not performing that well in the playoffs recently, he still had one goal and eight assists in 12 games while playing alongside the likes of Derick Brassard or Riley Sheahan whom together only had two goals and seven points.
Kessel outscored both of them.
So, perhaps Sullivan misused his valuable high-scoring winger in the playoffs. One thing is certain... other teams wouldn't and can definitely stroke Kessel's tender ego to be THE man on another team.
Who can afford Kessel's contract?
Seeing as how the Arizona Coyotes will have almost $23 million of cap space for next season, excluding a new contract for star defenseman Oliver Ekman-Larsson, they could be in the running.
Stranger things have happened in the NHL.
With Arizona being able to afford Kessel's contract, would he be willing to go from a Cup contending team to a team who has failed to even get to the playoffs for the past six seasons?
Don't forget we're talking about Phil Kessel here... Mr. Unpredictable.
Without calling him out as a player who thinks about just himself, one must consider that under Tocchet he would feel very comfortable, if not calm and under control.
The Coyotes are an up and coming team with a plethora young, maturing players and Kessel could be involved in turning the desert team around.
Just how much of what Kessel wants and the Penguins will do is debatable.
Here's Mike Sullivan's take on his relationship with Kessel:
Coyotes would need to come up with an attractive deal to get Kessel
While it's true that the Desert Dogs have many prospects in their pool of young talented players, how willing would they be to land a proven scorer, star player?
It would take quite a bit.
While the Coyotes may be able to afford Kessel's remaining four-year contract at an annual $6.8 million cap hit, can they give the Pittsburgh club what they may want in return for such a valuable asset?
Debatable.
Who would the Penguins want? Max Domi, Jakob Chychrun, Derek Stepan? Who knows?
OR... even Dylan Strome who has really never come into his own in three seasons since being the third overall selection in 2015.
There's lots of possibilities and only Rick Tocchet REALLY knows if it would worth it to obtain Kessel and be his mentor again. He will need to convince the Arizona GM and President of Hockey Operations John Chayka that he is worth it to win sooner rather than later.
After all Kessel's resume is quite impressive when you go to the numbers, something Chayka is very adept at doing.
Kessel has played 12 seasons and appeared in 914 games with 330 goals, 411 assists totaling 741 points. He has added 52 power play goals and 31 game winning goals.
A team weak on offense could really use his prowess at hitting the back of the net or setting up his line mates.
The BIG question is who will he be playing for next season? Will he mend his damaged relationship with Sullivan? Will he seek to be traded or agree to a trade elsewhere?
These are all questions which will not be answered until perhaps the entry draft in about a month.
Do you think the Pittsburgh Penguins will part ways with their star forward Phil Kessel? If so, where do you see him going? Let us know in the comments section below.