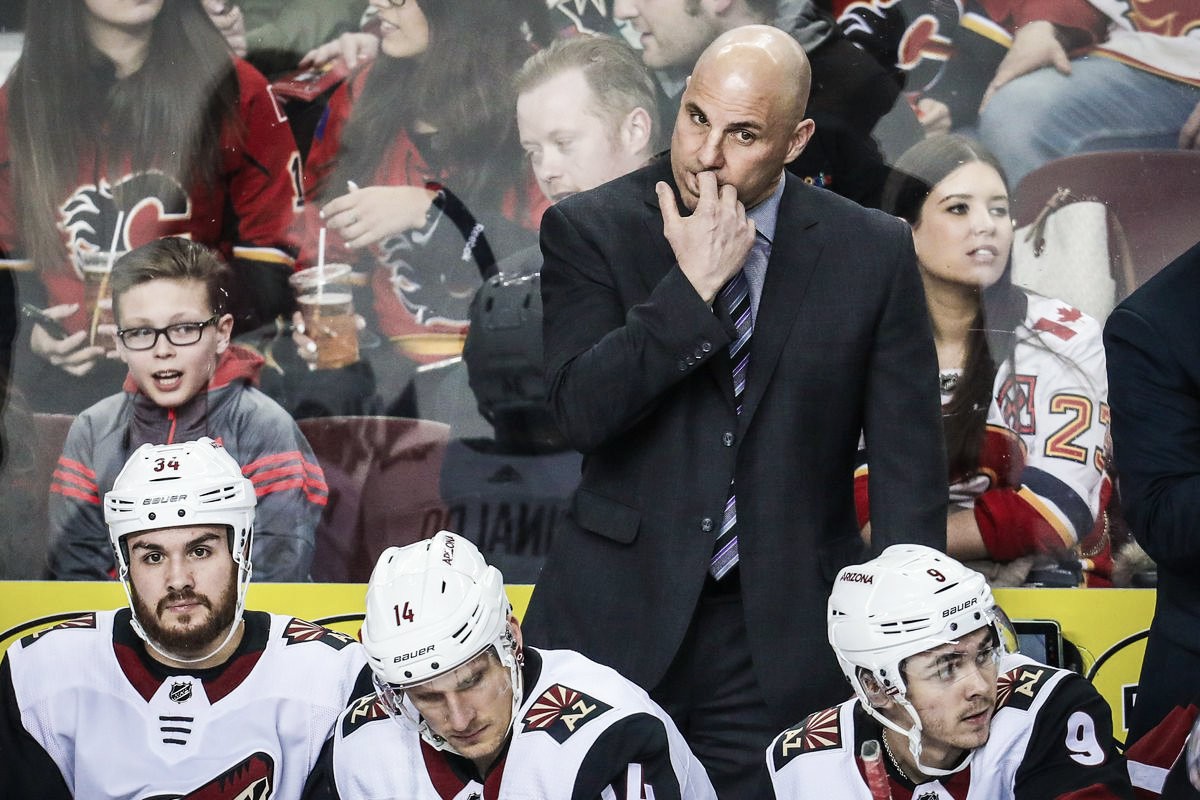 The Arizona Coyotes finished last season on a surge... which had they played at that level most of the season they would not be watching the playoffs but be playing in them.
Finishing the last 23 games with a respectable 17-13-3 record there is hope that they can build off of that success and come away with a record good enough to be playing in the postseason come next April.
Plenty of cap space
According to CapFriendly.com the Arizona club has $22,941,391 of projected cap space and even if they give star defenseman Oliver Ekman-Larsson an AAV contract of $8.25 million for an eight-year term, they will still have plenty of cap space to shop around for some new talent on the team.
Never count out GM John Chayka making some more headline-catching deals as he did last season during the draft period. He needs to get his team in the playoffs... soon.
What are the needs of the team?
Seeing as how they ranked 30th in goals for and 22nd in goals against, both areas seem to need some help.
They should be set in net with Antti Raanta having a really good year, good enough to earn him a new contract worth $4.25 million a year for the next three seasons. Backup Darcy Kuemper played well enough as a backup, but it is hopeful that Raanta can stay healthy and play at least 60 games next season.
Some disappointments from last season
Where to start?
Oh, right, the START! Beginning a season with an 11 game losing streak and then not getting your first regulation win until your 21st game... well it spells MEDIOCRITY.
Lots of issues/reasons prevailed, including injuries to Raanta and Jakob Chychrun which didn't help. A new coaching staff including head coach Rick Tocchet meant the players had to adjust to an entirely different system than that of former head coach Dave Tippett.
While it took until the latter part of the season to see any results, the results are there. The team starting playing better hockey and stayed within Tocchet's system enough to show marginal improvement.
Some players will be gone
There are quite a few unrestricted and restricted free agents on the roster. It seems apparent (at least to this writer) that Brad Richardson, Zac Rinaldo, Luke Schenn, and Kevin Cannauton could all be lost to free agency as UFA's with the team passing on renewing their contracts.
On the RFA side, things are a bit more uncertain. Will the team offer fan favorite Max Domi a new contract or perhaps trade him. He was supposedly shopped around the league before the trade deadline but remained on the roster. Now it seems that the Montreal Canadiens and the Pittsburgh Penguins could make a play to trade for Domi.
Freddie Hamilton is also an RFA and may be getting a new contract, although he had only one point in 16 NHL games last season, eight with the Coyotes. The team is heavy with centers, so he could be gone as well.
Laurent Dauphin who has been on the team on two different occasions after originally being traded away in the Niklas Hjarlmasson to the Chicago Blackhawks, only to be traded back to the Arizona team in the Richard Panik deal.
He looks to be re-signed with the team as a fourth-line option.
That leaves another young player named Trevor Murphy who impressed many with his performance late last season. He has 100 points in 193 career AHL games.
He collected one goal, three assists in eight games with the Coyotes and also did well with two goals, seven assists in 11 games on the AHL's Tucson Roadrunners. He added one goal, five assists in nine games in the playoffs for Tucson. He may be getting a shot at playing in the NHL more especially if Cannauton and Schenn leave.
Better things are expected of young players
Players like Christian Dvorak, Brendan Perlini, Christian Fischer, Jakob Chychrun, and Clayton Keller top off an impressive group of up-and-coming youngsters who may start making a name for themselves.
Keller has shown that he is a top-flite NHL player by leading the team in scoring with 23 goals and 42 assists while playing in all 82 games. He teamed up with Rinaldo and Panik to form a line which was performing on all cylinders. Look for Keller to improve next season and become a top offensive weapon on the team.
What this team desperately needs is a couple more offensive veterans to help guide the young Coyotes' players to become a playoff team once again. There's plenty of free agents out there, and trades are always an option.
Broken promises
The point is the owner of the team Andrew Barroway promised the fans at a team town meeting before the season started that they would enjoy the product they are putting on the ice.
So far, that promise is just that... words.
Action needs to follow and if the team can pick up where they left off last season and stay reasonably healthy, they stand a shot at improving.
Enough to make the playoffs, especially if they can get some better players. One such player could be Jeff Skinner whose contract will expire next year. He has 61 goals over his last two seasons, and can really spark an offense if given the chance. His contract expires after the 2018/19 season and holds a $5.75 million price tag.
It's plain and simple... this team has potential especially if the young talent matures into NHL stars. They need a star player... someone of the Jeremy Roenick mold who can put the puck in the net and play with passion and the desire to win.
Unfortunately, Jeremy's playing days are over, but perhaps Arizona will be fortunate enough to have a player on their present roster to step up and lead this team.
Who will it be?
Tell us what you think about the possibilities of the Arizona Coyotes finally breaking through and making the playoffs next season or in the near future. Who do they need to become an elite team? Let us know in the comments section below.