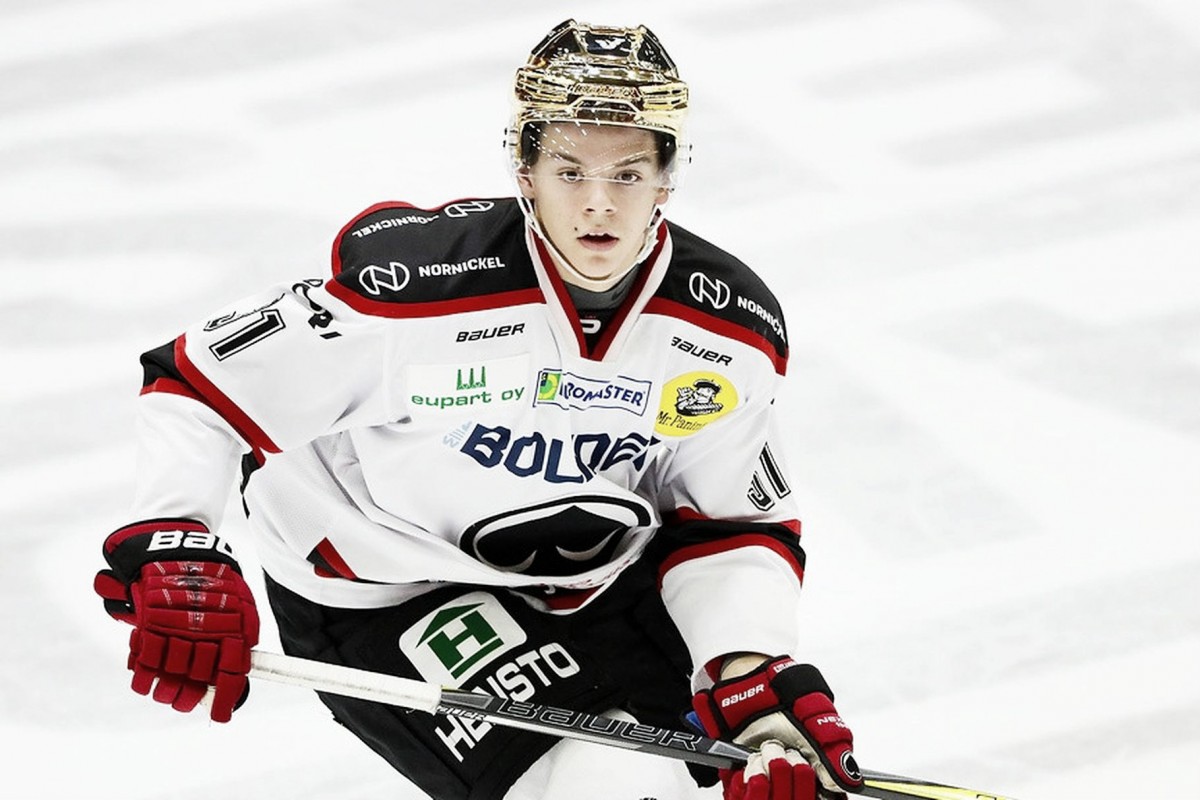 It has been reported by Athletic reporter Pierre LeBrun that the Montreal Canadiens, who possess the third overall selection in the NHL Entry Draft, have spoken to GM and President of Hockey Operations John Chayka of the Arizona Coyotes about swapping their pick in exchange for Arizona's fifth pick.
Why?
Well, it seems that the Canadiens are desperate for a center and some scoring and they have their eyes on Finnish center Jesperi Kotkaniemi.
He may be the best center in the draft and has moved up considerably in the draft list. NHL Central Scouting has him ranked as high as sixth so the Canadiens feel if they swapped picks with Arizona they can get something in return as well as the center they cherish.
Kotkaniemi in action
At 6'2", 190lbs Kotkaniemi has an NHL style frame and some moves which Montreal sees as worthy of the fifth overall pick.
Who would Arizona choose if they swapped picks?
It had been known that high scoring forwards Andrei Svechnikov or Filip Zadina would be Montreal's obvious selection at #3, but lately, it seems things have changed and swung towards them taking Kotkaniemi instead.
Svechnikov vs Zadina
Even with the talented forwards on the young Arizona Coyotes' roster, additions like Svechnikov or Zadina would be difficult to overlook. They both tallied over 40 goals with their junior teams.
Seeing as how the Coyotes' offense was 30th in the NHL last season with a paltry 2.54 goals a game the infusion of some offense would certainly help upcoming forwards like Clayton Keller, Christian Fischer, and Christian Dvorak.
The attraction of moving up to the third overall pick is very inviting and it's a certain conclusion that Chayka will explore this further. This type of transaction is no different than what George McPhee did for the Vegas Golden Knights in the expansion draft. Teams wanted to keep certain players if Vegas didn't draft them and deals went down.
What would Arizona need to give up to move up?
It's uncertain at this time until more is disclosed what Montreal would want in return for moving down two spots.
A draft choice? A prospect?
The Coyotes have both, but must be sure they feel confident in Svechnikov or Zadina's abilities to step right and help the Arizona club towards their goal of making the playoffs next season.
The Coyotes have the #55 pick in the draft which may or may not interest the Canadiens.
As far as prospects go, there are many to choose from, but Arizona may not want to give up too much to just move up two spots in the draft unless they are really interested in selecting a player there.
Final thoughts
It seems inevitable that the Arizona Coyotes will be able to select a player who can make a difference as soon as next season. They can either help their offense and hope that Oliver Ekman-Larsson re-signs, or depending on how things go they may be able to improve in both areas.
Wouldn't that be sweet?!
Which way would you go if you were Chayka? Offense or defense... or both? Let us know in the comments section below.