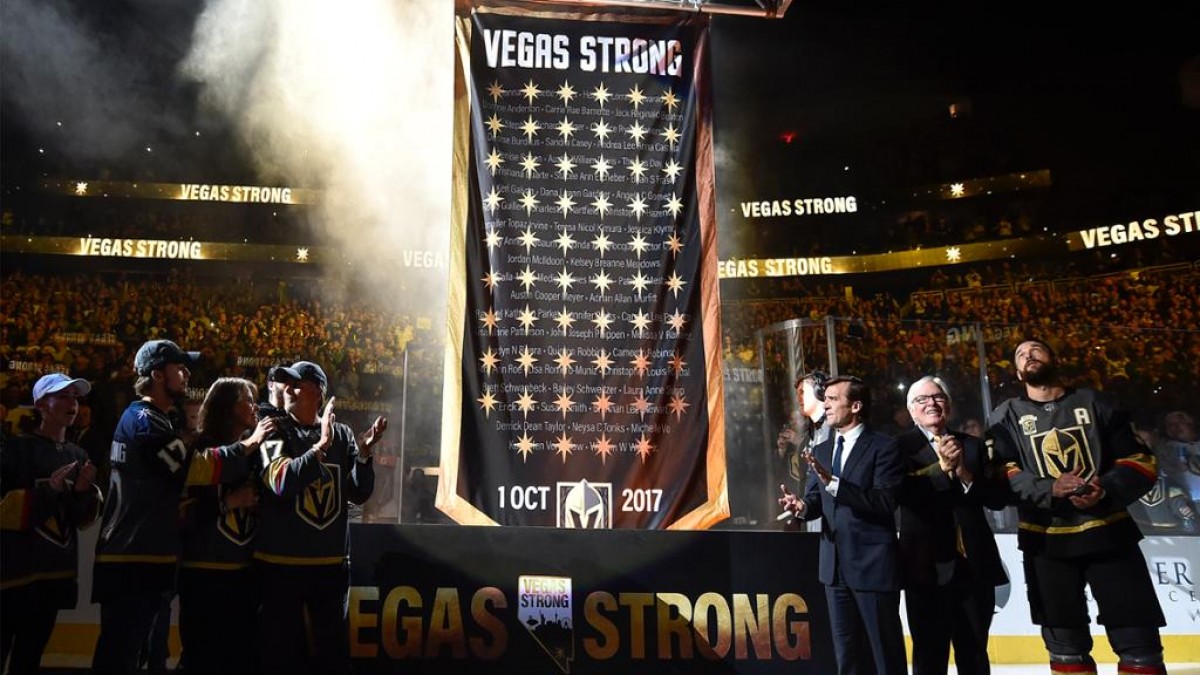 What the Vegas Golden Knights did this season is beyond words. In many ways, it is much more impressive than the Washington Capitals first franchise Stanley Cup. What Vegas and its players did better than any team in the history of the National Hockey League is believe in themselves and that will be its greatest legacy.
Before you close the book on this season, pack up your flags, jerseys, and hoodies. Before you throw away all your silly playoff superstitions, and before you digest how, in many ways, the Golden Knights never got to their game in the finals and left goalie Marc-Andre Fleury out to dry. Before you do any of that, let us take a moment.
Hindsight is always 20/20. Always.
With that said, this team was supposed to be absolutely horrible. Hockey "doesn't belong in the desert." They "won't have a fan base." Even the most favorable predictions for the season had them falling a few points short of the playoffs. However, on June 21st, 2017, a group of players got together and had to make a choice.
Believe or just ride the expansion wave.
Boy did they believe.
The Expansion Draft
The Vegas Golden Knights were not gifted this team in the slightest. The largest gift they received was in the form of a goaltender, leader, and now Vegas legend, Marc Andre-Fleury, but even that wasn't a gift.
In the middle of last years season, Fleury had to make the choice to take a chance on Vegas. Was his choice fueled by the chance to stay with the Pittsburgh Penguins for one last run in 2017? Probably. However, it's fitting that in the end, it was almost like Vegas and Fleury were destined to be together, a match made in heaven some might say.
Before you let someone tell you that Vegas was handed a solid top-six and great D core, I dare you to read an article written in September.
William Karlsson was a third-line player that scored six times in 2017. Cody Eakin was underused and had no real role on the Dallas Stars. David Perron had never been trusted in a leadership role before. Brayden McNabb was a five minute a night man in Los Angeles. Malcolm Subban had never played more than one game in the NHL before, and Fleury was just looking for a place to retire and play out his career.
Do not let anyone tell you that this team was wrapped up in a bow and shipped to the Stanley Cup Finals.
October 1st
That fateful day. 58 lives lost. Hundreds injured.
The players were so close to the tragedy that after a preseason game, some heard the gunshots from their dinner reservations. All of them receiving texts, phone calls, messages from family and friends frantically trying to see if their loved ones were safe in the city most of them barely knew.
Before each player knew their favorite restaurant on the strip, before they did workouts with Cirque du Soleil on the strip, before they even knew where the closest Walmart to their house was, or how to get their kids to school, this team saw Vegas completely and utterly vulnerable.
In a time so painful these Golden Knights were humanized in the most horrific way possible. They were tasked with the opportunity to see heart-wrenching pain and channel it into something bigger than themselves. These players on that night were just like all of Las Vegas; scared.
They too didn't know what to tell their children the next morning, they too had those painstaking moments of wondering if their friends survived, they too held their families closer that night, and they too had tears in their eyes.
At that moment, that brought more pain than Las Vegas will ever feel again as a city; the Golden Knights were simply that; people of Las Vegas. From there, one of the greatest bonds in modern sports was created between city and team.
No one would have been surprised if James Neal's game-winner in Games 1 and 2 of the regular season were the biggest goals of the year. Instead, they were simply the groundwork to a season that will never be recreated in professional sports again.
In every way possible this season, this run, this magic, was built on the foundation of people searching for something to smile about. Players, coaches, fans, all descended on T-Mobile arena on October 10th trying to make sense of it all.
On that night, Fleury was no bigger than the fan sitting in the cheap seats. Jon Merrill was just as important as the tiniest one in the building. They were all scared. Families of players and fans alike didn't know if it was safe to all gather in a large space together.
That night, however, T-Mobile arena became a safe haven, a healing ground, and a place where anyone in Las Vegas was welcome. That bond will never go away.
The growth of the game
10,000 people showed up to a March Fan Fest. People lined up as early as 3:45 am in the morning to see their Golden Knights PRACTICE on an optional skate day.
They sold out every single game at home. They set pricing records for the Stanley Cup Finals.
Before the Golden Knights practice rink was opened in August, Las Vegas and the surrounding area was home to two arenas that housed three sheets of ice. They now have three arenas, five sheets of ice, and two rinks set to be built next year.
Learn to skate programs have not only doubled but tripled or quadrupled. The Golden Knights started a program in Clark-County schools to bring hockey to their physical education classes.
This all has happened in less than 12 months.
Thank you
As a fan of the game, it is hard not to feel pained at seeing your team lose. It is nearly impossible to not feel some sort of personal connection when your team gets so far. This team, however, will go down in history as the team that started the hockey wave in the desert.
Guided by the smiling face, leadership, grace, and class of stand-in Captain Marc-Andre Fleury this city and this team did what absolutely no one believed they could do.
They united the desert around a sheet of ice with a bunch of players just trying to find a place to call home. Instead of trying to find their way out of Vegas, players will flock to this market in free agency, to be a part of this non-traditional hockey market. Current players will take pay cuts to play there. All the signs of a desirable hockey market.
Thank you Bill Foley, George McPhee, Kelly McCrimmon, Murray Craven.
Thank you to all the hockey operations personnel.
Thank you Gerard Gallant, Mike Kelly, Ryan Craig, Ryan McGill, David Prior, and Tommy Cruz.
Thank you to every player who put on a Golden Knights jersey.
Thank you Pierre-Edourad Bellemare, Ryan Carpenter, William Carrier, Cody Eakin, Erik Haula, Tomas Hyka, William Karlsson, Oscar Lindberg, Jonathan Marchessault, Stefan Matteau, James Neal, Tomas Noesk, David Perron, Brandon Pirri, Ryan Reaves, Reilly Smith, Tomas Tatar, Alex Tuch, Brendan Leipsic, Jason Garrison, Deryk Engelland, Brad Hunt, Brayden McNabb, Jon Merrill, Colin Miller, Griffin Reinhart, Luca Sbisa, Nate Schmidt, Shea Theodore, Oscar Dansk, Dylan Ferguson, Maxime Legace, Malcolm Subban, and Marc-Andre Fleury.
You made us all believers that hockey can grow in the desert. You showed us how a non-traditional hockey market can embrace a team. You made it clear that "Flower" blooms best in the desert. You gave a home to many fans.
What does this season mean?
You can't describe it, you never will be able to. Just be thankful you got to live it.
See you soon fellow Golden Misfit believers. See you soon hockey town. See you soon Vegas. Come October you won't raise the banner that you all wanted, but you will raise the banner that will forever symbolize healing, the power of people, the joy of sport, and hope for tomorrow.
Here's to hockey, and here's one last toast to the greatest underdog story to ever be written in modern sports history. Here's to Vegas because the Golden Knights and Vegas are one in the same.
Forever.
What did you think of the glorious Vegas season? Tell me in the comments below!