 It was a magical season. I wish there was a stronger word to describe the 2017-18 Vegas Golden Knights.
The team that suited up for the City of Las Vegas in the 2017-18 season will be part of the city's history forever. A bond so strong that even Oscar Lindberg and Tomas Nosek will one day get a rousing standing ovation. The players on the first ever team may as well have keys to the city, but as that magic becomes a memory the Golden Knights face the most difficult task of their young existence: do it all over again.
Here are five actions that we can expect for the Golden Knights in the offseason
1. A big push on a superstar
Vegas made a living on everyone depending on each other to contribute. They have a work ethic that was unmatched throughout most of the season.
They depended on it.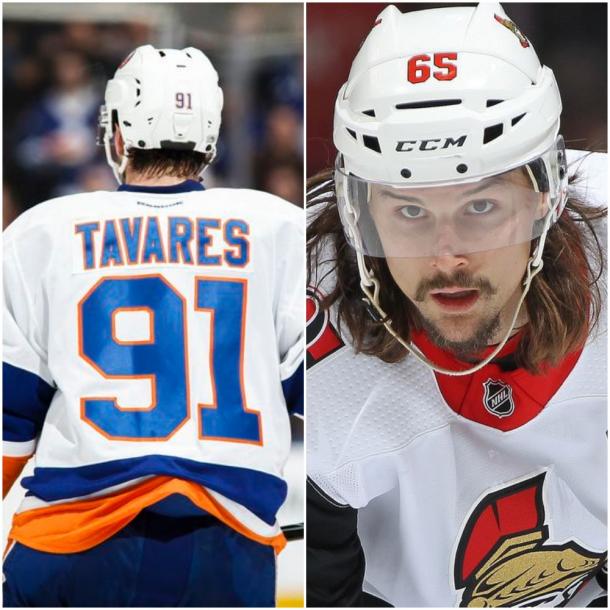 However, if you had $30 million in cap space and names like John Tavares and Erik Karlsson floating around you would be dumbfounded to not give it a look.
What they would be asked to shell out for Erik Karlsson would be massive. Vegas would have to be ensured that he would sign in Vegas and even then George McPhee has to ask himself if it is worth it.
Teams can cripple themselves with moves like this kind of acquisition. What would Karlsson do to a locker room that prides itself on its only true superstar being their quirky, shy and painfully humble goaltender? Erik Karlsson would have to be willing to be "the guy", but he would be "the guy" on almost all 31 teams in the league.
Would Vegas give up a guy like Shea Theodore though? Collin Miller? Malcolm Subban? Cody Eakin? These are all names that became essential to Vegas's success. These questions aren't season changing but franchise changing.
With all that being said, if anyone has the money to acquire Erik Karlsson, it is Vegas. Ditto to Tavares.
2. Look for them to trade up in the draft
Believe it or not, Vegas doesn't have a very busy draft weekend as it stands right now. They gave up a first-round pick in this year's draft to get Tomas Tatar at the trade deadline. They don't pick until the second round and don't pick after that until the fourth round.
Don't expect Vegas to sit tight on that though. They are very much still building the team for tomorrow, they are just also building a team for right now... at the same time.
Don't be surprised if Vegas trades a roster player to move into the first round. As we saw last year, Vegas has a lethal group of scouts that seem to hit the nail on the head often and accurately.
Watch out, but also don't be shocked if many GM's aren't so inclined to give Vegas any breaks, Vegas did in fact just come off a season that made nearly every GM in the league look silly.
3. Sign, sign, sign, and then sign again
The current roster has 11 players (nine regulars or at least semi-regulars) that are up for contracts. Four of them are unrestricted free agents. Most notably David Perron and James Neal. Both have expressed their high interest in staying in Vegas but term length seems to be the biggest issue.
Perron wants stability, Neal openly just says he wants to win. Both, by best guess, are looking for three to six-year deals. Vegas is in a bit of a tough spot in that, right now they could easily afford them both, but in three years time, there will be a wave of talent coming on to the roster from their first draft.
On the back end, two decisions need to be made on Miller and Theodore. Huge assets that one would think Vegas would do about anything possible to keep unless they were traded for a large return. Theodore has the makings of a franchise defenseman and Miller grew leaps and bounds this year. Both deserve raises.
William Karlsson is also a restricted free agent which one could only assume will get maybe the biggest pay increase of anyone on the team. He earned $925,000 this year. Not sure of the stats but I don't know if a $925,000 player has ever scored 43 goals.
Tomas Nosek and William Carrier are also RFA's. Other UFA's include Ryan Reaves and Luca Sbisa.
All have shown a desire to stay.
4. Goalie decision looming?
The Golden Knights had five goalies on their roster at the end of the 2017-18 season, but something has to give either this summer or next.
Dylan Ferguson should be an easy guy to keep around, not really close to being an NHL'er and needed loads of time to develop, he is signed through 2020-21 and is an RFA after that. No foul done there to keep him around.
Maxime Lagace may well have earned himself a contract with Vegas, if not another team this year just simply for keeping Vegas afloat when they were down to their 4th goalie. He played 16 games this year. His stats were not good, but he did get six wins at a time where Vegas needed all hands on deck. He grew leaps and bounds this year and was the backup for half of the cup run. He too can stick around.
Oscar Dansk - Here is where things start getting interesting and have strings all the way up to the top. He is an RFA this summer. He most likely needs two or three more years to develop; as he lost most of this season to injury. However, here is where Vegas has to ask where does he fit in? Dansk and Subban have more god given talent than Lagace, but none of them is Marc-Andre Fleury.
Do they sign them and grow their stalk for a trade later in the season or next summer? Is Subban, who becomes an RFA at the end of next year a soon-to-be NHL starter? If he is then do you do something that might make a lot of fans angry and bid farewell to Fleury after next year?
Where Fleury, Dansk, and Subban fit into this equation is very intriguing. Fleury said at the locker room cleanout that he would prefer and would like to stay in Vegas until the end of his career. Fleury is eligible to re-sign on July 1.
How long does Fleury have left though? How much money does he want? Will he take a discount? How badly does Vegas want him?
Fleury could easily get upwards of $8 million on a one or two-year deal somewhere at the end of next year. However, if a guy like Fleury, a future Hall of Famer and the face of your franchise asks to stay, why would you say no?
Don't be surprised if Fleury gets a good size contract this summer that all but ensures that he plays out every game he has left in Vegas. What could that look like? On the low end a three-year deal that pays him $6-7 million? High end... six-year deal worth $6 million and a full no-movement clause. The later would be a gold-plated deal that would all but ensure he never puts on another sweater.
5. The Minors
There are nine players on NHL contracts that are playing in the minors right now that are up for new deals. Dansk, Legace, Jason Garrison, Stefan Matteau and Brandon Pirri all spent time with the big club this year.
It is tough to say what happens with any of them but Pirri would most definitely be the priority as he scored three goals in the two games he played with Vegas.
In closing, while the players and fans alike mull over what could have been and slowly turn that into a deep sense of pride for their team and their city, the Golden Knight's management will do anything but take a break. If Vegas wants to contend again they will need to put the pieces in place again right from the goalie to the top line.
As we have proven also season though; if anyone can do it, it's Vegas.
What does Vegas need to do to stay on top going forward? Let us know in the comments section below.