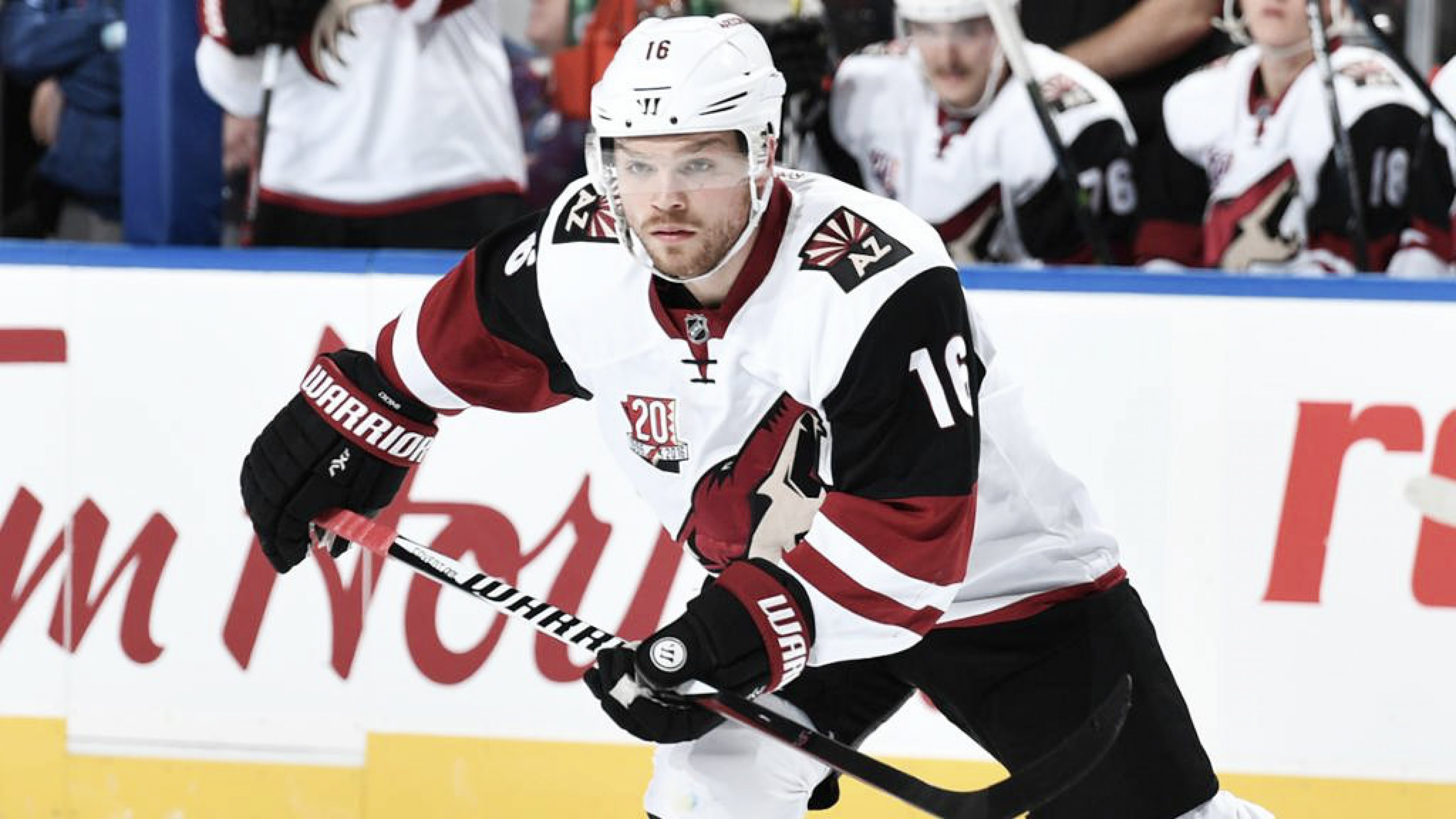 As rumors continue to fly related to the Arizona Coyotes' restricted free agent Max Domi, a new interesting scenario has arisen.
Eric Engels of Sportsnet has speculated that the Canadiens are interested in perhaps drafting Jesperi Kotkaniemi as reported here.
The twist he's reporting now is what about the Canadiens trading that #5 pick to Arizona along with one of their four second-round picks in exchange for Domi and the #5 pick?
Both Montreal and Arizona need scoring
While Domi has had a tough last two seasons in the scoring column, he nonetheless has 36 assists last season and did play some center for head coach Rick Tocchet to see if he could exit his scoring drought.
When he was moved back to the wing he finished strongly tallying 24 points (6-G, 18-A) in his last 28 games. He's still young at 23-years-old and finished the third season of his entry-level contract.
Since he is a restricted free agent, the Coyotes hold his rights and can trade him if they desire. No word has been out whether Domi and his agent are even talking to GM/President of Hockey Operations John Chayka about re-signing with the team.
If Coyotes' fans remember, forward Tobias Rieder was a holdout after completing his entry-level contract. He held out until right before the season started and finally signed a two-year $4.45 million deal. He was then traded right before the trade deadline in February along with goalie Scott Wedgewood to the Los Angeles Kings in exchange for backup goalie Darcy Kuemper.
Montreal would get an experienced player in Domi and could still draft any number of good defensemen in the draft. It may be enticing enough for them, but then again there is no indication that Montreal or Arizona would work a deal like this.
Passing on a true scorer like Zadina may not be in the best interests of the Canadiens, but they need to do something to get out of their doldrums.
Arizona could certainly use a potentially great scorer like Zadina. He has been pegged as the second-best shooter in the draft. Conversely, Domi's shooting percentage plummeted to a lowly 6.0 percent and is only at 8.7 percent for his first three seasons in the NHL.
The offensive threat of a Zadina in the Coyotes' lineup would definitely infuse some goal scoring into a team who needs it vastly. The team was 30th last season in goals scored.
Zadina tallied 44 goals, 38 assists in 57 games with the Halifax Mooseheads of the QMJHL. He added five goals, seven assists in nine playoffs games.
Both teams would get something
In any deal, it only works if both teams get what they want. The Canadiens may be more into getting Jesperi Kotkaniemi than Zadina and that could work to the Coyotes' advantage.
Kotkaniemi seems to think that the Canadiens are interested in him since they took him out to dinner during the NHL Combine. Of course, so did two other teams. He actually mentioned to reporters that "I've heard they're going to draft a center, I hope it's me."
The Montreal club also could fill their need at center and still get a choice of Noah Dobson, Quinn Hughes, or Adam Boqvist to supplement their blueline.
The first five draft picks vary
If the Canadiens go hog wild over Kotkaniemi and take him as the third overall pick many experts feel that Ottawa would then grab Brady Tkachuk leaving the Coyotes to gather in Zadina at #5.
It could happen.
That is why Chayka has not closed the door to trading the pick until he sees how the first four selections play out. He has stated that he more than likely will keep the fifth choice feeling that there is so much talent in the top-five that he will get a good quality player.
That he will, but if it turns out to be Filip Zadina the Coyotes' could find their next 30-goal scorer, and that hasn't happened since... well since the team last went to the playoffs (what a coincidence) during the successful 2011/12 season when Radim Vrbata scored 35 goals.
If Chayka lands Zadina, he is mending his defense and could also sign a free agent defenseman. There are quite a few to choose from and the team has lots of cap space to operate. With solid goaltending in Antti Raanta and Kuemper, the defense must improve to stay competitive.
Adding in either Zadina or Tkachuk could really make this an entirely different and improved team.
In 12 days we'll see just how improved.
With all the jockeying going on will the Arizona Coyotes be able to land a talented forward like Filip Zadina or Brady Tkachuk? Let us know in the comments section below.