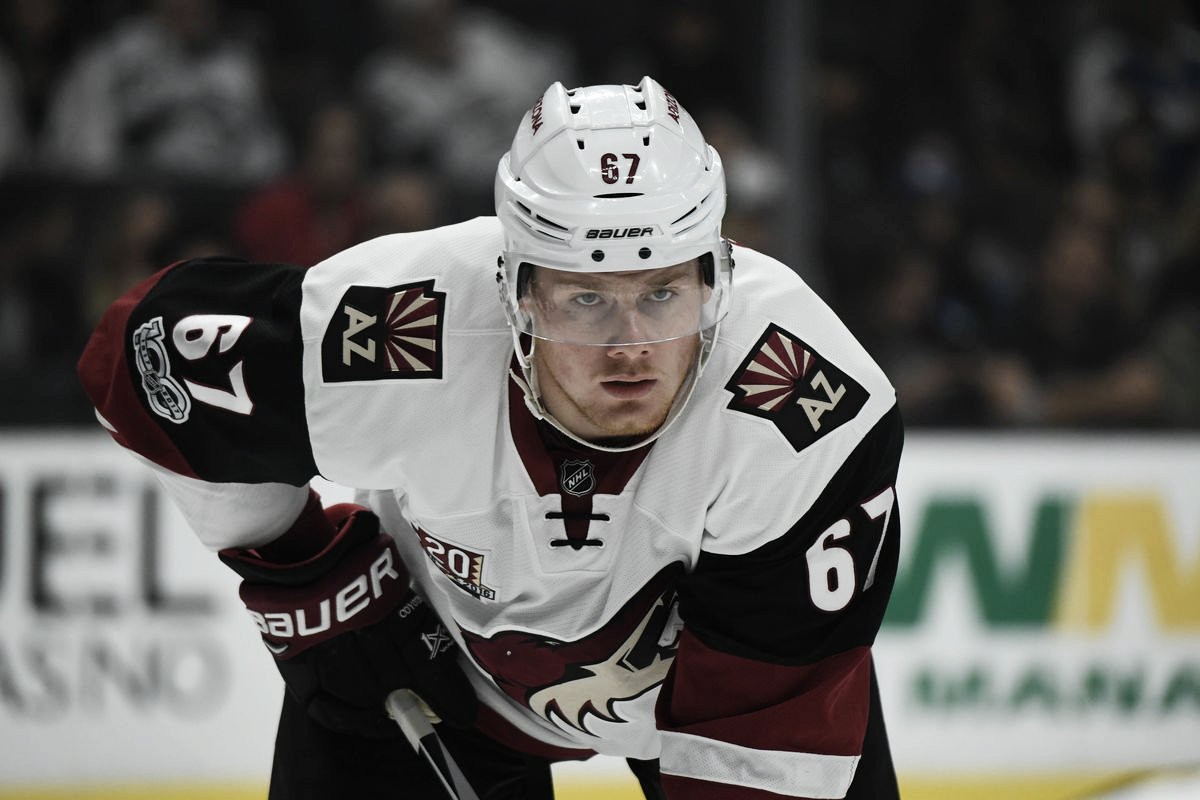 One of the first moves of then newly appointed GM of the Arizona Coyotes, John Chayka was to work a trade with the Florida Panthers to acquire the 11th pick in that year's draft, Lawson Crouse.
Chayka knew that the Panthers wanted to unload their huge five-year $27.5 million contract for Dave Bolland. Due to injury issues, Bolland had only tallied 28 points in 78 games with Florida.
The crafty Chayka knew he had the cap space and actually needed to get to the salary cap basement, so he worked the deal which sent Arizona's 3rd round pick in 2017 NHL Draft and a 2nd round (conditional) pick in 2018 NHL Draft in exchange for Lawson Crouse.
Crouse's first NHL season was so-so
He played in 72 games tallying five goals, seven assists on the team's fourth line. His size certainly made him be noticed... mostly by the opposing team. At 6'4", 220lbs he let other teams know his style was to play the body and play it hard.
Averaging just 11:53 a game he still managed to finish third in team hits with 160. He was a good player in the corners using his size to grab loose pucks and set up his teammates.
Time for more seasoning in the AHL
With the emergence of a new coaching staff, Crouse played just the first 11 games of the 2017/18 season before being sent down to Tucson to play for the AHL affiliate of the Coyotes.
He worked hard and actually was a key player in the Roadrunner's lineup. He managed 15 goals, 17 assists in 56 games. He showed his toughness by being assessed 70 penalty minutes.
What may make him ready to move back to the NHL level is how he performed in the AHL playoffs. In nine playoff contests, he had three goals and five assists to tie high scoring prospect Dylan Strome for the scoring lead.
Will there be a roster spot for Crouse?
The fourth line seems to be set with newly acquired Marcus Kruger, /Nick Cousins, and Zac Rinaldo. That is, if Rinaldo who is an unrestricted free agent, stays with the team. There seems a certainty that UFA Brad Richardson will be gone now that Kruger was acquired. Josh Archibald may also play right wing on that line.
Crouse was useful on the penalty kill and that's always an asset a team needs to have to win. If Rinaldo leaves, Crouse can definitely fill in as the tough guy on the team. He can stand his ground and is not afraid to drop the gloves.
Here is his first NHL fight against P.K. Subban after Crouse laid out Viktor Arvidsson in the corner.
When training camp starts in September one thing is certain, Lawson Crouse will be making a statement to stay in the NHL every time he steps onto the ice.
He's young, he's big, but most of all... HE'S READY!
Do you feel that Lawson Crouse is set to make the jump back to the NHL? What will his forte be in the Coyotes' lineup? Let us know in the comments section below.