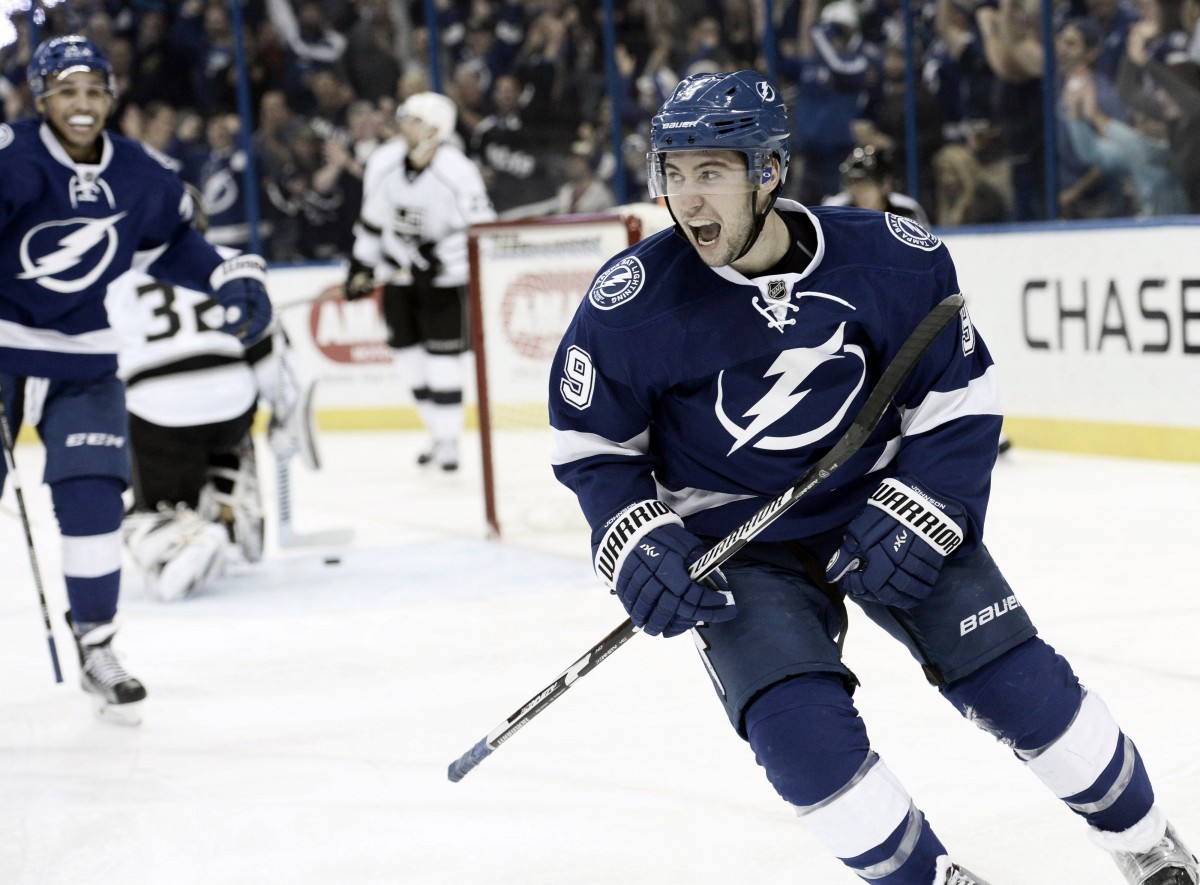 Corey Wilkins of thescore.com had some interesting landing places for this summer's 10 top trade candidates.
This article will cover one of the trade names which could be dealt before July 1, 2018.
Tyler Johnson to Arizona
The reason this trade could happen is that the Tampa Bay Lightning may be fine with salary cap space this season, but next season may be a different story.
Why?
That is when star winger Nikita Kucherov's contract will expire and the team needs to decide how to pay him close to the level of pay that other star NHL players are receiving.
That may be in the $9-10 million price range. Is Kucherov worth that much?
You bet he is.
With the kind of season, he just had GM Steve Yzerman has got to be thinking about how he will come up with money under the salary cap even if it does increase to $80-82 million by next season.
Of course, a player like Kucherov doesn't come along very often, and you need to keep him on your roster at all costs. He practically carried the Tampa team on his back this past season. With 39 goals, and 61 assists he hit the century mark in points in 80 games.
It goes without saying that he is an integral part of the Lightning's arsenal.
If you're going to pay Kucherov that much money, there needs to be some salary cap relief somewhere.
Enter Tyler Johnson.
He has a no-trade clause which kicks in on July 1st for his seven-year $35 million contract. If Yzerman thinks that Johnson has become expendable due to the excellent play of Brayden Point, then he must decide before the July 1 deadline if he wants to move Johnson.
Point's salary at an AAV of $919,167 makes Johnson's salary look way overinflated. Johnson being demoted to a third-line role may not sit too well him.
Johnson could become Arizona's second-line center
With Derek Stepan centering the first line of the Arizona Coyotes' that second-line center spot needs to be filled. So far, Dylan Strome whom the team had intended to fill that spot has not stepped up to that level yet.
Christain Dvorak has yet to fill the net often enough to move up to the top six, even with some impressive junior statistics.
The Coyotes could certainly use Johnson's offensive prowess on their forward line, plus he's a right-handed shot like Stepan.
He has averaged 20 goals a season since being in the NHL and had 50 points last season which would put him right behind Clayton Keller with 65 and Stepan with 56 points last season.
The return to Tampa Bay
Wilkins suggested in his article that the Coyotes could send defenseman Pierre-Olivier Joseph from the QMJHL along with a 2019 2nd-round pick to Tampa for Johnson. He just had a great season with 13 goals, 33 assists in 63 games. He followed that up with 12 points in 18 playoff games.
He was the #23 pick in last year's NHL Entry Draft.
It would seem that the Lightning would want more than that for Johnson and if GM John Chayka wants to inject some additional offense into his team's lineup... he would find a way.
Don't forget he still has Max Domi whom he could deal if need be. It would still save the Tampa club salary as Domi may get a contract far lower than what Tampa is paying Johnson.
It's that time of year where teams jockey to improve their rosters and the Coyotes could certainly use a player like Johnson.
At this point, it becomes at what price.
What is your take on the Arizona Coyotes pulling off a trade for Tyler Johnson? Would you do the deal? Let us know in the comments section below.