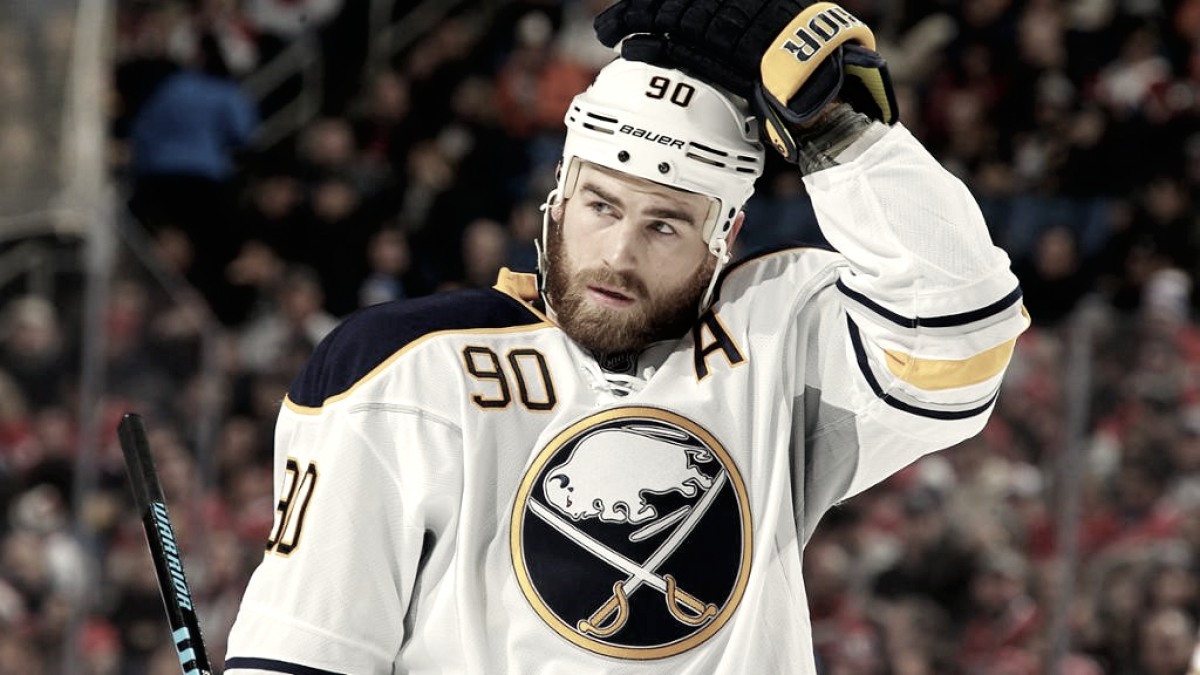 Ever since the Washington Capitals hoisted the Stanley Cup, trade rumors have begun to heat up around the league in anticipation of the upcoming NHL Entry Draft. One of those names that is used heavily in trade talks is Buffalo Sabres center, Ryan O'Reilly.
O'Reilly is reportedly being dangled out on the trade market by GM Jason Botterill (GMJB) as a part of his rebuild of former GM Tim Murray's mess.
GMJB has multiple teams that are interested, but only four teams seem truly interested. The Philadelphia Flyers, the Carolina Hurricanes, the St. Louis Blues, and the Montreal Canadiens with the Canadiens being the most interested.
The "word on the street" is that most teams won't be interested until July 1st because they want the Sabres to sign O'Reilly's $7.5 million bonus. This part doesn't matter as much for Buffalo because money has no barring on GMJB trade wise (mostly,) he just wants the best deal.
The Canadiens though are more than willing to pay O'Reilly that bonus with rumblings that they could move the third overall pick in the draft.
Knowing the four teams that are interested, who makes the most sense for Buffalo to trade with? What team would Buffalo be able to make the best deal with? Does it even make sense for GMJB to trade Ryan O'Reilly?
These are the questions that writers and fans ponder as the debate over the "O'Reilly situation" has intensified in the Buffalo media market and around the league. With the draft less than 24 hours away, and free agency just around the corner, these questions will all be answered but let's devel into them anyway.
What team makes the best trade partner?
Well, this answer can go a couple of different ways so let's break it down by three categories with the first being money, the second being return, and the third being who makes the most sense.
Money:
McKenzie: "Montreal Canadiens continue to be a team that's very interested in Ryan O'Reilly, amongst others, but one of the sticking points right now for the Montreal Canadiens is Buffalo seems like they really want that third overall pick" as part of trade. #Sabres #Habs

— Chris Nichols (@NicholsOnHockey) June 21, 2018
The answer to this one is simple, Montreal. Montreal has a boatload of cap space that GMJB could exploit to get O'Reilly's numbers as well as possibly other bad contracts (Matt Moulson? Zach Bogosian?) off the books for the upcoming season.
Out of the four teams that I listed above, the only team that would be willing to sign the $7.5 million bonus is Montreal.
Now, this doesn't make them the perfect trading partner because what could Buffalo get in return from a team that already traded the guy that they were desperately trying to go after in Alex Galchenyuk? You go and get the third overall pick in the draft.
Now, this has reportedly been a nonstarter for GM Marc Bergevin and the Montreal Canadiens organization, but there is always the right price for everything.
The other addition to this piece is that Bergevin has four second-round draft picks that he could float to GMJB who could use those to package a deal with the 32nd overall pick to move into the mid-to-late teens in the draft.
GMJB could have a good thing going with Montreal as it has been reported that Bergevin is desperately looking for a center and a defenseman. While O'Reilly may not be the centerman they are looking for, he would be a great addition to that squad and it would be a great change of scenery for him.
Best return:
If GMJB is looking for the best return to build for the future, then he should look everywhere but Montreal. Philly has the best group of upcoming prospects,
Carolina could give Buffalo another stud defenseman in Noah Hanifin (who is best friends with Jack Eichel) and/or Justin Falk, and St. Louis who has some stud scorers and prospects with a huge upside.
I'm not saying that getting the third overall pick is a bad thing for Buffalo, or getting possibly Max Pacioretty or Jonathan Drouin, but if GMJB is using a Ryan O'Reilly trade as a stepping stone towards the future then he should look to the other teams.
My favorite idea is getting Falk or Hanifin because Buffalo would have Dahlin, Falk/Hanifin, and Rasmus Ristolainen in their top four and that would be a pretty stacked lineup.
Now I know that the Hurricanes GM quieted down the Hanifin/Falk trade rumors, but what else is he supposed to do? Say yes? Carolina is my favorite, but the others are not bad either.
When looking at Philly, wow are they loaded! According to TSN's top 50 rankings of NHL affiliated prospects, Philly has four players that populate the charts in centers German Rubtsov and Morgan Frost, defenseman Phillipe Myers, and goalie Carter Hart.
Buffalo desperately needs goalie and defensive prospects because outside of goalie Ukko-Pekka Luukkonen (yeah, say that ten times fast) and defensemen Casey Nelson and Brendan Guhle it's pretty barren (I'm not counting Linus Ullmark because he will be one of Buffalo's starting goalies next season.)
Philly is one of the places that makes the most logical sense for the future and the best part is that they have picks 14 and 19 in the draft. It's very possible GMJB could snag both of those for O'Reilly and the 32nd pick and have one of those prospects included in the deal.
Carolina and St. Louis don't have as many possible prospect options like the Philadelphia Flyers do with Carolina only having one (third overall) and the Blues only having two (sixth and 15th), but they have other star power options as well.
Carolina has Hanafin/Falk as I stated earlier, but there is also the possibility of snagging Elias Lindholm as well if the Hurricanes believe they can't sign him.
The second pick is obviously off the table. If GMJB can convince the Hurricanes to get rid of Lindholm and other pieces as well for Ryan O'Reilly then Buffalo would just need to find a center who can contribute 15 goals and win at least 50% or better of his faceoffs and O'Reilly's contribution of 20 goals or better is filled.
Carolina is the best option for a build now mentality, but they would want Buffalo to sign that bonus.
St. Louis is the last and final team on this list, but not for lack of a roster. It's a no-brainer that St. Louis would inquire about O'Reilly after they traded away Paul Stastny at the trade deadline.
St. Louis does have the 29th overall pick, but that is obviously not enough for GMJB. As I stated previously, they have the sixth and 15th ranked prospects one of which is a winger which is something that Buffalo desperately needs as well.
But also be on the lookout for GMJB to possibly swing a big trade for a guy like Colton Parayko or Jaden Schwartz to add either another big guy to the defense or some scoring punch on the offensive end. GMJB could also be looking at Ivan Barbashev and Tage Thompson as guys who have some top-six upside to build for the future.
Makes the most sense:
Well, I mean, I think I have made a case for all of the teams to make sense. If GMJB is using O'Reilly as a way to build for the future then that would be just the type of deal he is looking for and why these four teams are the teams. If it's about money (which I can bet you it is not) then it's Montreal without a doubt.
GMJB isn't going to do a deal just to do a deal, he is more than content with Ryan O'Reilly suiting up for the Buffalo Sabres next season and showing up at training camp. GMJB wants the best possible return and he won't grab at the first deal that crosses his desk because O'Reilly would've been traded already.
Does it make sense to trade O'Reilly?
Honestly, when it comes to this question, I am completely torn. Straight down the middle on this, 50/50 split... other sayings to prove I'm torn. But, I am leaning more towards no.
Now, my lean does depend on how they use Casey Mittlestadt in the upcoming season which I won't know until training camp officially begins, but if they decided to keep Mittlestadt at center then they should keep O'Reilly.
If Buffalo keeps O'Reilly they would have the most talent that they have had at center in over a decade. You would have to go back in the Sabres' archives to the 2005/06 season where Buffalo had Chris Drury, Daniel Briere, Tim Connolly, and Derek Roy at center.
When Buffalo traded for Drury, Drury and Briere were able to bring about a golden era of Buffalo hockey.
Buffalo has the ability to do that with Eichel on the first line, O'Reilly on the second, and Mittlestadt on the third. This would be the strongest center lineup Buffalo could have since the Briere/Drury days. Everyone does underestimate Zemgus Girgensons ability, but he would be a strong fourth line guy.
This lineup would give Buffalo an excellent core, allowing them to start to plug in pieces around their centers and not rush Mittlestadt's development into something he may not be ready to tackle.
Now just because O'Reilly may start on the second line, to me at least, doesn't mean that by the end of the season Mittlestadt will not have taken over that spot.
Keeping O'Reilly gives Buffalo lineup flexibility to find the pieces that work and to find guys that truly fit the puzzle. The goal for GMJB shouldn't be the 2018/19 season, but the 2019/20 season to make the playoffs (I can hear the sighs from here) which I think keeping O'Reilly helps to achieve that goal.
Having Jack Eichel, Casey Mittlestadt, and Ryan O'Reilly down the middle as your 1-2-3 threat is a dangerous lineup. Eichel and Mittlestadt are your offensive weapons while O'Reilly would be the offsetter to that in being the gritty, defensive guy that can still provide you at least 20 goals.
O'Reilly also had one penalty all season during the 2017/18 season which means that your number one penalty killer was out there for all but one penalty trying to win the faceoff. He also broke the record for most faceoffs won and won about 60% of faceoffs on the year which was tied for best in the league with only one other player.
Keeping O'Reilly does make sense which is why GMJB isn't worried about getting a deal done because he knows that the Buffalo Sabres either keep a great player or get a great player.
What do you think the Sabres should do about O'Reilly? Who would you like to see GMJB make a deal with? Tell me in the comments below!