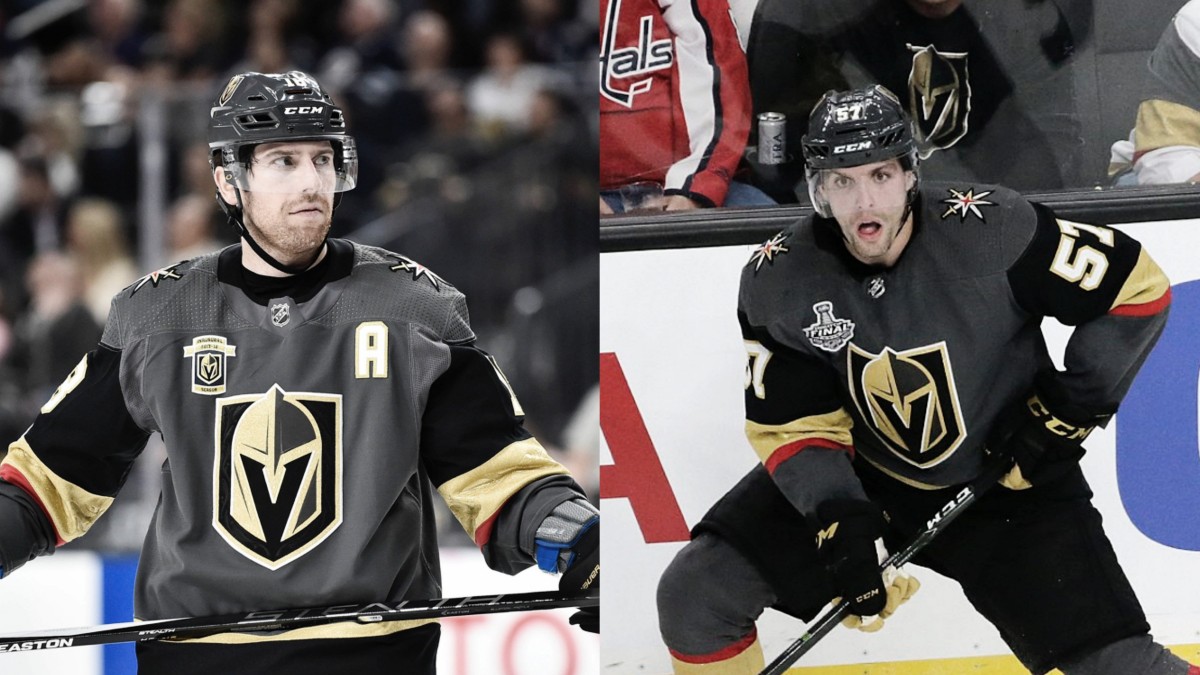 With news from the Las Vegas Review-Journal that both James Neal and David Perron will more than likely not be coming back to the Vegas Golden Knights next season, the Arizona Coyotes could be a good option for either forward to consider.
Negotiations for both players have pretty much stopped
Neal's agent, Patrick Morris has stated that the star winger wants to return to the Golden Knights, but will likely move on if a deal isn't culminated by July 1.
"Until further notice, James prefers to keep things quiet," Morris told the Review-Journal. "All I can tell you is he loves Vegas and he wants to stay... common sense says that if he's not signed by July 1, he's probably not coming back."
Neal rejected a five-year $25 million offer the team made around the trade deadline period of time. He was hoping for a deal worth around $6.5-$7 million average annual value.
He did score 25 goals last season and was instrumental in the Vegas team's success, so perhaps he can pull that kind of offer from a team looking for a rugged, in-your-face type of forward who has size and scoring capabilities.
He also has an eight-team no-trade clause in his contract. Will he go to free agency or be traded?
For Perron who tallied 66 points during the amazing 2017/18 season, agent Allan Walsh stated that there are plenty of suitors for his services. According to Walsh, "there's been significant interest in David today. David has loved his time in Las Vegas. He loves his teammates. It's a very special group.
"But he's forced to look at other opportunities."
Perron has a three-team no-trade clause on his contract.
The Vegas team hasn't presented any offers since the end of the season, and the last time they discussed things was around the trade deadline.
Vegas has cap space but must pay key players
With the likes of restricted free agents William Karlsson and star goalie Marc Andre-Fleury needing new contracts this and next season respectively, Neal and Perron have fallen to the wayside.
Karlsson had such a great season that he will definitely put a small crunch in the cap space they have left in the range of $31 million before the cap limit is due to be increased.
While his minuscule two-year $2 million contract may inflate to more like a $5 million range, it seems clear that he and Fleury have priority when it comes to opening the checkbook for a new contract.
Then, consider that with all that cap space and players like Erik Karlsson and John Tavares out there for the bidding, Neal and Perron become expendable.
Will the Golden Knights just allow these two key players to go to free agency without getting some value from them before the July 1 deadline?
Can the Arizona Coyotes use some help from these two free agents?
Indeed they can.
Even with renewing both Oliver Ekman-Larsson ($8.25M) and Niklas Hjalmarsson's (agreement reached for a two-year extension but terms not disclosed until July 1) contracts they should have some room to grab one of these talented players.
It seems more likely that Perron would fit the price range of the Coyotes who have been very open about not wanting to spend much more than the cap basement even when it meant they could have a shot at landing someone who wants to come to the desert... like Phil Kessel.
Perron's salary cap hit is currently $3.75 million, much lower than the $6-$7 million range that Neal seeks. He would need to get a bump of course with his successful season totals. But even if the Coyotes bumped him up to the $4.75 million range they would get themselves a good right-handed shooting winger at a reasonable price.
After averaging nearly a point per game last season, Perron may be looking for a more lucrative long-term deal with the given that he'll continue to be a point-per-game player.
That may happen elsewhere, so the negotiation wheel is spinning this week.
Other free agents who are out there
Players like Kessel, Artemi Panarin ($6M), James van Riemsdyk ($4.25M), John Tavares ($10.1M), Tyler Bozak ($4.2M cap hit) are all being spun around in the trade rumor dryer, but it may all be a lot of hot air. For all the speculation and rumors there were only two major trades over the draft weekend (what happened John Chayka?).
Besides JVR, Perron or Bozak, it doesn't seem the Coyotes are interested (for whatever reason) in spending the money to improve their roster. Just as some players fall into the deep, vast hole of mediocrity... teams do it as well.
The nucleus of this Arizona squad definitely has potential, but just like Max Domi, eventually, the patience level for that potential to equate into a winning result is long overdue.
Isn't it about time that the Coyotes' franchise starts establishing itself as a winning team with more than potential but instead with results... like making the playoffs?
The last time was 2011/12, and it's getting OLD !
They won't do it with the team they have presently.
What will they do with the excess salary cap money? Take on more dead contracts like that of Dave Bolland ($5.5 million for 2018/19) or Mike Ribeiro ($1.944 million for next two years) to get to the illustrious cap basement?
Alex Galchenyuk will help
The addition of "Chunky" will help. He will be happier playing center and GM Chayka has already given his blessings for him to get his way. The only puzzling thing was this team will have six centers on the roster next season, which begs to state that one of them may be traded, and perhaps this week.
Does Dylan Strome come to mind? Speaking of exerting patience, the team has bent over backward three times to give this kid a chance and with Chayka going for Barrett Hayton at the #5 pick in Saturday's draft, it makes one wonder if Strome's existence here is in jeopardy.
Even with Alex Galchenyuk the team currently constructed needs more to get over the hump to be playing in the postseason.
Make a trade, sign a couple free agents and let's see this team perform for once and stop being in the lower bowels of the NHL standings.
Fans are waiting... Mr. Chayka. Waiting for some magic and we all know you can provide that... it's just a matter of WHEN ?
What moves would you make if you were GM Chayka? Who can really help this team to finally be a playoff contender? Let us know in the comments section below.